DETROIT — Donald Trump claimed he came to Michigan on Wednesday to show solidarity with striking autoworkers. Instead, he fearmongered about the transition to electric vehicles, told autoworkers they would be out of a job in two or three years even if they secured a contract with wage increases, then begged United Auto Workers leadership to endorse him for president.

"There's no such thing as a fair transition to the end of your way of life. You're going to lose your beautiful way of life … it's a transition to hell. It's a transition to unemployment and to inflation," Trump said at a nonunion manufacturing facility in swingy Macomb County in the Detroit suburbs. "In other words, your current negotiations don't mean as much as you think."

Trump falsely claimed that President Biden's electric vehicle subsidies would require them to get rid of their trucks and lead to the end of the U.S. auto industry. He also complained they're impractical. "The damn things don't go far enough, and they're too expensive!" he said of EVs.

The former president's remarks undercut his message of wanting to stand in solidarity with striking autoworkers, casting their fight against the leadership of the Big Three automakers — Ford, General Motors and Stellantis — as ultimately inconsequential in the broader push for lower carbon vehicles, which require fewer people to assemble.

Trump began speaking as his 2024 Republican presidential opponents were in Southern California, getting ready to take the primary debate stage for the second time. His rivals were not only many miles away physically, they were also far from Trump's mind: He made only one mention of "Ron DeSanctimonious," his nickname for Florida Gov. Ron DeSantis, and spent most of his time bashing Biden and EVs as handpicked audience members waved "Autoworkers for Trump" and "Union members for Trump" signs on risers beside him (although some of these people told a reporter they were not actually union members).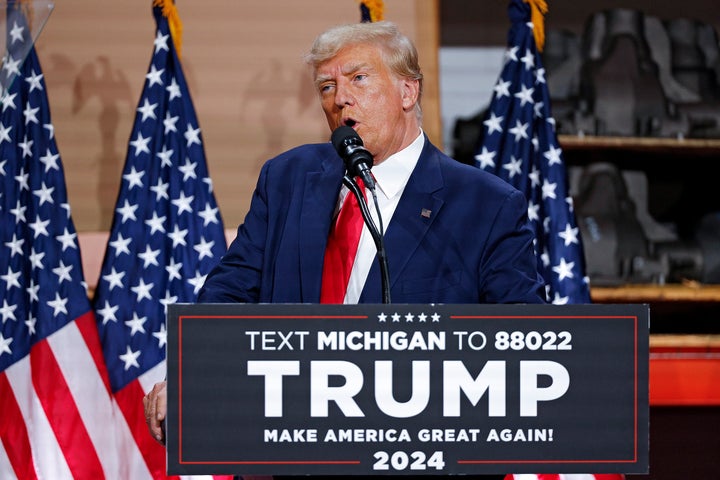 "Yesterday, Joe Biden came to Michigan to pose for photos at the picket line," Trump said to a room of several hundred people at the warehouse of a nonunion auto parts supplier. "He only came after I announced I would be here … spoke for a few seconds and had absolutely no idea what he was saying. He didn't know where he was, didn't know what he was saying."
"His entire career has been an act of economic treason and union destruction," Trump added, mocking Biden's claim that he's the most "pro-union president" in U.S. history and promoting an evidence-free narrative that Biden is the most corrupt president ever — as Trump himself faces four criminal cases. Trump, who is barred in some instances from discussing his legal cases, claimed his indictments were a result of political persecution and joked that just by mentioning Biden and his legal troubles that he might face yet another one.
Trump's remarks seemed to contradict the inroads he claimed he wanted to make with union workers, a constituency he lost ground with from 2016 to 2020. "I side with the autoworkers of America and those who want to make America great again," Trump said before downplaying their asks at the negotiating table, which include 40% wage increases over several years and the elimination of a two-tiered wage system that disadvantages new workers.
Several times during his remarks, Trump also begged UAW leadership for their endorsement, which UAW President Shawn Fain has indicated is not in the cards for Trump, even as the union also withholds its endorsement from Biden while it seeks more assurances from the White House on electric vehicles.
"Your leadership should endorse me and I won't say a bad thing about them again," Trump said, to a room of handpicked attendees who did not appear to include many actual autoworkers.
Trump's visit came on the heels of Biden's stop to walk a picket line at a General Motors parts plant in Wayne County, Michigan, the home base of the nation's auto industry.
The former president, who is the polling leader in the GOP primary, used his own stop to a quintessential Michigan swing county that backed him in both 2016 and 2020 to tee up the 2024 race as a Trump vs. Biden rematch, returning to many of the themes about China and industrialization that he used to appeal to blue-collar workers in 2016.
"Almost every exit poll that's out there shows that Donald Trump did much better with union workers in 2016 than he did in 2020," said John Sellek, a former GOP operative who now runs a Michigan-based bipartisan consulting firm. "Joe Biden was able to bring some of those folks home, but they're still fair game for Trump in the way that he talks about the economy. He clearly and his team clearly feels that way."
In 2016, a coalition of white, working class voters turned once-blue Macomb County red, contributing to Trump's 10,000-vote Michigan victory in 2016 and the toppling of the so-called Great Lakes "Blue Wall" encompassing Michigan, Pennsylvania and Wisconsin. Trump still won a majority of Macomb County voters four years later, but Biden carried Michigan by almost 3 percentage points, ultimately helping him clinch the presidency.
But the county flipped blue for Gov. Gretchen Whitmer last year, a shift that Democrats hope will last through the next presidential election, although it's anything but guaranteed as Biden faces tough reelection odds.
"There are a lot of ticket splitters here," bipartisan political consultant Adrian Hemond said of Macomb. "Neither of the political parties are super popular there. Macomb County is an island unto itself in some ways."
Trump's claims of wanting to show solidarity with rank-and-file laborers was undermined by the fact that he chose to appear at a non-union parts supplier, Drake Enterprises. Fain, the union leader, called the move "odd" following Biden's visit Tuesday. Trump, notably, also did not visit the UAW picket line during the union's 2019 strike against General Motors, nor did he say much about that strike back then.
"Electric vehicles are the future. This is where the rubber is hitting the road."
"I think if he was trying to appeal to labor voters, he wouldn't go to a non-union supplier. Start there," said Rep. Debbie Dingell (D-Mich.), who accused Trump of trying to "politicize the … most serious auto negotiations I've ever seen."

"[Trump] keeps trying to use electric vehicles as a wedge issue — well, I'm going to push right back at him and tell him I want my domestic auto industry to be competitive in the global marketplace," Dingell told HuffPost. "Electric vehicles are the future. This is where the rubber is hitting the road."

Terry Carroll, a retired autoworker at the event, said he believes people in his industry prospered under Trump, and he praised the former president's renegotiated trade agreement between the United States, Mexico and Canada — a campaign promise that Trump managed to deliver on and that got bipartisan support in Congress. "We did very well under President Trump," Carroll said.

Deborah Fuqua-Frey, a woman who described herself as a retired third-generation autoworker and Democrat pre-Trump, also had words of praise for Trump. "I got into the Republican Party because of President Trump … they're taking our country down to the third world," she said of Democrats.

Fuqua-Frey laughed at both the suggestion that Biden could do anything to help the strike or that Trump's Republican opponents posed any threat to him electorally.

Support HuffPost
The Stakes Have Never Been Higher
Popular in the Community