Earlier this week, Trump said he needed to get all "the facts" before singling out hate groups for condemnation after violent protests sparked by a white supremacist rally left one woman dead in Charlottesville, Virginia, on Saturday.
Trump initially posted a measured response to the incident in Barcelona:
Less than an hour after his initial tweet, Trump followed up, implying the Barcelona attack was linked to "Radical Islamic Terror":
During the Republican presidential primary race, Trump told crowds a story ― a false one, according to historians ― about John "Black Jack" Pershing, the Army general who commanded U.S. forces in World War I. According to Mother Jones, Trump spoke of Pershing executing Muslim insurgents in the Philippines in the early 1900s with bullets dipped in pig's blood and eliminating "a problem" for 25 years (unlike the 35 years mentioned in his tweet):
He caught 50 terrorists who did tremendous damage…and he took the 50 terrorists and he took 50 men and dipped 50 bullets in pig's blood. You heard about that? He took 50 bullets and dipped them in pig's blood [which is considered haram]. And he has his men load up their rifles and he lined up the 50 people and they shot 49 of those people. And the 50th person, he said, you go back to your people and you tell them what happened. And for 25 years there wasn't a problem.
After telling that story, Trump claimed "we've got to start getting tough and we've got to start being vigilant and we've got to start using our heads or we're not gonna have a country, folks."
As Time reported in 2016, historians know of no evidence to support Trump's claim. The magazine quoted one saying it would have been "out of character" for Pershing.
Trump's comments on Barcelona came just hours after news broke of the carnage there, which police confirmed they were treating as a terrorist attack. The so-called Islamic State claimed responsibility for the assault via its Amaq news agency, but it's unclear to what degree the group's leadership was involved in planning it.
White House chief of staff John Kelly briefed Trump on the matter Thursday afternoon.
Trump's quick response sharply contrasts with his reactions to the violence in Charlottesville.
Trump argued in his initial response on Saturday that "many sides" were to blame for the tumult, which erupted amid a white supremacist protest against efforts to remove a statue of Confederate Gen. Robert E. Lee. The president didn't explicitly condemn hate groups until Monday, two days after a car allegedly driven by a white supremacist plowed into a group of counterprotesters, killing a 32-year-old woman.
"It is a very important statement. So I don't want to go quickly and just make a statement for the sake of making a political statement."
"I wanted to make sure, unlike most politicians, that what I said was correct, not make a quick statement. The statement I made on Saturday, the first statement, was a fine statement, but you don't make statements that direct unless you know the facts," Trump said Tuesday. "It takes a little while to get the facts. You still don't know the facts. It is a very, very important process to me. It is a very important statement. So I don't want to go quickly and just make a statement for the sake of making a political statement. I want to know the facts."
Trump on Tuesday also again blamed "both sides" for the clashes in Charlottesville. "You had a group on one side that was bad. You had a group on the other side that was also very violent," Trump said. "Nobody wants to say that. I'll say it right now."
But Trump has been quick to cite "radical Islamic terrorism" for attacks in the past. It took him less than a day to respond to terrorist attacks in Paris, Manchester, England, and London, the last of which he used as a reason to plug his proposal for a travel ban from several Muslim-majority countries.
His rhetoric toward "radical Islam" is often violent and sweeping, unlike his comments on the white supremacist and racist groups who gathered for the rally in Charlottesville, which Trump claimed had some "fine people."
Before You Go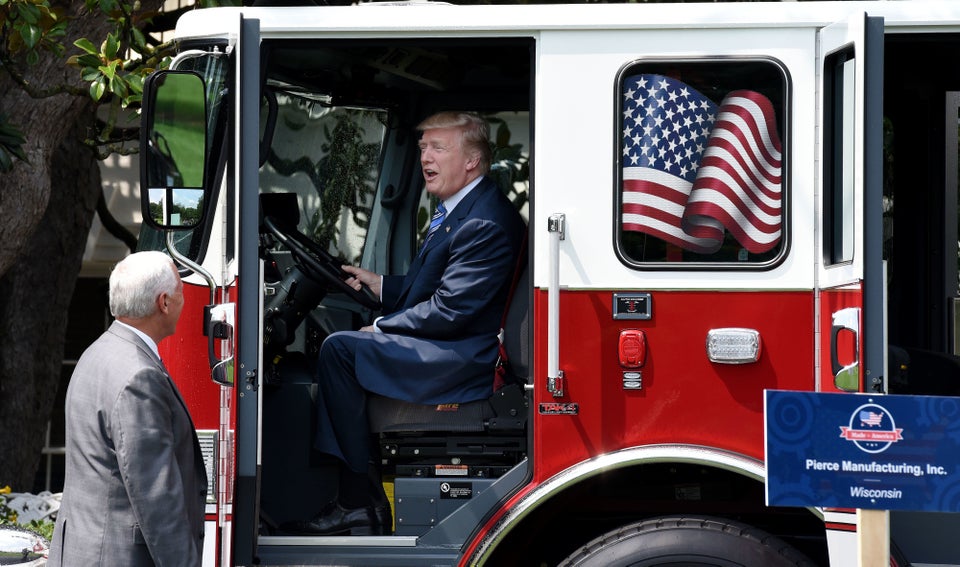 Trump's 'Made In America' Week
Popular in the Community