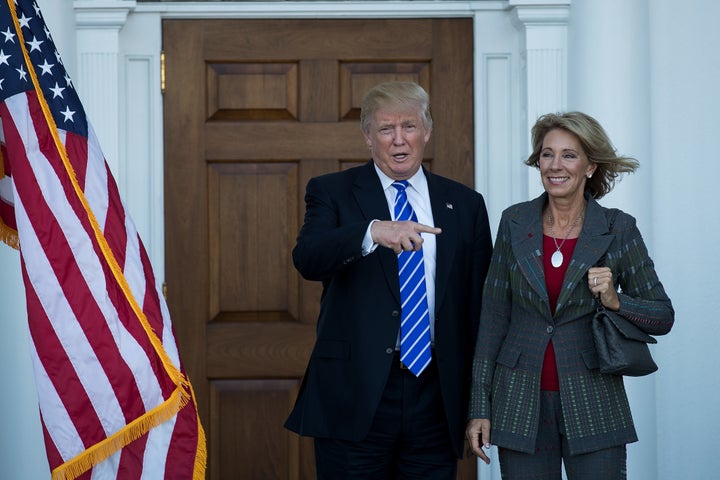 President-elect Donald Trump announced another Cabinet pick on Wednesday, nominating Betsy DeVos for the education secretary position.
DeVos, a vocal advocate for charter schools and school voucher programs, accepted the offer.
"Under her leadership we will reform the U.S. education system and break the bureaucracy that is holding our children back so that we can deliver world-class education and school choice to all families," Trump said in a statement.
DeVos played a key role in pushing a 2000 ballot proposal to create a school voucher system for Michigan students. She served as a Republican National Committeewoman in the 1990s, and chaired the Michigan Republican Party from 1994 to 2000 and again from 2003 to 2005. A billionaire powerbroker, DeVos has been a huge donor to and fundraiser for the Republican Party. A 2014 Mother Jones profile on the DeVos family referred to them as "the new Kochs."
DeVos currently serves as chairwoman for the American Federation for Children, a school choice advocacy group.
"The status quo in education is not acceptable," DeVos said in a statement accepting Trump's offer. "Together, we can work to make transformational change that ensures every student in America has the opportunity to fulfill his or her highest potential."
Like many of Trump's Cabinet picks, DeVos' nomination was met with swift opposition.
"In nominating DeVos, Trump makes it loud and clear that his education policy will focus on privatizing, defunding and destroying public education in America."
The National Education Association, which represents teachers and school administrators, said the pick shows how "out of touch" the Trump administration is with what's best for students and educators.
"She has lobbied for failed schemes, like vouchers — which take away funding and local control from our public schools — to fund private schools at taxpayers' expense," the labor union said in a statement. "These schemes do nothing to help our most-vulnerable students while they ignore or exacerbate glaring opportunity gaps. She has consistently pushed a corporate agenda to privatize, de-professionalize and impose cookie-cutter solutions to public education."
Progressive Michigan executive director Lonnie Scott said the nomination "proves that having a shortage of experience means nothing as long you don't have a shortage of money."
"The DeVos family education plan has been a disaster for Michigan and we are truly saddened that Trump decided to import their failed ideas to Washington D.C.," Scott wrote in a statement.
This article has been updated with additional reactions to DeVos' nomination.
Before You Go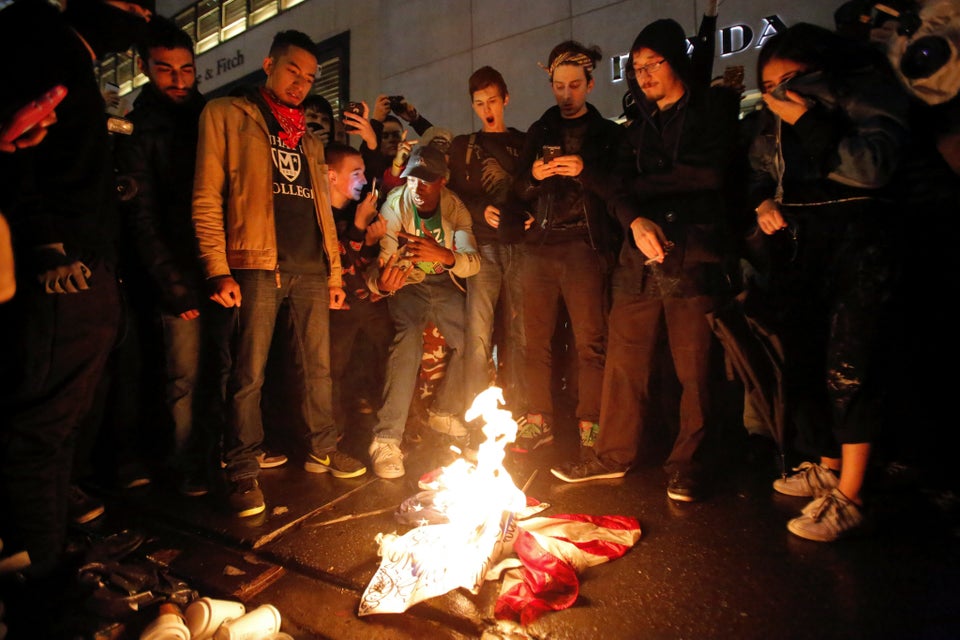 Donald Trump Win Sparks Protests Nationwide
Popular in the Community