WASHINGTON ― In an attempt to blunt the aftermath of a poor debate performance earlier this week, allies and surrogates supporting Donald Trump are going on the offensive by attacking Hillary Clinton over Bill Clinton's marital indiscretions and her response to the women involved.
Asked Wednesday why the real estate mogul was again feuding with the former beauty queen, Trump surrogate Leslie Rutledge, who is the attorney general of Arkansas ― real subtle, Trump campaign ― deflected by recalling some of the most difficult portions of Bill Clinton's presidency.
"If we want to dig back through the '90s on comments made about women, we can certainly look to Secretary Clinton referring to Monica Lewinsky as a neurotic loony toon," Rutledge told MSNBC, referring to an account of one of Hillary Clinton's closest friends, in which the then-first lady referred to Lewinsky as a "narcissistic loony toon."
Rutledge also pointed to a New York Times article published in January, which included a quote attributed to Hillary Clinton by the memoir of ABC News' George Stephanopoulos, a former Clinton administration aide. "We have to destroy her story," Clinton reportedly said in 1991 of one woman who said she had sexual encounters with the former president. The Times noted, however, that three people had signed sworn affidavits saying the woman's story was false.
"It is a sad discourse. We are going to talk about how women have been treated by these individuals and we certainly need to look to Hillary Clinton's treatment of women," Rutledge said.
Michael Caputo, a former top Trump adviser who resigned earlier this year, also resurfaced the scandal on Twitter in an exchange with a Clinton campaign staffer on Wednesday. Caputo claimed the former first lady "threatened and bullied victims of her husband's sexual assaults."
Rep. Marsha Blackburn (R-Tenn.) also brought up women who have been associated with Bill Clinton when asked about Trump on Wednesday. "I am a lot less concerned with what he says and more worried about what Hillary Clinton does or will do," she told MSNBC, mentioning Lewinsky and Gennifer Flowers.
"I'm certain Hillary Clinton is thinking right now, 'Maybe I shouldn't have been so vindictive toward those women,'" she continued.
The line of attack over Bill Clinton's infidelities seemed to be previewed over the weekend, after Trump floated inviting Flowers, who alleged that she carried on a 12-year affair with the former president, to sit in the audience for the debate in hopes of rattling his opponent. The Trump campaign ultimately decided against going through with it ― but the matter didn't end there.
Following the debate, which most polls showed him losing, Trump said he held back in pursuing a similar line of criticism out of respect for Chelsea Clinton, who was seated in the audience.
"Maybe I'll tell you at the next debate. We'll see. But I'm very happy," Trump said in an interview with CNN.
Trump's top campaign aides soon followed suit, praising their boss for not bringing it up on the debate stage at Hofstra University. Eric Trump even said it took "courage" for his father not to go there.
Of course, by stating he did not want to bring it up, he in effect did so anyway. The rhetorical trick ― called apophasis ― is one the New York businessman uses quite often.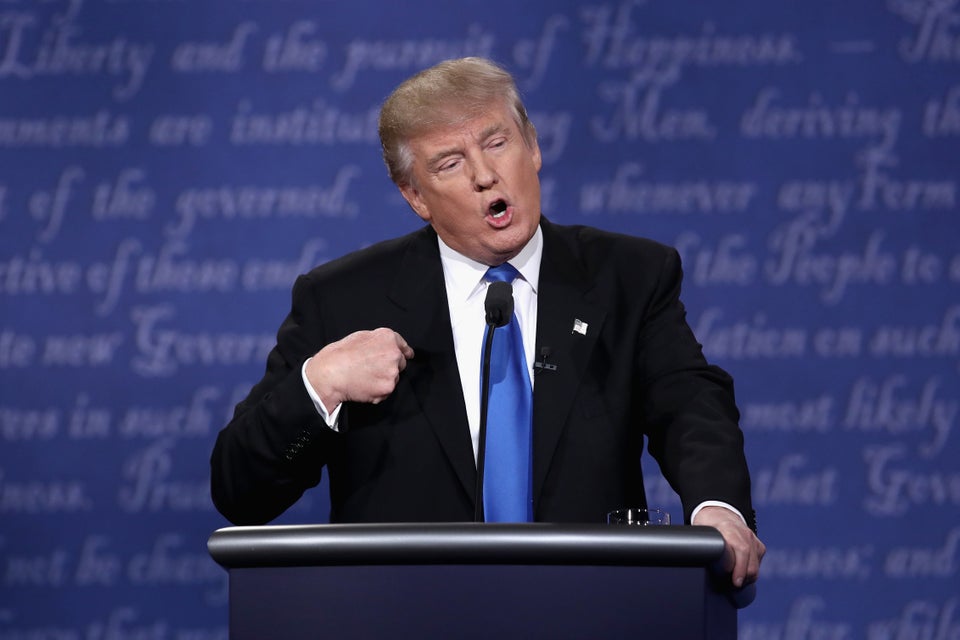 Trump And Clinton Face Off In First Debate But Whose Face Won?
Popular in the Community