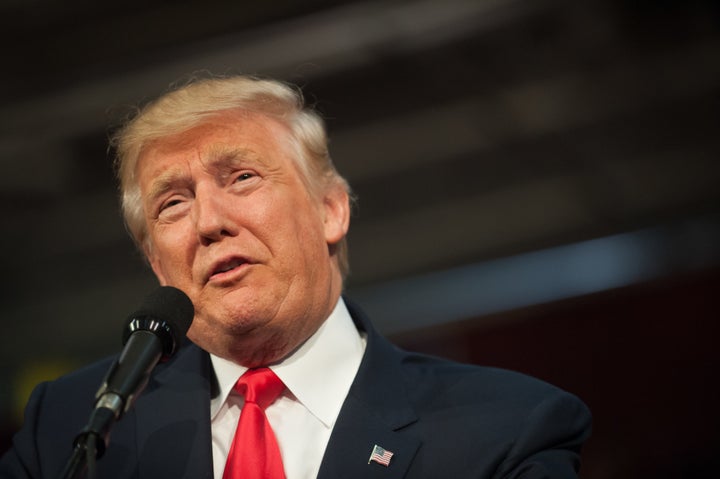 If more damning tapes of Republican presidential nominee Donald Trump emerge, he'll retaliate by bringing up former President Bill Clinton's infidelity and Democratic presidential nominee Hillary Clinton's handling of it, Trump said on Monday.
The real estate mogul's campaign has been in turmoil since Friday, when video surfaced of him boasting in 2005 that he "can do anything" to women, including kissing or groping them without their consent, because "when you're a star, they let you do it."
So Trump did what he's been threatening to do for weeks: He launched a full-out attack on his Democratic rival over her husband's past behavior toward women, as well as her response to it.
"I was getting beaten up for 72 hours on all the networks for inappropriate words from 12 years ago ― locker room talk, whatever you want to call it," Trump said at a rally in Ambridge, Pennsylvania. "But I said to myself, 'Wait a minute' ... Bill Clinton sexually assaulted innocent women and Hillary Clinton attacked those women viciously."
"If they want to release more tapes saying inappropriate things, we'll continue to talk about Bill and Hillary Clinton doing inappropriate things," Trump said, even though there's no evidence the Clintons were behind the release of the 2005 tape.
Trump hinted he might bring up Bill Clinton's past during the first presidential debate ― and then praised himself for holding back ― but he referenced it directly at the second presidential debate. 
On Monday, Trump said that "Bill Clinton was the worst abuser of women ever to sit in the Oval Office" and put some of the blame on his wife.
"For decades, Hillary Clinton has been deeply familiar with her husband's predatory behavior, and instead of trying to stop it, she made it possible for him to take advantage of even more women," Trump said. "She put even more women in harm's way and then she goes out and says 'Oh, I love women, I'm going to help women, I'm going to help women.' She's a total hypocrite."
Trump referenced several women who have accused the former president of sexual harassment or assault. Three of them ― Paula Jones, Kathleen Willey and Juanita Broaddrick ― were his guests at the debate, and have accused Hillary Clinton of attacking them and enabling her husband's behavior.
Bill Clinton has denied all allegations of abuse, and PolitiFact found no evidence that Hillary Clinton threatened his accusers.
Trump said Monday that "perhaps the greatest window into the character of Hillary Clinton" was her treatment of the fourth woman he brought as a guest, Kathy Shelton. Clinton was appointed by the court to defend a man accused of raping Shelton when she was 12 years old in 1975. Trump accused Clinton of laughing at the victim, although the audio he references doesn't back up that claim.  
If they want to release more tapes saying inappropriate things, we'll continue to talk about Bill and Hillary Clinton doing inappropriate things.

Donald Trump
"There's nothing Hillary Clinton won't do or say to obtain power, and it's about time people started to understand that," Trump said after accusing Clinton of laughing about Shelton.
During Sunday's debate, Trump denied that he had ever kissed or groped women without their consent, though it was something he discussed in the 2005 videotape from NBC's "Access Hollywood."
But multiple women have accused Trump of sexual abuse over the years, and he has his own past of infidelity. He's also been willing to associate with accused abusers in the past ― Trump launched his Ambridge event by talking about his friendship with Pittsburgh Steelers quarterback Ben Roethlisberger, who has been accused of sexual assault twice.
The Clinton campaign did not immediately respond to a request for comment on Trump's latest remarks.
HUFFPOST READERS: What's happening in your state or district? The Huffington Post wants to know about all the campaign ads, mailers, robocalls, candidate appearances and other interesting campaign news happening by you. Email any tips, videos, audio files or photos to scoops@huffingtonpost.com.
Calling all HuffPost superfans!
Sign up for membership to become a founding member and help shape HuffPost's next chapter
BEFORE YOU GO
PHOTO GALLERY
Republicans Who Have Withdrawn Their Support For Donald Trump