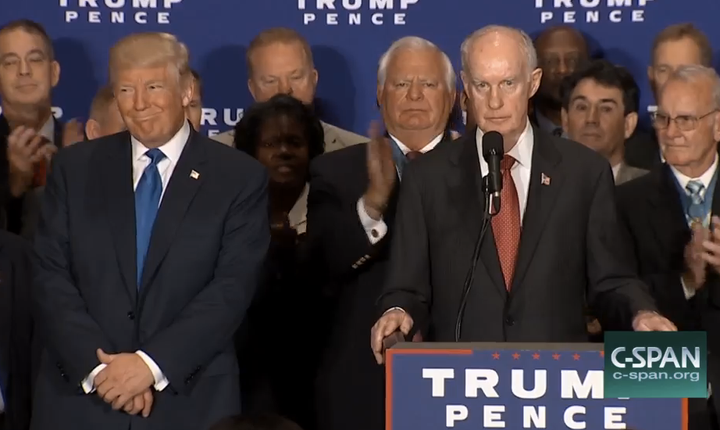 Retired Air Force Lt. Gen. Thomas McInerney was one of the military veterans introducing Trump at a press conference self-promotional event in Washington, D.C., where Trump tried to distance himself from his past support of the racist conspiracy theory that Obama isn't American. But McInerney, who stood front and center, wrote an affidavit in August 2010 challenging Obama's place of birth, citing "widespread and legitimate concerns" about his eligibility to be president.
"I cannot overstate how imperative it is to train such personnel to have confidence in the unified chain of command," McInerney wrote. "Today, because of the widespread and legitimate concerns that the President is constitutionally ineligible to hold office, I fear what would happen should such a crisis occur today."
Here's a full copy of McInerney's affidavit:
McInerney submitted his affidavit on behalf of Army Lt. Col. Terrence Lakin, who refused to be deployed to Afghanistan because he didn't believe Obama was born in the United States. He argued Lakin was justified in ignoring his deployment order because of questions about Obama's citizenship.
"In refusing to obey orders because of his doubts as to their legality, LTC Lakin has acted exactly as proper training dictates," wrote McInerney. "By thus stepping up to the bar, LTC Lakin is demonstrating the courage of his convictions and his bravery. That said, it is equally essential that he be allowed access to the evidence that will prove whether he made the correct decision."
Obama, of course, was born in Hawaii. And Lakin, in direct violation of an order, was ultimately sentenced to six months in prison and dismissed from the Army.
A Trump campaign spokeswoman did not respond to a request for comment on why Trump chose McInerney to introduce him at an event rejecting birtherism.
Calling all HuffPost superfans!
Sign up for membership to become a founding member and help shape HuffPost's next chapter
BEFORE YOU GO