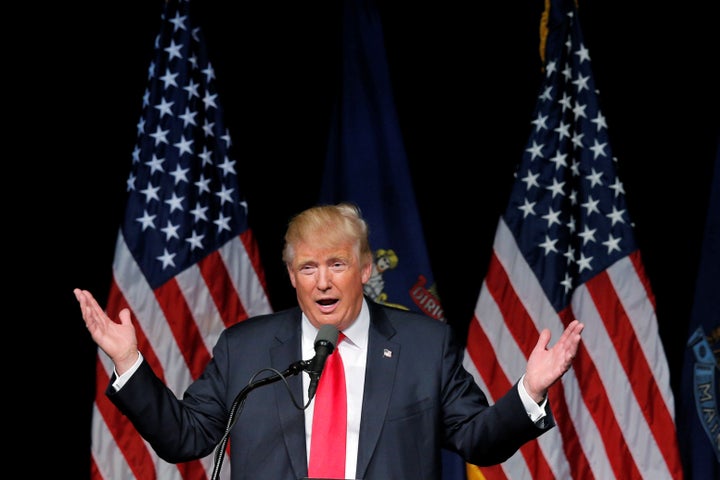 Donald Trump's efforts to woo black voters have been, for lack of a better word, unconventional.
Rather than meet with leading African-American officials or visit black neighborhoods, he's largely stood in front of white audiences while belittling the conditions in which African-Americans live. The pitch is always capped off with a question: "What do you have to lose" (i.e., by electing him)? But the better question may be whether Trump is actually trying to win over black voters, or just trying to convince white suburbanites that he isn't as racially intolerant as he's portrayed.
In an article this week seeking to answer whether Trump's African-American outreach is sincere, The Washington Post appears to come down on the side of yes. The piece goes through the various tactics that Trump is using to make his push. What's most interesting is the campaign's rationale for why these efforts could work. Trump, they note, was quite popular within the African-American community before he ran for office.
"When Trump began his campaign, he was confident he would do better with black voters than [Mitt] Romney — mostly because African Americans form part of his commercial base for 'The Apprentice' and his casinos," the Post writes. "People who have helped manage the Trump Organization's brand said the company's private research over the past decades showed that many black people admired Trump's ostentatious lifestyle."
Considering Trump's history in real estate ― including charges of racial bias ― and in casinos ― including reports of discrimination against African-American card dealers ― the notion that he enjoyed high approval marks among African-Americans may seem as off-key as his current attempts to win over that community. But on this front, Trump's advisers may be right.
When Trump explored a presidential bid back in 2000, his appeal to minority groups seemed to be a big selling point. A Fortune article from that time cited a 800-person survey conducted by Democratic pollster Rob Schroth. In it, Trump had a 67 percent favorable rating among blacks (21 percent unfavorable) as well as a 62 percent favorable rating among Hispanics. The article explained his appeal this way:
"Real estate agents say Trump is also big among immigrants, many of whom flock to his buildings. Admiring rap artists have recorded odes like 'Black Trump' and 'Trump Change.' 'I think people say, "If I won the lottery, that's how I'd want to live,"' says Roger Stone. 'The plane, the boat, the estate in Florida, the beautiful girls ― our polling showed that people identified with it.' Trump is, in short, a workingman's plutocrat: a nonbusinessman's idea of what a businessman should be."
The Huffington Post attempted to track down Schroth to obtain a copy of that poll. But he was unreachable. His business partner Tom Eldon said he couldn't find the poll in his files. But Eldon, a mainstay in Florida politics, said he could understand the theory pushed by Stone, a longtime Trump adviser.
"The key to Trump's success is his success," Eldon explained. "There's a general optimism among Americans that translates into a reluctance to engage in class warfare by punishing the rich ― because there is this belief, no matter how delusional, someday they might strike it rich. Look at Trump. He's a walking lottery ticket even if his Powerball winnings were inherited."
And for most of his fellow Americans, Trump was a figure of entertainment, fun to watch but basically not serious.
So what happened? Trump talked, and for the first time it really mattered
The dog whistling to white nationalists wasn't particularly subtle. The constant hammering away at minority groups (Mexicans called rapists, Muslims banned from entering America) angered many. And the conspiracy theorizing about President Barack Obama's birthplace reeked of racism.
Perceptions, naturally, have changed.
General Steele, who is half of the hip-hop duo Smif-N-Wessun, more or less echoed Stone's theory in explaining why they recorded the song "Black Trump" nearly two decades ago. Trump, to him, was a "shark" ― a bigger-than-life, money-focused hustler who made it in his city (Steele is from Brooklyn's Brownsville neighborhood) ― and the initial verses were an homage to that mindset.
Attack mode time to strike like a cobra. Poisonous venom through your system killin' you slower.
"Go online today. And you have a program called 'Shark Tank.' They aren't talking about the aquatic life," Steele told HuffPost. "They are talking about money, how to be a shark, how to be a vicious individual who cares about money and nothing else. And in some places in the African-American diaspora, you mix your success story with being a shark. Trump was the ultimate shark in the '80s."
Steele recorded 'Black Trump' in the '90s, and neither he nor Trump were particularly political then. As he's followed Trump's presidential campaign this year, he's begun to see the shark differently. If he had to record "Black Trump" today, Steele said, it would "probably come out differently."
"I think he is crazy, man," Steele said. "I think he is crazy and he is just going for it. And in some form or fashion, I can't say if I respect or disrespect it. I'm just watching the TV screen and it is almost like a circus act. It's like Cirque du Soleil. It's all kind of weird mutated stuff. You are trying to have a conversation with a brick. He doesn't really have any issues. He's just saying stuff. It's crazy for me to watch."