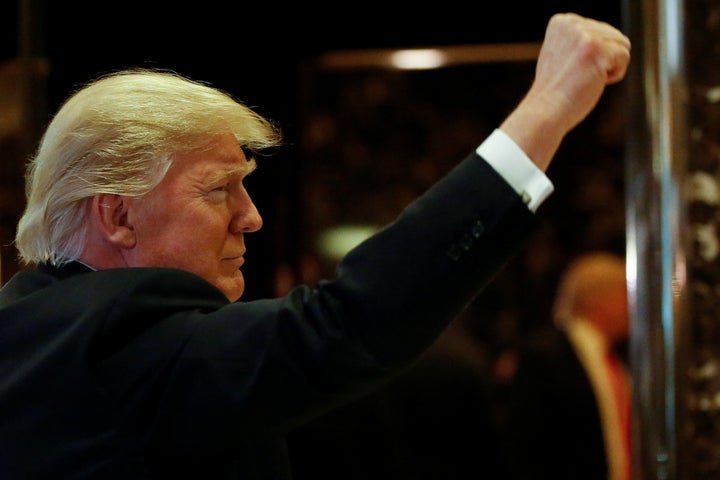 WASHINGTON ― A number of experienced Republicans offering to help Donald Trump assume the office of the presidency have effectively been blacklisted from doing so because they were previously critical of his White House bid.
On Monday, The Washington Post reported that numerous national security figures from the GOP ranks were concerned that they were being denied jobs on the transition team and in the incoming administration because they had signed a letter pledging to oppose Trump during the months he was running for the Republican nomination.
The ostracism is real, multiple sources told The Huffington Post a few weeks back, and it extends beyond the national security realm. According to these sources ― one of whom works on the transition and another who was prevented from doing so ― Trump's team has identified people who were highly critical of his candidacy and essentially cut them off from being part of the current operation. In one instance, a Republican official working on the confirmation strategy for EPA secretary nominee Scott Pruitt was removed from that team because he had been a Never Trump-er
"Somehow it was relayed to them [that I was helping out], and somebody had a meltdown," said the officer, who, like other sources, spoke on condition of anonymity. 
Sean Spicer, the incoming White House press secretary, noted that the transition has had more than 300 volunteers helping to prepare nominees for their hearings and confirmation battles. "The national security team is second to none in terms of their bona fides," he added. "This sounds more like whining from people who didn't understand the power of the Trump movement."
Eliot Cohen, a prominent neoconservative figure who clashed with Trump's team during the campaign and in the early days of the transition, was critical of those officials who spoke to The Washington Post, urging them to either not get involved or not complain at all.  
To date, the only major setback that Trump has suffered with respect to staffing his administration has been Monica Crowley ― a conservative TV personality whose appointment to a national security post was scuttled after revelations of widespread plagiarism in her career. Beyond that, Trump's nominees and appointments appear fairly well positioned for confirmation and the assumption of office.
But the unwillingness to bring in former critics ― either on staff or in an advisory role ― does carry larger risks. Beyond the top levels, Trump and his team must fill thousands of political positions with qualified Republicans soon after President Barack Obama leaves office. And as Max Boot, a fellow at the Council on Foreign Relations, noted, the fact that many of these positions appear unfilled at this juncture suggests that the staffing process is plagued by infighting or lack of personnel.
Some of the slow pace of mid- to lower-level staffing is attributed to the fact that Republican foreign policy hands are already wary of working for Trump and his incoming national security adviser, Michael Flynn. As one official noted, many of the top GOP operatives in this field have spent years advocating and crafting a worldview diametrically at odds with the pro-Russian tilt of the incoming administration.
But bruised egos also seem to be a stumbling block. A source close to the transition pointed to that August letter signed by 50 Republican national security experts warning that Trump "would be a dangerous President, and would put at risk our country's national security and well-being."
"Those people are not going to get jobs," said the source, who requested anonymity to discuss internal deliberations.
REAL LIFE. REAL NEWS. REAL VOICES.
Help us tell more of the stories that matter from voices that too often remain unheard.