"Secret Service said NO, too far from airport & big Paris shutdown," Trump tweeted, adding that he gave a later speech in the rain at another ceremony. "Speech next day at American Cemetary [sic] in pouring rain! Little reported-Fake News!"
The Secret Service did not immediately respond to a request for comment on the president's tweet.
Trump had been widely criticized for skipping the Saturday event at the Aisne-Marne American Cemetery, about an hour's drive from Paris, because of "scheduling and logistical difficulties caused by the weather," according to the White House.
White House chief of staff John Kelly attended the ceremony in his place, after traveling to the ceremony in a small motorcade.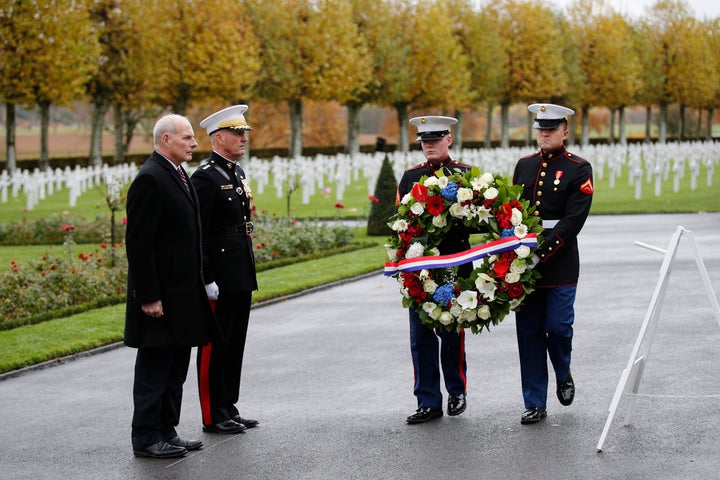 Trump on Sunday also missed a procession of world leaders who somberly walked shoulder-to-shoulder in the rain as bells tolled marking the exact moment the war's fighting ended: 11 a.m. on Nov. 11, 1918.
His absence was again blamed on travel, with him and first lady Melania Trump opting to drive separately to the event rather than with other leaders by bus from the Élysée Palace. White House press secretary Sarah Huckabee Sanders cited security protocols for the decision that got them to the event late.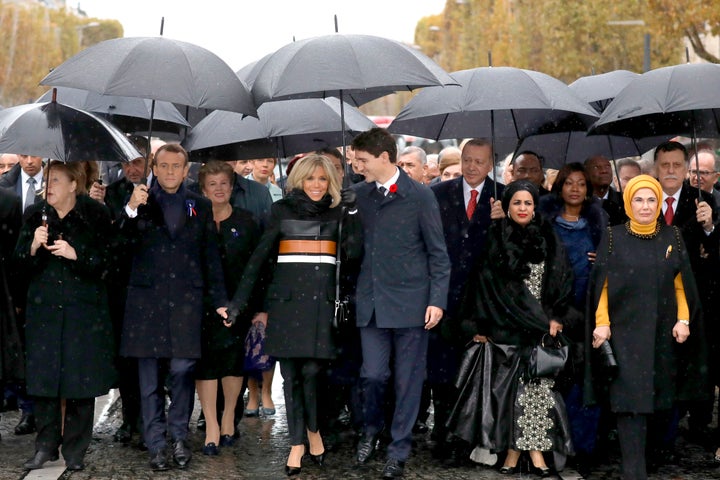 Trump, who returned to Washington on Sunday, also skipped a Veterans Day memorial event at Arlington National Cemetery in Virginia on Monday.
On Monday, France's Army appeared to join in on trolling Trump's absence due to the weather by sharing a photo of a soldier crawling through the rain.
The caption, translated into English, read: "It's raining, but it's not a big deal — we're staying motivated."
Trump's defense of his absence on Tuesday was part of a string of bizarre tweets about France and its president, who recently suggested building a "true European army" to protect the continent's countries from attacks, including from the U.S.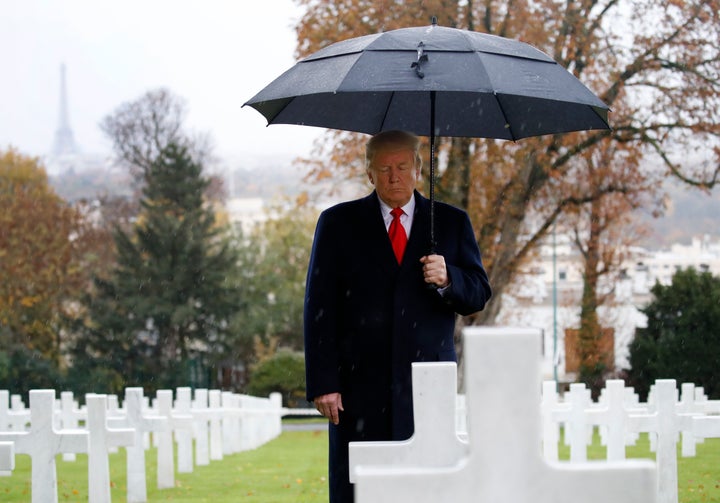 Trump ridiculed that suggestion by pointing a finger at Germany and its past adversarial role against France during World War I and World War II.
"They were starting to learn German in Paris before the U.S. came along," Trump quipped.
He then attacked tariffs on wine, accusing ones placed on U.S. products exported to France as being too high, before making personal attacks on Macron and his "very low Approval Rating in France."
Trump, in an apparent attempt to drum up support for his embrace of "nationalism" ― a term Macron over the weekend decried as a "betrayal of patriotism" ― declared that "there is no country more Nationalist than France, very proud people-and rightfully so!"
This story has been updated with additional background and more tweets from Trump.