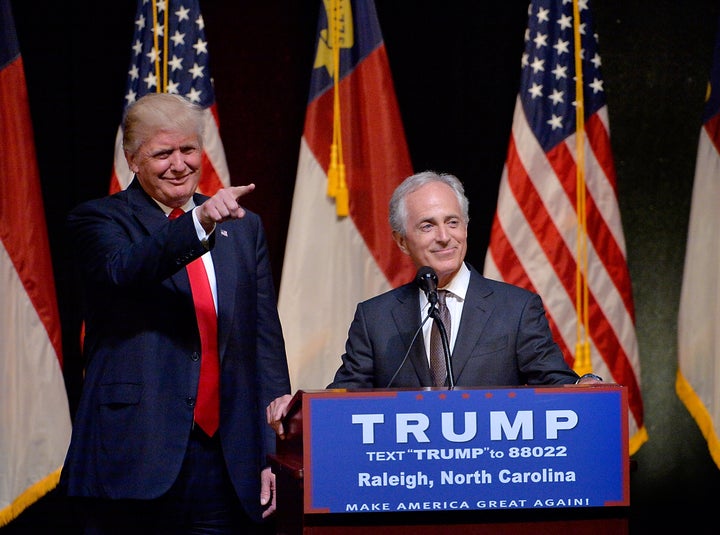 WASHINGTON ― Donald Trump, who will be president of the United States in 14 days, answers calls on his cellphone, even when there is no caller identification information available, according to a Republican senator who is in frequent communication with him.
On Sunday, Senate Foreign Relations Committee Chairman Bob Corker (R-Tenn.) needed to talk to Trump, he told reporters Friday at a breakfast hosted by The Christian Science Monitor. "I called him on his cellphone, he answered it, we talked," Corker said. "And by the way, my phone says, 'No caller ID,' so I'm not saying that has anything to do with me. Nobody has any idea who's calling when I'm calling."
The Trump transition team did not immediately respond to a request for comment about whether the president-elect screens incoming calls.
Corker, who was floated as a potential Trump running mate and later as a secretary of state pick for the administration, shared the anecdote as proof of the accessibility of the president-elect and his team. "It's an amazingly accessible group of people, it's really beyond believable access," Corker said.
It's "highly refreshing that you're able to deal with people, get an answer, move on," Corker continued. "I don't think there's likely been a White House like this maybe ever, but certainly in modern history."
That statement was greeted with a round of giggles from reporters in the room, who have a difficult time getting responses to inquiries from the Trump transition team. Trump has not held a press conference in over five months.
At his last press conference in July, Trump asked Russia to "find the 30,000 emails that are missing" from former Secretary of State Hillary Clinton's personal server ― a statement that was widely interpreted as an invitation to the Kremlin to hack his opponent's emails. Trump's team later clarified that he was only asking Russia to turn over the emails to the FBI if they already had them in their possession.
Calling all HuffPost superfans!
Sign up for membership to become a founding member and help shape HuffPost's next chapter