Republican presidential nominee Donald Trump is in the middle of an effort to "soften" on deportations this week, which a campaign spokeswoman said was about changing the words he uses to express the same opinions he's held all along.
That might include avoiding words like "vomit," which he used in a little-noticed April 2015 speech while talking about people crossing the border illegally in the same breath as foreign goods.
"Everything's coming across the border: the illegals, the cars, the whole thing," Trump said at an event hosted by Texas Patriots PAC. "It's like a big mess. Blah. It's like vomit."
He spoke on April 30, about a month and a half before he announced his bid for president by saying he would make Mexico build a border wall and vilifying Mexican immigrants as murderers and rapists. Trump previewed that message in the same speech to the Texas Patriots PAC in a way that was remarkably similar.
"Mexico is not our friend, by the way," he said, adding that "illegals" are "pouring across."
"And just so you understand, this is the way life works: These are not their best and their finest. These are not you coming across," he said, gesturing to the audience. "These are people ― and some are very fine, I'm sure ― but they're sending their killers, their rapists, their murderers, their drug lords. This is what we're getting."
He said the same day in a press conference that unauthorized immigrants "are coming over by the millions through the border like it's water, like it's a sieve."
Trump's current position on immigration isn't entirely clear ― in fact, it seems to change every time he talks about it. But he is certainly moving toward a softer approach of talking about undocumented immigrants, compared with his frequent promises to round up and deport all 11 million people living in the U.S. without authorization.
Trump campaign officials say nothing has changed ― one aide told The Huffington Post that the term "mass deportation" was a media-invented one that painted the wrong picture of his actual policies, which would not involve large-scale raids or detaining mass numbers of people.
Trump has said that he would not support "amnesty," but also indicated he will take a less hard-line approach than the deport-them-all tack he took previously.
It certainly doesn't sound like the way he spoke about undocumented immigrants last April. When he polled the crowd on Wednesday about what to do about undocumented immigrants, he offered ― although did not necessarily endorse ― an option that he previously would have decried as amnesty.
"So, now we have the person ― 20 years been an upstanding person, the family is great, everyone is great," Trump said. "Do we throw them out or do we work with them?"
Before You Go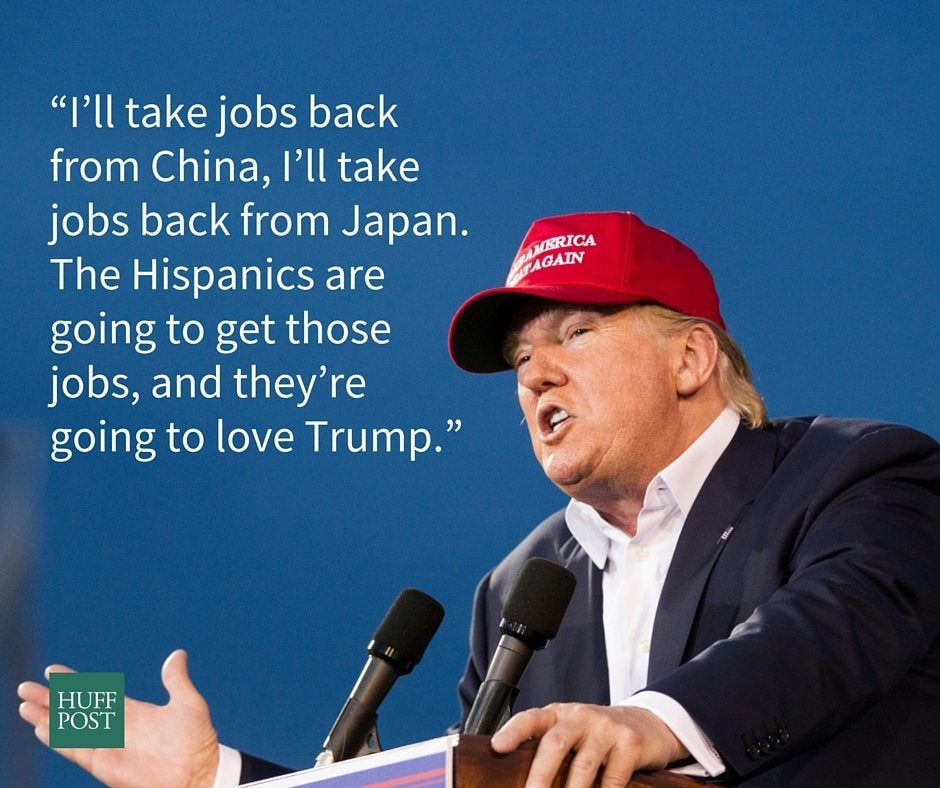 9 Other Absurd Things Donald Trump Has Said About Latinos
Popular in the Community