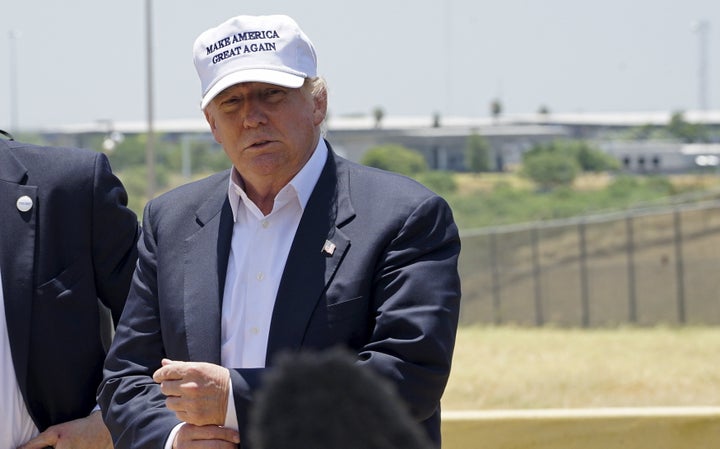 The Trump administration is not planning on claiming land on the Mexican side of the U.S.-Mexico border for purposes of building a border wall, an administration official confirmed to The Huffington Post.
The possibility of such a seizure was raised in vague remarks by Interior Secretary Ryan Zinke this week, when he spoke about the difficulty of building a partition between the two countries along the Rio Grande.
"The border is complicated, as far as building a physical wall," Zinke reportedly said. "The Rio Grande, what side of the river are you going to put the wall? We're not going to put it on our side and cede the river to Mexico. And we're probably not going to put it in the middle of the river."
Democrats argued that Zinke's remark implied that the administration was actively contemplating building a wall in Mexico, which would be both legally dubious and diplomatically problematic. But Zinke's spokeswoman Heather Swift said this was a misreading.
"Secretary Zinke was talking about a combo of natural boundaries, fence, wall, towers, surveillance, etc. and regarding the river he was noting challenges that are being looked at," she emailed. "He wasn't proposing any policy."
And so, the U.S. government won't be making eminent domain claims in Mexico. But the clarification of Zinke's statement is still newsworthy in its own right.
Trump, after all, spent the campaign insisting that he would build a big, beautiful wall along the Mexican border that would have a large door to let in legal immigrants and would be entirely paid for by the Mexican government.
Mexico has refused to pay for it. And now, it appears, the administration is conceding that it won't be an actual, physical wall along huge swaths of the southern border, at least for the Rio Grande portions.
Popular in the Community