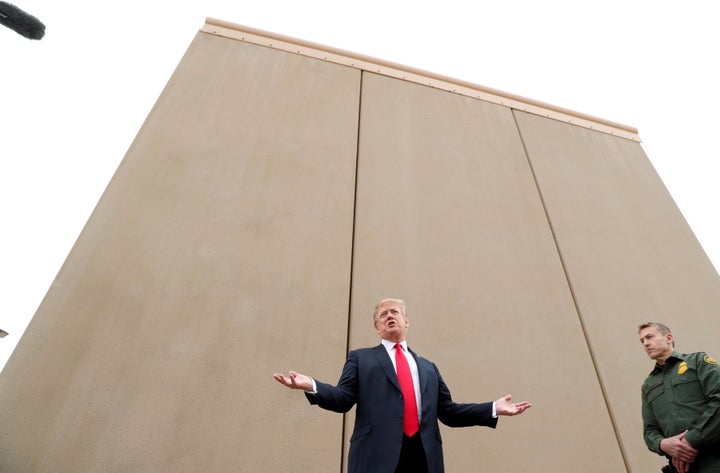 SAN DIEGO ― It could have been a victory lap. On a foggy Tuesday, President Donald Trump traveled to the desert outside of San Diego to visit eight wall prototypes constructed in service of his signature policy goal: his "big, beautiful" southern border wall. Trump, ever the showman, examined eight contestants in his wall pageant, a contest in which he hopes to one day pick a winner. Which one would he pick? Would the fans know before the first-term series finale?
The visit also marked Trump's first trip to California since winning the presidency. It could have been the perfect moment to troll the state that so forcefully rejects him and his policies.
And it was all going so well. In the hours before Trump's arrival just before noon, the handful of pro-wall, pro-Trump rallies around Otay Mesa, the southern San Diego community that backs right up to the U.S.-Mexico border, brought together hundreds of supporters of the president and his proposed expansion of the border wall. The crowd chanted familiar Trump rally refrains ―"Build that wall!" "Lock her up!" ― while flying "Make America great again" flags.
Shortly after Air Force One touched ground at Miramar Marine Corps Air Station, a Trump supporter grabbed the microphone: "Trump has landed!" she shouted. The crowd erupted with excitement. The fans were ready for their hero. But the thrill quickly died down.
Then, a car drove by and yelled "Fuck Donald Trump!"
As the crowd was shaking off the insult, a man in a passing car waved a Mexican flag, which fell off his pole and into the street. Suddenly a group of Trump supporters found their courage. They raced to the flag and snatched it up.
"Burn it!" they chanted. They settled for shredding it.
At last the motorcade arrived. Trump, flanked by federal and local law enforcement, was finally here to see his wall prototypes. Within hours of Trump's visit, federal authorities were charging three rural Illinois men ― one of whom was a bidder on Trump's border wall contract ― for the bombing of a Minnesota mosque last year and the attempted bombing of a women's health clinic in Illinois.
Touring the site, Trump explained he preferred "see-through" walls. "You have to know what's on the other side of the wall," he explained. He is partial to taller walls, arguing some of the people who cross the border are "like professional mountain climbers."
"They're incredible climbers," Trump said. "They can't climb some of these walls. Some of them they can. Those are the walls we're not using."
Unlike most of Trump's campaign promises, many of which were drafted in a matter of weeks or months, the promise of a southern border wall has been part of his policy platform since he first announced his candidacy in June 2015. The idea of a newly fortified border wall electrified his base, who have gleefully chanted "Build the wall!" at his rallies. It also has become a rallying cry for racists, middle school and teenage bullies, and college students on spring break in Mexico.
"We have a lousy wall now," Trump said Tuesday. "When we put up the real wall, we're going to stop 99 percent [of illegal crossings], maybe more than that."
The cost estimates for Trump's "real wall" vary wildly. In January, Trump said he wants $25 billion for border security efforts, including for his wall. He's said at various points that he believes the wall can be built for $8 billion to as much as $12 billion. Senate Democrats have said it would it would be far costlier, closer to $70 billion. Independent analysts have pegged the cost at anywhere between $15 billion and $40 billion. Trump has long promised that Mexico will pay for the wall, whatever the cost, while Mexican President Enrique Peña Nieto has rejected those claims.
What is clear is that Trump's wall, if it is actually ever constructed, will represent the culmination of decades of hardening of the U.S.-Mexico border zone. Throughout the 20th century, barbed wire, then fencing, then some observation towers, then more fencing have been constructed in and around various border towns, ranches and expanses of border land in an attempt to deter traffic. By 2006, President George W. Bush ushered in the construction of the more than 650 miles of fencing and barriers along the U.S.-Mexico border that exists today.
The structures that now make up the border barrier consist of iron fencing, stretches of vehicle barriers and barbed wire, as well as natural barriers, such as the Rio Grande. The border fencing has long been full of gaps and stops and starts along the way. The border barrier has been fairly effective at deterring illegal crossings. Apprehensions at the southwest border, which represent nearly 98 percent of total illegal crossings nationwide, fell to just over 300,000 in 2017, less than one-fifth of the 1.6 million apprehensions in 2000. But the barrier has the negative effect of pushing vulnerable people into more dangerous environments, cleaving communities and being profitable for human smuggling networks.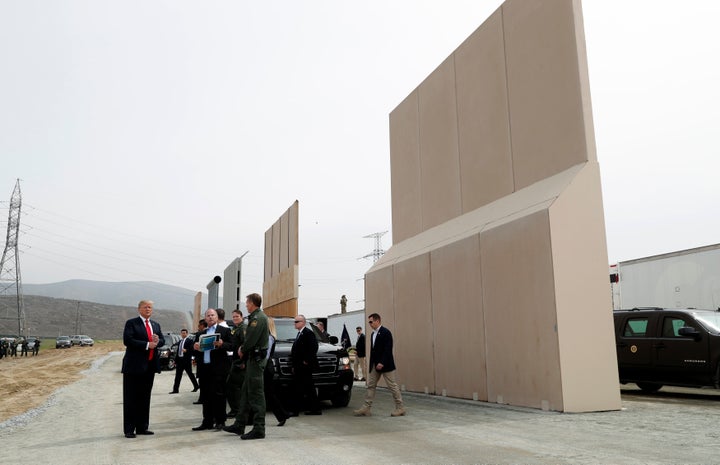 Trump, undeterred by these realities, examined the proposed wall slabs for about an hour.
At a smaller gathering overlooking the wall prototypes, a couple of dozen people gathered. Wearing Trump gear, they listened to music, held signs expressing support for Trump and his wall, and waited for the president to inspect the prototypes in the distance. One Trump supporter shouted "President Trump, we love you." Another chanted, "Build that wall!"
Trump, a mile or two away, couldn't hear them. And his supporters couldn't hear him, either.
Shortly after 1 p.m., Trump was loaded back into his caravan to return to Miramar Air Station. Next up was Los Angeles, where the president would spend about four hours at the private residence of a Republican National Committee fundraiser.
As he headed north, a few dozen Trump supporters stood on one side of a street while a few dozen Trump protesters stood on the opposite side. They pointed their signs at each other and waved their flags near the entrance of a shipping facility where Trump's motorcade would drive by. The motorcade was met with the requisite cheers and boos, but that soon faded away.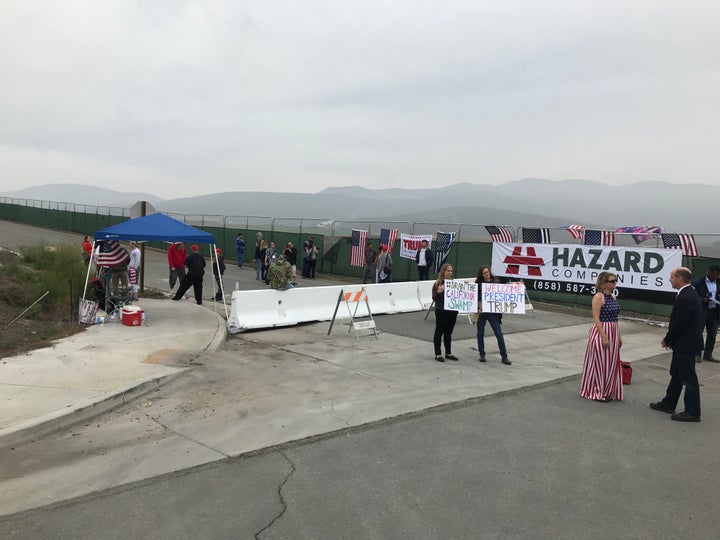 Popular in the Community