NEW YORK -- Forget the 3 a.m. phone call. For Donald Trump, the commander-in-chief test is the 7 a.m. television hit by phone.
He was patched through live during the 7 a.m. hour on Fox News and NBC's "Today" show to respond to the attacks. Then he called into CBS News' digital network, with part of that interview airing on "CBS This Morning," one of the only major news shows which has refused to take Trump by phone for scheduled interviews. He later called into Fox Business Network and ABC's "Good Morning America."
In a matter of minutes, Trump managed to turn a tragic and complex story unfolding across the globe into a conversation about his favorite topic: Trump.
Sen. Ted Cruz (R-Texas) was forced to hastily arrange a press conference outside a prominent D.C. seafood restaurant and lobbyist haunt (which happens to be outside the Fox News studio). Democratic front-runner Hillary Clinton, meanwhile, called into several TV shows during the 9 a.m. hour, while Ohio Gov. John Kasich (R) phoned MSNBC during the following hour.
The flurry of reactions from would-be commanders-in-chief all came before the actual president, Barack Obama, delivered his remarks on the situation.
Broadcast and cable news shows have routinely allowed Trump, who drives ratings, to call in live throughout the 2016 election cycle, a perk rarely afforded to his rivals, who generally appear in studio or remotely on camera.
But the ratings bonanza doesn't come without a cost, and Tuesday's events raised questions about the pros and cons of networks affording so much of their real estate to the real estate tycoon.
When Trump called into "Fox & Friends" around 7:30 a.m., the network kept him on the air for 12 minutes, even though French President Francois Hollande was making his first remarks on the terrorist attacks at the same time. (MSNBC and CNN covered Hollande.)
Further complicating the debate over how much Trump is the right amount of Trump is that, on a substantive level, it's clear that he didn't add much to the discussion of the Brussels attack.
"I'd close up our borders to people until we figure out what is going on," Trump said on Fox News, reiterating his December proposal to temporarily ban Muslims from entering the country until U.S. leaders "can figure out what is going on."
Trump later said that if he were president today, he'd give the American people "a pep talk" because "we need spirit in our country."
In describing the threat radical Islamic terrorism poses to the U.S., Trump was characteristically vague.
"We don't know what's going on," he said. "There's something going on. There's something different. They're not assimilating into society and there's something different."
None of this is exactly informative or groundbreaking. And it's fair to ask whether the networks would be doing their viewers a better service by giving more airtime to reporters on the ground and experts who can explain the intricacies of European politics and counterterrorism strategies.
Trump has also used his phone interviews as political springboards, a quick and easy opportunity to present himself as presidential and set the agenda for his competition.
Clinton, who is campaigning in Washington state, and thus was three hours behind the New York media cycle, called in after Trump to "Today," "Good Morning America," and "CBS This Morning," which relaxes its phone interview ban in breaking news situations. She appeared on camera on CNN and MSNBC in the afternoon.
Like Trump, she spoke about how she would react if she were president today. But she was also forced to respond to his comments about how he would bring back waterboarding.
"That is just another one of his claims that doesn't bear up," Clinton said on ABC. "Our best and bravest intel and military leaders will tell you torture's not effective."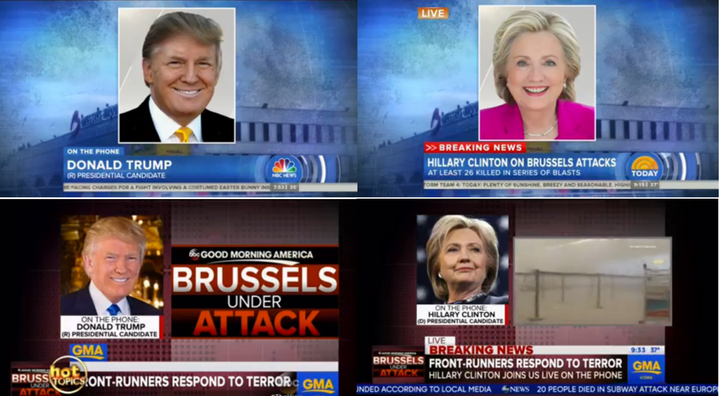 Clinton's 2008 campaign ushered the "3 a.m. phone call" into the political discourse eight years by suggesting that Obama wasn't as equipped to handle a crisis in the middle of the night as she was. That hypothetical call came up Tuesday during an actual one, as "Today" co-host Matt Lauer asked Trump how he'd react if the phone rang at 3 a.m.
"Well, first of all, this is a subject that is very dear and near to my heart because I've been talking about it certainly much more than anybody else and it's why, probably, I'm number one in the polls," Trump said.