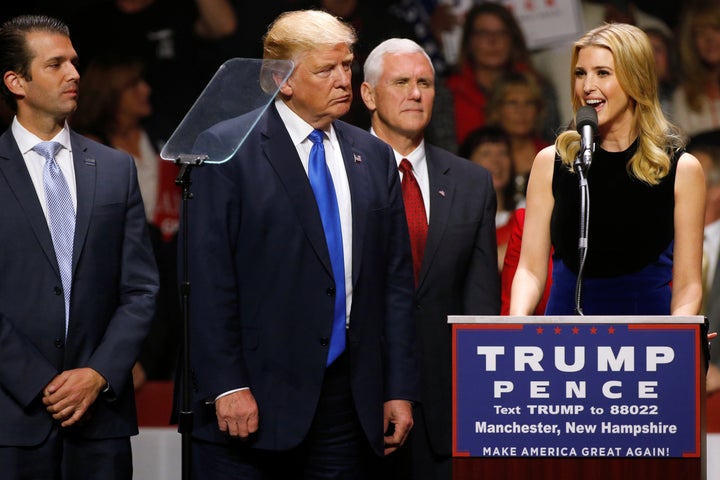 President-elect Donald Trump said Wednesday he's leaving his business "in total," but provided no details about who would take over.
"While I am not mandated to do this under the law, I feel it is visually important, as President, to in no way have a conflict of interest with my various businesses. ... Hence, legal documents are being crafted which take me completely out of business operations. The Presidency is a far more important task!" Trump said in a series of tweets posted Wednesday morning.
Trump said he would hold a news conference with his children on Dec. 15 to discuss the move away from his business.
It's unclear whether he intends to turn daily control of the Trump Organization over to his three oldest children ― Donald Jr., Ivanka and Eric ― to run the privately owned conglomerate, or set up a blind trust. In a blind trust, the owner of a business relinquishes management of the company's assets to an independent party to avoid conflicts of interest in public office.
Trump's lawyer said this month that the three adult children would control the blind trust. But then the president-elect enlisted all three to serve on his presidential transition team's executive committee. Ivanka, widely seen as one of Trump's closest surrogates, sat in on a meeting with Japanese Prime Minister Shinzo Abe and on a call with Argentine President Mauricio Macri, casting doubt over the blindness of any trust led by the 35-year-old. 
Transition team spokesman Sean Spicer said working through the details is taking time, but that Trump is keeping his promise of devoting his full attention to the presidency. 
"He's always been very clear that he was going to turn over the business to his adult children to run the family business, and that transition is what's occurring right now," Spicer said. 
But when asked whether Trump intended to divest himself of ownership of his various properties or merely managerial control, Spicer said the president-elect would provide that information next month.
"Mr. Trump will walk through the details on the 15th of December. So stay tuned," Spicer said.
What Trump should do is appoint a truly independent trustee to sell his business and manage the trust while he is in office, periodically reporting only the value of the company's assets, according to an op-ed by two former chief White House ethics lawyers under President George W. Bush and President Barack Obama.
"A blind trust is defined by federal law as one in which a federal official selects an independent trustee (with no familial ties) who sells the official's known assets and purchases investments unknown to the official," Richard Painter and Norman Eisen wrote. "That is what makes it blind."
The nature of the Trump Organization's business also makes it difficult to eliminate conflicts of interest in the White House. The company is largely a real estate and licensing company, with an empire of properties across the United States and a portfolio of buildings around the world that pay to brandish the Trump name. Trump's companies operate in at least 20 countries, according to a hefty New York Times analysis published on Nov. 26.
That makes it harder to erase conflicts of interest, or at least the perception of them. Trump may not oversee the day-to-day activities of his company, but a local official eager to curry favor with the White House could easily identify a Trump property to lodge in, host events at or fast-track for development.
It's already happening. Three days after Trump received a congratulatory call from Macri, a long-stalled tower in Buenos Aires got the green light from city officials. Both Trump and Macri denied reports that the incoming president asked for help clearing the permits to build the office tower. But it's hard not to be skeptical. 
On a call with Turkish President Recep Tayyip Erdoğan, Trump touted his Turkish business partner as "a close friend" and passed on remarks that he is "your great admirer," as The Huffington Post reported last week. 
The Embassy of Bahrain on Tuesday said it plans to host its annual National Day celebration at the newly opened Trump International Hotel in Washington, D.C., next month. The hotel became a flashpoint of the president-elect's conflicts of interest when it suggested this month that foreign officials should stay there during official trips to help their relationship with the White House.
Trump's business interests represent an unprecedented web of conflicts of interest, particularly when compared to his predecessor. Obama's assets, worth between $2 million and $7 million, are mostly tied up in Treasury bills and index funds. He and first lady Michelle Obama are still paying off a 30-year mortgage on their home in Chicago.  
S.V. Date contributed to this report. 
This article has been updated to include comment from Sean Spicer.
Calling all HuffPost superfans!
Sign up for membership to become a founding member and help shape HuffPost's next chapter
BEFORE YOU GO
PHOTO GALLERY
This Is What The World Finds Scariest About Trump