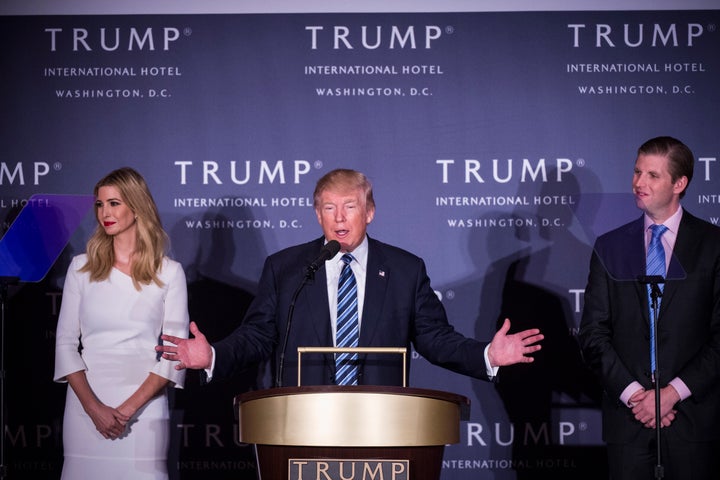 WASHINGTON ― President-elect Donald Trump likely cannot appoint any of his children to head any Cabinet agency or department of government due to anti-nepotism laws.
An anti-nepotism law enacted in 1967 prevents public officials, including the president, from appointing any relative to head an executive agency.
Trump's transition team has floated his son Donald Trump Jr. as a potential head of the Department of Interior, according to media reports.
In an interview with Petersen's Hunting in January, Trump Jr. said, "Our big inside joke over Thanksgiving and Christmas, now that this thing has become very real with the presidency, is, 'Hey, Don, the only thing you'd be doing in government is actually Interior.' So I don't know if I'd be the head of it or just informing the [head], but rest assured that hunters and shooters and others know that I'd have his ear."
And in a half-joking manner, Trump has touted his first daughter, Ivanka Trump, as the only woman he could name as a potential Cabinet secretary. A Florida newscaster asked Trump in August about women who could possibly serve in his Cabinet.
"Well, there are so many different ones to choose," Trump responded. "I can tell you everybody would say ― 'Put Ivanka in! Put Ivanka in!' You know that, right? She's very popular, she's done very well."
These appointments would face the immediate barrier of anti-nepotism law. The president is banned from appointing relatives to any civilian position in the federal government.
When the law was passed in 1967, it was presumed to be a congressional response to President John F. Kennedy appointing his brother, Robert Kennedy, as attorney general. The author of the bill, however, repeatedly denied this was his motive.
Rep. Neal Smith instead aimed the legislation, the Federal Postal Act of 1967, at nepotism in the postal service, and it applied broadly to both the executive and legislative branches. He said it applied to Congress because "there were 50 members who had their wives on the payrolls."
Some scholars believe that the application of anti-nepotism laws to presidential Cabinet appointments is unconstitutional ― the argument being that Senate confirmation is the only appropriate check Congress may impose on presidential appointments.
Trump could appoint his kids to head task forces or serve as unofficial "czars" with policy portfolios. The precedent for this is President Bill Clinton appointing then-first lady Hillary Clinton to head the official Health Reform Task Force in 1993.
Critics filed lawsuits challenging both her appointment under the anti-nepotism laws and the ability of the task force to meet in secret. A D.C. Circuit Court of Appeals decision upheld both her task force role and its ability to meet in secret.
Popular in the Community