NEW YORK -- Donald Trump doesn't need to buy media exposure.
Television networks have given Trump the most attention this election cycle due to a unique mix of celebrity, accessibility, front-runner status and propensity for making outrageous and offensive remarks. But Trump, claiming his campaign is $35 million under budget, pledged last week to spend $2 million a week on ads, with the campaign on Monday placing its first order for spots in Iowa and New Hampshire.
Before early state voters stumbled across Trump's ad on local stations, national news networks had already broadcast it dozens of times, beginning at 5:30 a.m. Monday. Over the next 24 hours, Fox, MSNBC and CNN ran the ad 60 times, according to a HuffPost tally using monitoring service TVEyes. Networks most commonly played the ad in full, though the tally includes partial airings in news segments.
Campaign ads can have news value, especially if they're provocative or a first of some kind. The ominous Trump ad, which highlighted his anti-Muslim stance, checked off both boxes. The ad also sparked controversy for implying that footage of people running across a "southern border" were heading from Mexico to the United States, when in fact, they were thousands of miles away in Morocco.
Still, the ubiquity of the ad across cable news during a 24-hour period demonstrated Trump's unmatched ability to generate free publicity. When Fox News covered the ad during the 6 p.m. hour, correspondent Carl Cameron noted it had "already received countless airings" on TV networks.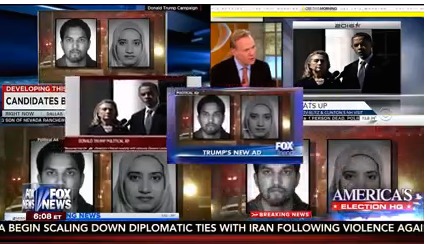 And beyond cable news, the ad ran Monday on top network morning shows, evening news casts, and even as a punchline on late-night TV.
ABC's Jimmy Kimmel joked Monday night that Trump released the ad as "part of his New Year's resolution to be on TV more in 2016." Later, NBC's Seth Myers remarked that Trump's paid ad blitz comes "on top of the free advertising Trump has been getting from TV networks for months."
Elizabeth Wilner, senior vice president at Kantar Media Intelligence, a company that tracks political ad spending, told HuffPost that Trump had run circles around the rest of the presidential pack in generating free media, which she estimated to be worth in the hundreds of millions of dollars.
She noted Trump previously garnered an unprecedented amount of national media coverage in November for simply making a radio ad buy.
"When do you ever see that much attention given to radio advertising in general? Never," Wilner said. "Everything he does gets incredible coverage."
Related
Popular in the Community