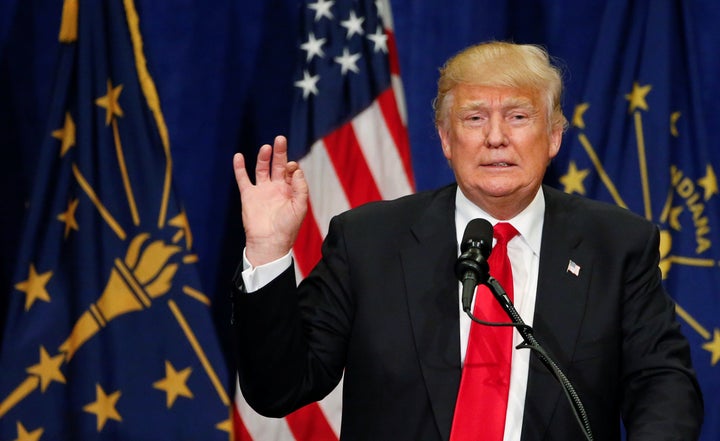 We're only a few weeks into the presumptive general election, and the wheels are already coming off Donald Trump's presidential campaign.
The Trump team is struggling with internal discord over his overtly racist tirade against a federal judge, MSNBC's Katy Tur and Benjy Sarlin reported Monday. Trump has repeatedly accused the judge, who was born in Indiana, of bias against him due to the judge's Mexican heritage.
Trump's comments against the judge horrified many supporters, but the real estate mogul rebuffed efforts by campaign staff, donors and party officials to back off the incendiary claim this weekend, per sources, telling them he was unwilling to look like he had caved to pressure.

"These are things that will defeat [us]," a second source within the campaign lamented.
But that wasn't the worst news on Monday.
In a conference call, which was revealed in this remarkable Bloomberg story, Trump instructed supporters and surrogates to follow his lead in questioning the judge's credibility. Furthermore, he directed those on the call to impugn critical reporters as racists for questioning his line of attack.
"We will overcome," Trump said, according to two sources who spoke to Bloomberg. (Yes, he seemingly invoked the protest song "We Shall Overcome," which is closely associated with the civil rights movement.)
Even more shocking was the reported lack of coordination between the candidate and his small campaign staff. Per Bloomberg:
When former Arizona Governor Jan Brewer interrupted the discussion to inform Trump that his own campaign had asked surrogates to stop talking about the lawsuit, Trump repeatedly demanded to know who sent the memo, and immediately overruled his staff.

"Take that order and throw it the hell out," Trump said.

Told the memo was sent by Erica Freeman, a staffer who circulates information to surrogates, Trump said he didn't know her. He openly questioned how the campaign could defend itself if supporters weren't allowed to talk.

"Are there any other stupid letters that were sent to you folks?" Trump said. "That's one of the reasons I want to have this call, because you guys are getting sometimes stupid information from people that aren't so smart."
But Brewer, who has said she is open to serving as Trump's vice president, still wasn't satisfied with that. "You all better get on the page," she told him, according to Bloomberg.
Popular in the Community