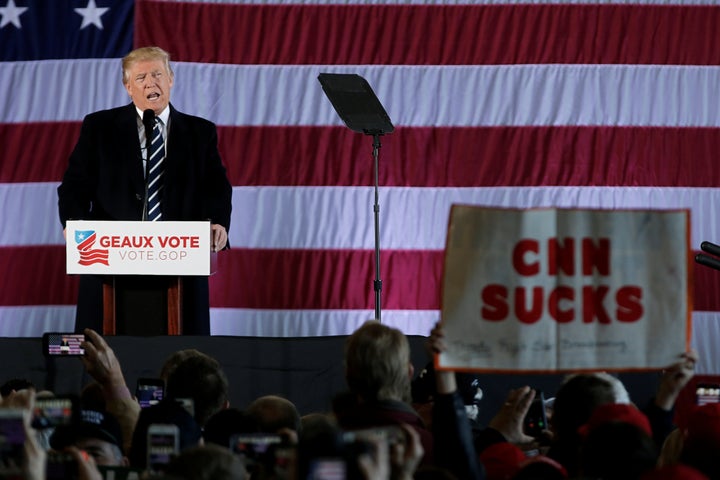 NEW YORK -- When a presidential candidate steps off the stage at a rally, reporters covering the event will usually leave the press section to interview attendees, rush forward to ask questions or exit the venue altogether.
Following reporter complaints last year of being confined to the press pen after speeches and even threatened with blacklisting, the Trump campaign and major TV networks agreed on ground rules for campaign events in late November.
But in recent weeks, journalists have again been ordered not to leave the press pen by campaign staffers and volunteers and even Secret Service agents, according to reporters who were granted anonymity to speak candidly. Journalists also said they were not allowed to approach the candidate to ask questions after events. The Trump campaign, at times, has ignored its November agreement with the press corps and, even more troubling, the Secret Service has appeared to enforce the campaign's press restrictions, reporters say.
In a statement, a Secret Service spokesman said the agency's role is not to restrict press.
"The Secret Service is aware of concerns involving press movements during some Campaign events. Campaign events are hosted by the candidate's staff," the spokesman said. "Any restrictions on press movements above and beyond security related procedures are designated and enforced by staff, not by the Secret Service."
The Trump campaign did not respond to a request for comment.
The campaign's restrictions of late have been inconsistent, prompting confusion among journalists over whether the campaign is intentionally flouting its agreement with the press corps or if some overzealous Trump staffers, volunteers and Secret Service agents are simply unaware of the ground rules.
In recent weeks, reporters were prevented from leaving the press pen after Trump's speeches in Wyndham, New Hampshire, and Lowell, Massachusetts, but not in Rock Hill, South Carolina. This reporter, who attended the South Carolina rally with the general public, witnessed reporters mingling with the crowd while Trump was still in the building, greeting supporters on the rope line.
Amanda Becker, a Reuters political correspondent, tweeted Friday that she was told not to leave the Trump event in Wyndham as the general public was leaving, but did so anyway.
Politico reporter Ben Schreckinger tweeted that despite the Secret Service's denial of intervening in press restrictions, he "had an agent prevent me from leaving press pen [at] an Iowa Trump event."
At a recent New Hampshire rally, The Huffington Post's Scott Conroy noted that a Secret Service agent stepped up to help when a Trump campaign staffer tried to interfere with his reporting.
Trump has benefited this election cycle from the most media attention by far, with every outrageous comment or bigoted proposal -- like temporarily banning Muslims from entering the country -- obsessively covered. Trump has been more accessible to prominent TV journalists than a typical front-runner and his ability to drive ratings has led networks to accommodate him for interviews.
In more than 35 years covering presidential politics, journalist Walter Shapiro wrote Thursday, he "can think of nothing as unfair as the disproportionate media attention that has been lavished on Trump from the beginning."
Still, the Trump campaign has been particularly heavy-handed in dealing with reporters this campaign cycle, including refusing entry to journalists from BuzzFeed, Fusion, The Des Moines Register and The Huffington Post, which had earlier relegated much of the candidate's coverage to the entertainment section.
On Friday, Trump staffers and local Iowa police ejected a New York Times reporter from a Pizza Ranch restaurant, claiming the campaign stop was private despite roughly 20 other journalists also covering it. In an article on the ejection, Times reporter Trip Gabriel noted that he had written a piece two days earlier questioning Trump's field operation in the state.
The Guardian reported Friday that a security guard threatened to remove reporters who attempted to interview members of the crowd at another Iowa stop. "You talk to people and you leave," the guard reportedly said.
Trump's rallies are media spectacles, with thousands of supporters lining up, routine disruptions from protesters and cable news network occasionally broadcasting live.
But once inside, journalists can face arbitrary restrictions on their movements.
Every attendee at a Trump event, whether they are a member of the public or credentialed media, gets screened by the Secret Service. And yet, reporters may be prevented from stepping outside the pen, mere feet from where members of the public are standing. When kept in the press pen, reporters can only interview attendees who come up to the barrier.
Journalists may attend Trump events with the general public and, if there's no specific security concern, sit wherever they want, take in different vantage points during the speech and speak with attendees throughout -- an advantage in trying to get varying perspectives. But journalists on deadline tend to need a place to sit and open laptops and to access power outlets or Wi-Fi available in the press section to file stories. In addition, camera operators need to be in the press section, standing on risers to get a clear view of the candidate.
Reporters who enter Trump events as credentialed media are expected to abide by the agreed-upon ground rules. For instance, reporters have to be inside the press pen 15 minutes before Trump begins speaking and are not permitted to leave until he leaves the stage. In addition, the networks agreed that reporters would not rush the rope line after Trump's speech and yell questions at the candidate -- a concession the Clinton press corps hasn't made despite being in a similar security situation.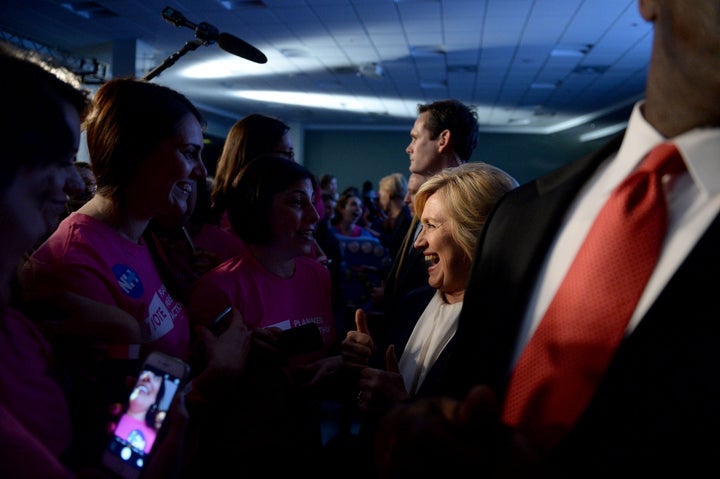 Democratic candidate Hillary Clinton, along with neurosurgeon Ben Carson, has Secret Service protection. But reporters covering Clinton told HuffPost that reporters aren't restricted to the press pen in any way similar to Trump reporters.
At Clinton rallies, reporters -- just like members of the public -- have to pass through security and are expected to cover the event from the press section. However, say reporters, they're permitted to mingle with the public during the event and approach the candidate on the rope line to ask questions. One reporter said Secret Service agents never interfered when the reporter tried asking a question.
Last week, Fox News correspondent Ed Henry tweeted that Secret Service agents blocked reporters from asking Clinton questions for a second straight day. A few minutes later, Henry tweeted that Clinton's traveling press secretary Nick Merrill called him and "made clear press can roam free" and try to ask the candidate questions at events.
"With regard to Ed, despite not always seeing eye to eye with his network, we have a good relationship with him," Merrill said in an email to HuffPost. "He's not afraid to tell us, or tweet us, with a gripe, and we do our best to address it. In this case, at some larger town halls Ed felt like he didn't have the access he was accustomed to, and we took steps to correct it, as you can see from his tweets. We worked with Secret Service and made sure our advance staff were all on the same page."
The Clinton campaign infamously corralled reporters at a July 4 parade, but hasn't had a similar incident in more than six months since.
Merrill said the campaign has "been very relaxed about the press pen."
"We made a conscious decision early on that press should be able to roam around after an event," he said, "which is contrary to what a lot of campaigns do and have done historically at this level."
This article has been updated to include tweets from reporters Becker and Schreckinger about their experiences with the Trump campaign.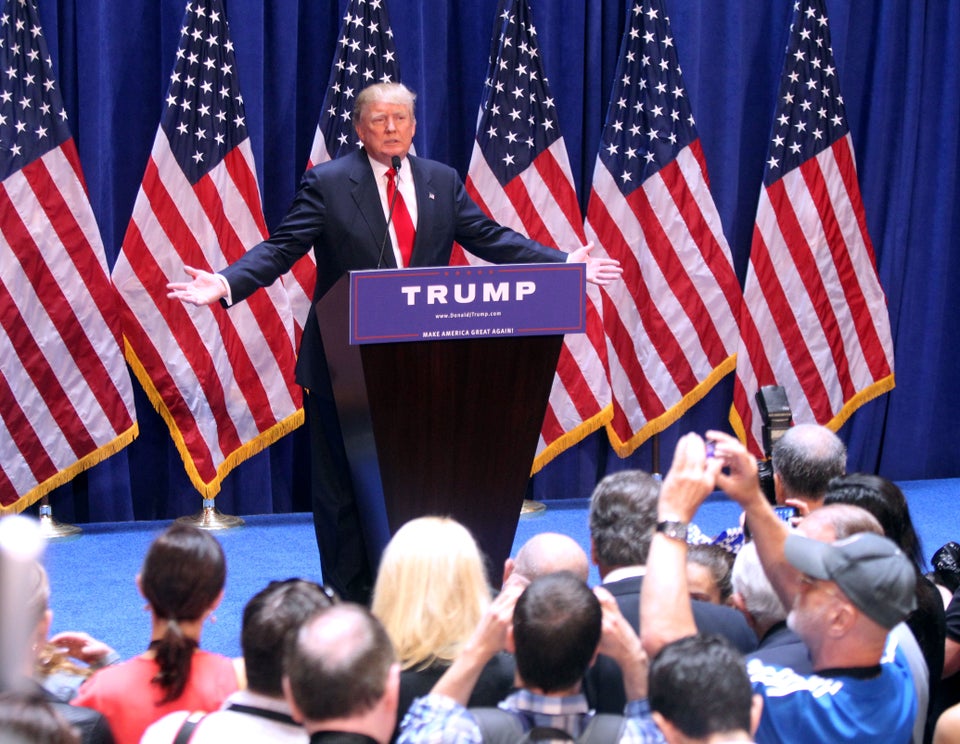 Trump on the Campaign Trail
Support HuffPost
The Stakes Have Never Been Higher
Related
Popular in the Community