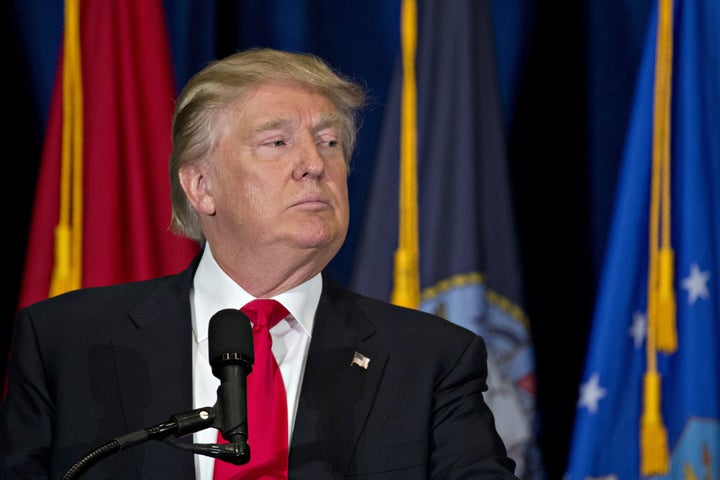 As he heads for the Republican convention in Cleveland next week, Donald Trump's campaign infrastructure remains severely underdeveloped. In some places it appears to be non-existent.
The presumptive Republican presidential nominee has been public about his belief that he can navigate his way to electoral victory on thin budgets and limited physical presence. But the degree to which his campaign is barebones may not be fully appreciated.
The Huffington Post attempted to call the contact phone numbers for the Trump campaign in all 50 states. A few of the state operations had no websites or no numbers listed. Many of the other numbers didn't work. When we left voicemails, we didn't get callbacks.
On only six occasions did someone actually answer the phone. And in several of those instances, the person who picked up explained that a physical office would be opened up only after the convention.
"I'm sure the headquarters will open soon," said the individual who answered Trump's Georgia number.
"We don't have them open yet," said his Michigan staffer. "We are getting them ready."
An official in South Carolina said that the Trump campaign pulled out of the state after the primary but that they were expecting to re-open following the convention.
Individuals in New Hampshire and Washington said they did have at least one office in the state. In the latter, there was just one, with a Seattle office coming soon.
An official in Fayetteville, North Carolina, said that the campaign had closed down their headquarters after the primary but that an office was open in the Charlotte area.
The paucity of live voices on the other end of the phone line doesn't mean that Trump has functioning operations in just those few states. In Ohio, a news report noted that Trump has a physical office. In California, it has been reported that one is coming shortly. In Florida, there is a Trump office as well, though it will apparently close during the convention. In Virginia, there may not be an office but there are active volunteers ― as is the case in other states like Wisconsin.
But if you're a Trump supporter wanting to find a place to work phone banks, pick up some yard signs or otherwise volunteer to help, the process isn't easy.
The campaign has a distinct website for nearly every state except, for some reason, Iowa, North Dakota and Wyoming. They're largely similar: information on where to vote in the now-past primary or caucus, a "get out the vote" video featuring Ivanka Trump, a form to sign up to volunteer, and a number to call for help. But in many states, the phone numbers don't function at all, raising the question of why they're listed in the first place.
The phone numbers listed for Alabama, Arizona, California, Montana, New Jersey, New Mexico, South Dakota, Tennessee, Utah and Virginia all had a recording identifying itself as the Trump campaign headquarters. But many of them went straight to voicemail. The Nevada and Florida numbers didn't have an outgoing message, other than to inform callers that the mailbox was full.
Fourteen of the state websites list numbers for the Trump headquarters in New York City ― 15, if you count the New York state website ― rather than for campaign offices within the state. There are no numbers listed on the websites for Massachusetts or Texas.
Then there are the states where you get an error message if you dial in. Arkansas and Oklahoma share a phone number, but it's not in service. There's an "application error" for Delaware, Indiana, Maryland, Nebraska, Ohio, Oregon, West Virginia and Wisconsin. An automated voice informs callers to the Connecticut and Pennsylvania offices that the customer they are attempting to reach has not set up a voicemail and suggests they try again later.
The Trump campaign headquarters did not return a request for comment.
In the past, the campaign has downplayed the need for a brick-and-mortar operation, arguing that large rallies and free media could supplement a lack of on-the-ground effort. During the primary, Trump did routinely set up offices in states with upcoming elections, but many of them closed once the vote was over.
The Republican National Committee is trying to help Trump catch up on this front. While officials there likewise did not return a request for comment, top GOP aides have expressed confidence in earlier conversations that they can run a competitive ground game in the fall. Still, they start from a serious deficit. On Monday, the Associated Press reported that the RNC was lagging in terms of staffing in critical battleground states. While they were hoping for 220 paid staff in Ohio, for example, they had around 50 in May.
The Clinton campaign, for its part, doesn't make life easy for those who want to find a physical campaign office nearby. The state websites don't include addresses or phone numbers, just forms that people can fill out to contact individuals in specific states.
But the Clinton presence is certainly more noticeable than Trump's. According to a Clinton aide, the campaign currently has more than 100 offices in 14 states. All told, it had staff in 45 states.
Local press reports identify 11 of the states where Clinton has opened campaign headquarters: Arizona, Colorado, Florida, Iowa, Nevada, New Hampshire, North Carolina, Ohio, Pennsylvania, Virginia and Wisconsin.
Popular in the Community