WASHINGTON ― Republican presidential nominee Donald Trump, his campaign in dire straits, momentarily shifted his focus back to his platform as a "law and order candidate" in a speech Tuesday evening in Wisconsin, after declaring earlier in the day he would not "pivot."
"Crime and violence is an attack on the poor and will never be accepted in a Trump administration," Trump said in his speech on race and policing, which largely stuck to a prepared script. 
"The problem in our poorest communities is not that there are too many police," he continued. "It's that there are not enough police."
Trump tied his tough-on-crime remarks to unrest in Milwaukee that followed the weekend fatal police shooting of Sylville K. Smith, a 23-year-old black man arrested at a traffic stop.
The GOP presidential nominee has attempted campaign resets time and time again, trying to defuse controversies and divisive rhetoric that have dogged his candidacy. He buckles down and trades his usual impromptu soliloquies for scripted speeches that discuss policy issues. But these changes rarely last more than a day or two, before being eclipsed by yet another controversy, typically of Trump's own doing.
Last week, for example, Trump tried to get his campaign back on track with an economic policy speech. A day later, all semblance of a more disciplined Trump disappeared, when he suggested to supporters that they could assassinate Democratic nominee Hillary Clinton. After that, he declared (incorrectly) that President Barack Obama founded the Islamic State terror group. The comments dominated the news for several more days, resulting in another disastrous week for his campaign.
"I will fight to ensure that every American is treated equally, protected equally, and honored equally," the pledge states. "We will reject bigotry and hatred and oppression in all its forms, and seek a new future built on our common culture and values as one American people.
In his speech, Trump even tried appealing to African-American voters, who overwhelmingly vote for Democratic candidates. Recent national polls have indicated 1 percent of African-Americans support Trump.
But he delivered his remarks to a nearly all-white audience, in a county with a population that is less than 1 percent black. And his emphasis on "law and order" and tougher policing ignores the concerns of black voters, who have seen their communities gutted by mass incarceration, strict prosecution of non-violent offenses and discriminatory treatment by police.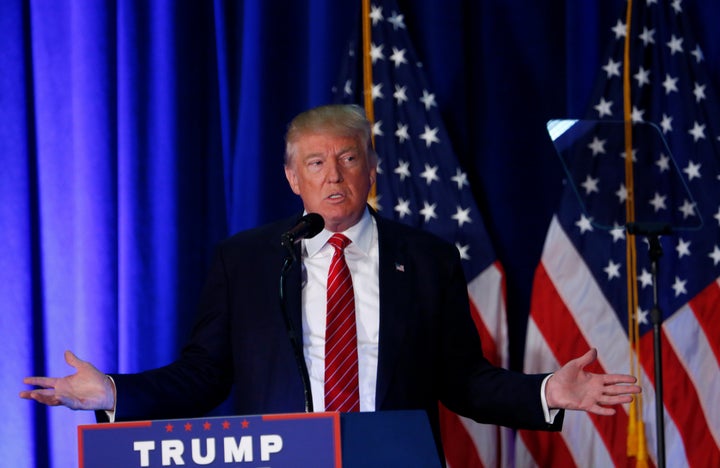 For months, GOP leaders with reservations about Trump have anticipated he would moderate his brash attitude and offensive statements for the general election. Trying to defend Trump on Tuesday, Wisconsin Gov. Scott Walker (R) told CNN that Trump should work on contrasting himself with Clinton.
"The focus has got to be on the two candidates," Walker said. "If Donald Trump talks about Hillary Clinton or talks about himself in making people's lives better ... and if it's about her and those issues and about Americans wanting a change, she's not the right answer."
In his speech on Tuesday, Trump attacked Clinton several times, assigning her the blame for violent crime in cities, and saying that she is "against the police."
But with only 12 weeks until the election and nothing suggesting Trump is interested in adjusting his manner and tactics, Republicans are running out hope that Trump will "pivot." 
Trump even said so himself in an interview earlier Tuesday with a Wisconsin television station.
"I am who I am," Trump said. "It's me. I don't want to change. Everyone talks about, 'Oh, well you're going to pivot.' I don't want to pivot. I mean, you have to be you. If you start pivoting, you're not being honest with people." 
Calling all HuffPost superfans!
Sign up for membership to become a founding member and help shape HuffPost's next chapter
BEFORE YOU GO
PHOTO GALLERY
Trump's Most Presidential Looks