President Donald Trump on Thursday canceled a scheduled June 12 summit in Singapore with North Korean leader Kim Jong Un after recent sparring between the two countries over the planned nuclear talks.
"Sadly, based on the tremendous anger and open hostility displayed in your most recent statement, I feel it is inappropriate, at this time, to have this long-planned meeting," Trump wrote in a letter to Kim, which was sent to reporters.
Read Trump's letter (story continues below):
South Korean officials appeared blindsided by the announcement.
It's also unclear whether State Department officials were aware of Trump's decision before he released the letter. When asked if the announcement came as a surprise, a staffer in the office that works on North Korea issues said he had to check with State Department spokeswoman Heather Nauert.
Speaking at the White House later Thursday, Trump said he had just spoken with military officials, as well as the leaders of South Korea and Japan. They are "ready for foolish or reckless acts be taken by North Korea," he said, adding that "an unfortunate situation is forced upon us."
"Hopefully positive things will be taking place with respect to the future of North Korea. If they don't, we are more ready than we have ever been before," he said, apparently a threat of military action.
On a call with reporters, a senior White House official asserted that Trump "had constant communication with our allies," but did not explain why U.S. allies were caught off guard. The official did not say whether Trump and Kim had spoken directly.
Of the letter, the official said Trump had "dictated every word himself."
Trump's announcement came hours after North Korean officials threatened to cancel the summit, angered by recent comments from Vice President Mike Pence and national security adviser John Bolton, who compared North Korea with Libya.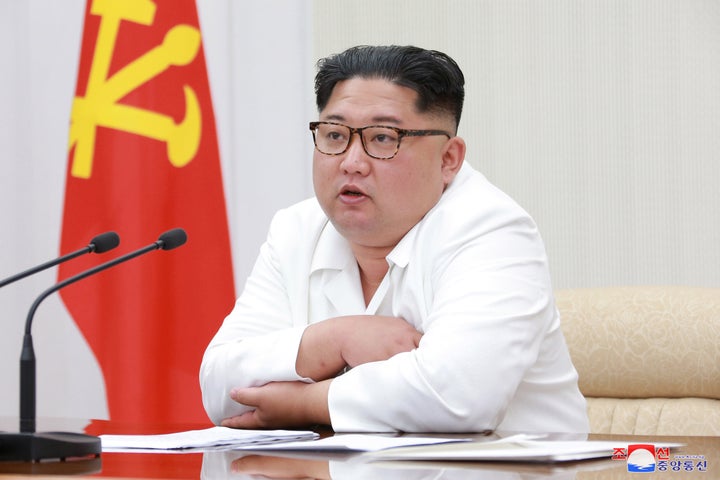 North Korean officials view Libya as a cautionary tale and called Bolton's remarks "awfully sinister." After Libyan dictator Muammar Gaddafi gave up his nuclear weapons program in 2003, an armed revolution aided by a U.S. and NATO military intervention ousted him in 2011. Rebel forces captured and brutally killed Gaddafi during the conflict.
"World knows too well that our country is neither Libya nor Iraq which have met miserable fate," a senior North Korean official said in a statement this month.
Earlier Thursday, North Korea announced that it had destroyed tunnels at what they say is the country's only nuclear test site. Trump did not acknowledge the concession in his letter.
The senior White House official said there was no way to confirm whether the tunnels had been destroyed because only a select group of foreign journalists had witnessed the process. No nuclear experts or monitors were present to inspect the site.
Cracks began to emerge in plans for the summit last week, after North Korea threatened to call off the meeting if the Trump administration demanded the country completely denuclearize. Trump appeared to soften his rhetoric toward North Korea this week, saying that a more gradual option of denuclearization was a possibility.
But he teased the summit's uncertain fate.
"We're moving along. We'll see what happens. There are certain conditions we want to happen. I think we'll get those conditions. And if we don't, we won't have the meeting," Trump told reporters Tuesday, without specifying what those conditions would be.
The next day, Trump told Fox News there was a "good chance" the summit would take place.
Trump, in his remarks Thursday, suggested that the summit could still happen "at some later date."
"Hopefully everything will work out well with North Korea," he said. "A lot of things can happen."
Trump had touted the renewed diplomacy with North Korea as a triumph for his administration, suggesting that he should win a Nobel Peace Prize for his efforts.
The White House push for negotiations in recent months was a dramatic shift from Trump's initial posture toward North Korea. Last year, Trump and Kim were locked in an escalating battle of insults, which included Trump threatening North Korea with "fire and fury" if the country took action against the United States.
Jessica Schulberg and Akbar Ahmed contributed reporting.
This article has been updated to include Trump's comments and information from a call with reporters.