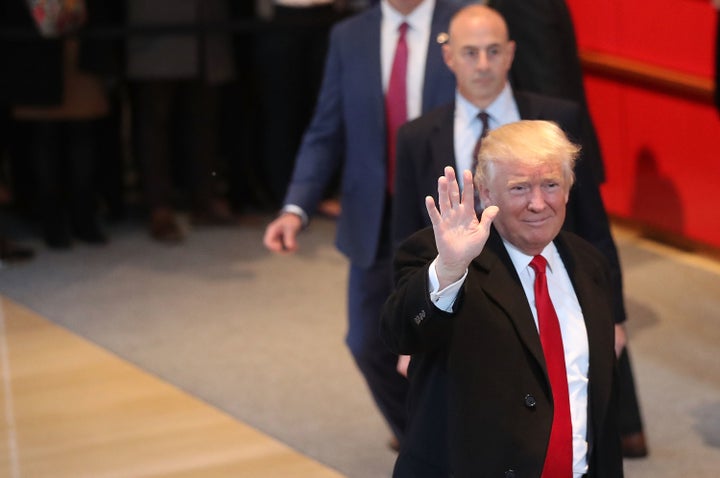 In the wake of President-elect Donald Trump's apparent success in persuading a big company not to close a U.S. factory, workers at another factory closing nearby hope they, too, can get Trump's attention.
"We knew that if they got their jobs back it wouldn't automatically get our jobs back," said Don Zering, who works as a machinist at Rexnord plant in Indianapolis. "But at least we got a foot in the door."
Rexnord announced in October that it would be closing the bearings factory and shifting the work to Mexico ― following hot on the heels of an air-conditioner manufacturer called Carrier, which had announced the shuttering of its Indianapolis furnace plant in February.
Trump held up Carrier as a symbol of bad trade policy that has made it easy for companies to lay off well-paid workers in favor of cheaper foreign labor, and said repeatedly this year that he would make Carrier stay in Indiana. The company said on Tuesday evening that it actually would, thanks to negotiations with Trump and Vice President-elect Mike Pence, the outgoing governor of Indiana.
Trump plans to travel to Indiana on Thursday to formally announce the deal, details of which have been kept vague. Carrier has only said that nearly 1,000 workers would remain; its parent company, United Technologies, had planned to fire more than 2,000 people from Carrier and another subsidiary called United Technologies Electronic Controls. Trump had said he would hike tariffs on the company's imports, but reports have said the deal involves tax favors for the company.
Nevertheless, some experts think the stunning example Trump has made with Carrier could set a precedent that discourages other companies from shifting production to Mexico, although there's no guarantee. For instance, Trump hasn't said anything about Rexnord, and the company said after the election that it was committed to its offshoring plan.
Sen. Joe Donnelly (D-Ind.) told The Huffington Post that he had a meeting earlier this month with the company to see if anything could be done to make it stay in Indiana.
"There was very little interest," Donnelly said.
The company did not respond to a request for comment on Wednesday.
Chuck Jones, president of the United Steelworkers Local 1999, which represents workers at both Rexnord and Carrier, said he hopes he gets a chance to tell Trump about Rexnord on Thursday.
"It's wonderful that he got involved, that these jobs look like they're going to be saved, but there's a lot more after it that's soon to go," Jones said in an interview.
"It's wonderful that [Trump] got involved, that these jobs look like they're going to be saved, but there's a lot more after it that's soon to go."
So far this year, the U.S. Department of Labor has certified 29 petitions in Indiana for Trade Adjustment Assistance, a type of unemployment insurance for workers who lose their jobs to international trade. Each petition typically represents an instance of dozens of workers being laid off or having their work hours cut in favor of foreign labor. Carrier's petition on behalf of 1,400 workers was just one of them.
"These types of plant closures are unfortunately a regular occurrence in the industrial heartland," Scott Paul, president of the Alliance for American Manufacturing, a partnership between steel companies and the United Steelworkers union, said in an interview.
The union endorsed Hillary Clinton earlier this year, and Paul's not a huge fan of Trump. But he said Trump is doing a good thing, even if turns out that Carrier, a highly profitable company, is getting tax breaks as part of the deal.
"One of the lessons of this election is that there's a lot of pain in the industrial heartland," Paul said. "If there's 1,000 workers who will have their jobs next year instead of being unemployed, and there are very modest costs distributed through the rest of the population, then I'm all for it."
Economists had estimated that losing the Carrier plant would have cost Indiana's economy $100 million in lost economic activity, both from the workers themselves and the surrounding economies where they spend their wages.
Don Zering, who works as a machinist and is the bargaining unit president of the union workers at Rexnord, said he started working for the company four days after he graduated from high school.
"My dad worked there and he got me a job, and I've been there ever since May 29, 1973," Zering said.
Zering, 62, said he had hoped to retire in three years, but is now negotiating severance packages for himself and the nearly 300 workers slated to lose their jobs next year.
"Not many people's gonna hire somebody who's got three more years of work unless it's a McDonald's or standing in a door at Walmart or something," Zering said.
He didn't vote for Trump, but Zering said he's grateful for what has already happened, even though it wasn't at his company.
"We're not going to be so optimistic that we think we're going to get our jobs back," Zering said. "But maybe there's a slim hope that before next June something can be done for us."
Popular in the Community