Faced with the prospect of Donald Trump actually winning the Republican nomination, conservative groups and competing campaigns have begun spending money against the real estate tycoon in an attempt to undermine him with primary voters.
Over the past two weeks, super PACs have run approximately $12.1 million worth of (mostly) television ads against Trump in the state of Florida, according to a review of filings with the Federal Election Committee. Considering how many Republicans have described Trump as an existential threat to the party, that's relatively frugal.
For comparison, in the 2012 cycle, Newt Gingrich came off a major victory in the South Carolina primary, when the campaign turned to Florida. Over the subsequent two weeks, Mitt Romney's super PAC, Restore Our Future, spent more than $15 million on ads, 92 percent of which were deemed anti-Gingrich. All told, Restore Our Future ran 12,768 ads against the former Speaker, compared to the 210 ads that Gingrich aired against Romney. It was a bloodbath, as Gingrich recalled in an interview with "Candidate Confessional".
In the 2012 campaign, there were no other states voting at the same time as Florida. And if you add up how much has been spent against Trump in the last two weeks in five states voting today, you do get a larger total (roughly $20.25 million) than what was spent against Gingrich.
But that total is divided among four different groups: Our Principles PAC (an anti-Trump group), Club for Growth, American Future Fund (a dark money operation and Sen. Marco Rubio's Conservative Solutions PAC -- as opposed to just one (Mitt Romney's super PAC).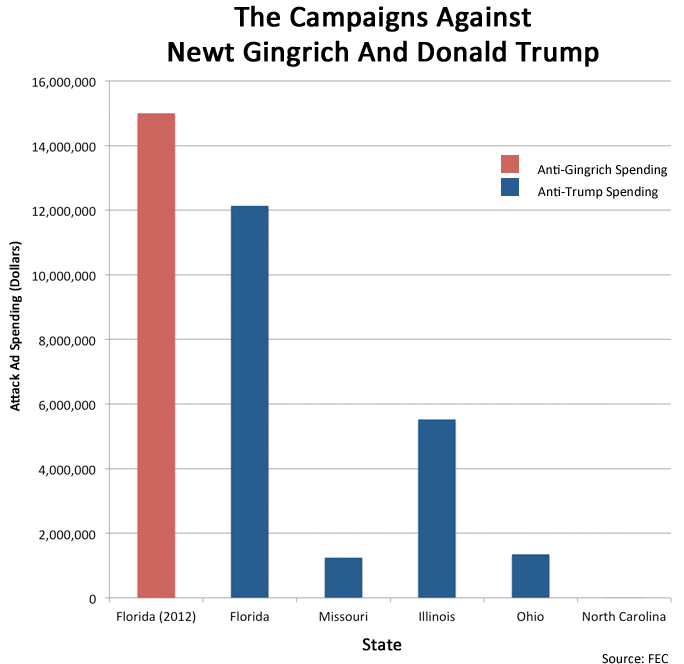 Now, there are some caveats.
The anti-Trump campaigns in these states didn't just start in March. They go back for several months. If you consider all spending in all states dating back to January, there's been $35.5 million worth of advertising run against Trump, according to a Washington Post analysis. In Florida, specifically, $15.7 million worth of anti-Trump ads have been aired since the beginning of the year.
But considering Trump's unforeseen staying power atop the primary polls, and his consistently improving position when in the race for delegates, you would expect that that total would have skyrocketed in recent weeks. It's risen. But not to a figure that's commensurate with the threat supposedly posed.
One other thing to note: Sen. Ted Cruz's allied super PACs haven't run any negative ads against Trump during the past two weeks, clearly hoping for the one-on-one contest with the businessman.
Calling all HuffPost superfans!
Sign up for membership to become a founding member and help shape HuffPost's next chapter