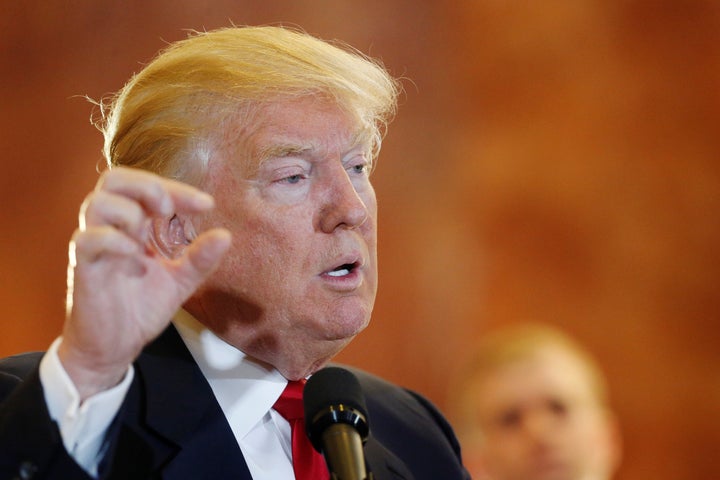 Donald Trump's charity is under fire recently. There are claims that he used the Donald J. Trump Foundation as a political slush fund, and that through the foundation he committed serious tax code violations related to raising money while running for office.
The serious allegations overlook a simpler point: Trump isn't a very good philanthropist, and his foundation is a terrible charity. He does more or less the bare minimum for someone of his wealth and societal status.
We are in a time when big, flashy philanthropy is trendy. The threshold to crack the top 100 charitable foundations in America is $885 million in assets. Globally, 154 of the world's wealthiest have signed on to Warren Buffett's Giving Pledge, in which the person or couple pledges to give away a majority of their money. 
The Trump Foundation has never had more than a few million dollars in it, and in recent years, barely $1 million. In 2014, the most recent year records are available, the charity gave out less than $600,000 in grants, and ended the year with $1.3 million in assets. That makes it a very, very small foundation for a self-proclaimed billionaire. 
Its status as a private foundation means it collects some outside donations, but not enough to qualify as publicly funded charity. Tax forms from the last few years show there are usually two or three outside donors per years. In recent years, Trump himself has not contributed anything. 
The foundation has no physical office space or employees, and each of the board members contributes roughly half an hour a week worth of work, according to the foundation's tax forms. Basically, it's a shell, with a handful of directors who decide where the money goes: Trump himself, the Trump Organization's CFO, Allen Weisselberg, and three of Trump's children -- Ivanka, Eric and Donald Trump Jr.
The Foundation Center, which tracks American grantmakers, has a page for background information on the Trump Foundation, but all that's listed there is — surprise! — just a bio of Trump himself. 
It's curious that Trump even has a foundation at all, according to Daniel Borochoff, the founder of the charity watchdog organization CharityWatch. The general rule, he told The Huffington Post, is that unless you have $10 million or more you want to give away, it's more cost effective to simply give money privately rather than go through the process of setting up a foundation and filing the required disclosure forms. 
In 2014, the foundation had two donors: There was $477,400 from Richard Ebers, who runs Inside Sports and Entertainment Group, which re-sells tickets for events. There was also $20,000 from Prestige Mills, a carpet company in Long Island City. But there was no money from Trump.
The foundation then turns around and spends this money on a hodgepodge of charitable institutions, without much rhyme or reason.
In 2014, this included the Leukemia & Lymphoma Society, to which the Trump Foundation gave $50,000. It also includes $50,000 to Columbia Grammar and Preparatory School, which Trump's youngest son, Barron, attends. The foundation's largest gift in 2014 was $100,000 to the Citizens United Foundation, which helped bring unlimited corporate money into politics. (And let's not forget the $100,000 the foundation gave to what was then called the William J. Clinton Foundation in 2009.)
This is hardly unique behavior from Trump. In fact, his foundation's spending suggests he's just your run-of-the-mill rich person. The wealthy live a different life from the rest of us. They don't just go to parties, they go to fundraisers (where they get photographed and make Page Six). Giving to charity in the world of the wealthy is often not about the charity itself, but about influencing people, says Borochoff.
"A lot of people, when you ask them why they give, they say it's because they were asked by someone that matters to them," he said. "Outside of politics, charity is used to influence people, to get in good with them, to make the right connections, to ingratiate themselves with some people." 
That Trump does this makes him a bad philanthropist, but far from unique.
Calling all HuffPost superfans!
Sign up for membership to become a founding member and help shape HuffPost's next chapter