President Donald Trump on Saturday responded to the violence that erupted this weekend as white supremacists and a fringe group clashed in Charlottesville, Virginia.
He refused to single out the activity of white supremacists, however, arguing that there was blame to go around on "many sides."
"We condemn in the strongest possible terms this egregious display of hatred, bigotry and violence on many sides ― on many sides," Trump said at a ceremony for the signing of a bill to reform the Veterans Affairs health care system. "It's been going on for a long time in our country, not Donald Trump, not Barack Obama. It's been going on for a long, long time."
"It has no place in America," he added. "What is vital now is a swift restoration of law and order and the protection of innocent lives."
Trump went on to emphasize that he loves "all the people of our country," and called for Americans of different races and backgrounds to remember their shared Americanness.
"We want to get the situation straightened out in Charlottesville and we want to study it," he said. "We want to see what we're doing wrong as a country where things like this can happen."
Trump's comments were his third attempt at addressing the unrest in Virginia. Earlier on Saturday, he'd condemned "hate" and "violence" via Twitter, but didn't mention Charlottesville by name or directly address any of the groups demonstrating there.
He followed up that tweet with another one 41 minutes later, finally mentioning Charlottesville by name but not referencing the white supremacists whose rally triggered the chaos.
Civil rights leaders criticized Trump for failing to squarely denounce the white supremacists who organized the rally.
"The president's remarks were morally frustrating and disappointing," former NAACP president Cornell Brooks told CNN. "While it is good that he says he wants to be a president for all the people and he wants to make America great for all of the people, let us know this: Throughout his remarks he refused to" call out white supremacists by name.
"There was violence between protesters and counter protesters today," the spokesperson said.
David Duke, a white nationalist and supporter of Trump, criticized the president's initial statement, arguing that "it was White Americans who put you in the presidency."
"We are going to fulfill the promises of Donald Trump," Duke said. "That's what we believed in. That's why we voted for Donald Trump, because he said he's going to take our country back."
Charlottesville Mayor Mike Signer thanked Trump for his statement:
Virginia Gov. Terry McAuliffe (D) declared a state of emergency Saturday as fistfights broke out in streets, objects were thrown and reporters were covered in raw sewage. The White House said it has been in contact with McAuliffe's office, and Tom Bossert, Trump's homeland security adviser, has had contact with local authorities.
First lady Melania Trump issued a statement Saturday condemning the violence, becoming the first White House official to offer a public reaction to the events in Charlottesville:
The president's responses to incidents of violence have varied since he took office.
But his responses to other attacks have been delayed or nonexistent.
In May, several days after the fact, Trump tweeted from the @POTUS account ― an official White House account, not the personal one he most often uses ― to recognize victims of a knife attack in Portland for "standing up to hate and intolerance" in confronting a man yelling slurs and hate speech. Trump never issued a response to an attack on a mosque in Minnesota earlier this month.
The violence in Charlottesville erupted in the middle of Trump's 17-day "working vacation" at the Trump National Golf Club in Bedminster, New Jersey. Trump has remained active on Twitter throughout his vacation, tweeting criticisms of several lawmakers, making comments on the situation with North Korea and retweeting stories from Fox News.
Support HuffPost
The Stakes Have Never Been Higher
Before You Go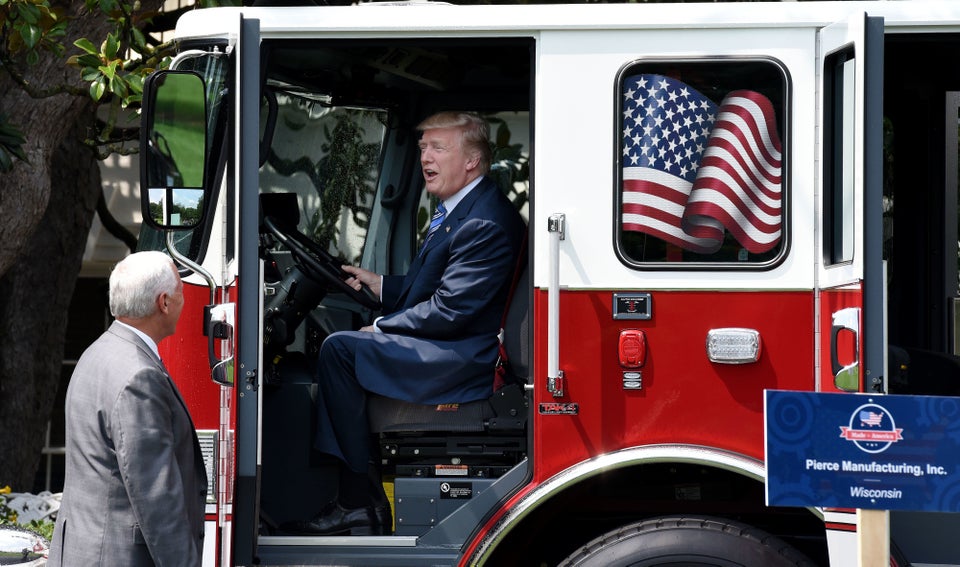 Trump's 'Made In America' Week
Popular in the Community