NEW YORK ― For the last 40 years, Bill and Beverly Feigelman have lived in Jamaica Estates, the Queens neighborhood where President Donald Trump grew up. Each time Bill walks by the 23-room house the Trump family lived in, he winces.
"As I pass his former residence up the street, I just wince at the thought of [living] with such a person who I don't see as presidential," he said. "Ordinarily I would say if I lived in the neighborhood where the president lived I would feel pride, but I don't feel a scintilla of pride. It's just like the wrong guy got the job."
Feigelman said he's always been proud to be associated with other officials who lived in Jamaica Estates, like former New York Gov. Mario Cuomo and former Rep. Gary Ackerman. But Trump is different, he said.
"His values is just, you know, acquisition ― you know, money. There is not a scintilla of doing good in his record," he said.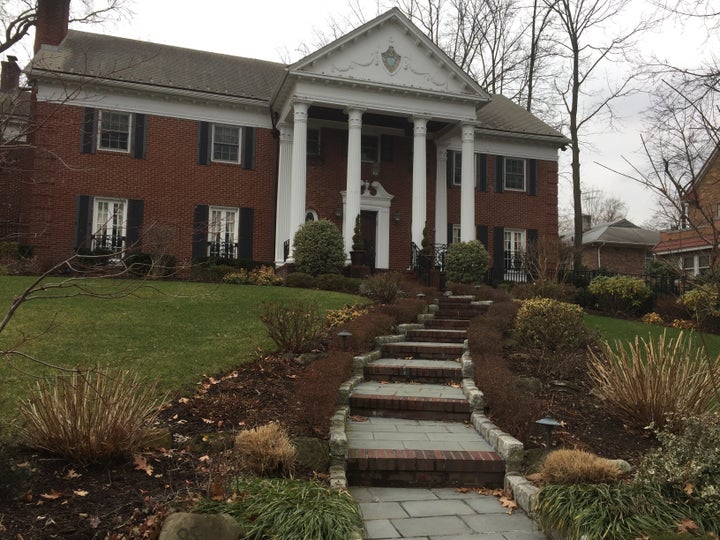 Today, the mostly white Queens neighborhood where Trump grew up is a melting pot of black, Latino, Caribbean, Asian and South Asian Americans. Supermarkets advertise in different languages and sell Halal meat. Trump ― whose Trump Tower apartment is now surrounded by luxury businesses like Tiffany's, Louis Vuitton and Cartier ― has called for banning all Muslims from entering the United States and for massive deportations. The people who live there now aren't quite sure what to make of their native son.
Gregory Gurrier said his neighborhood has significantly changed since the time that Trump lived there, when it was mostly white people.
"This used to be a very upscale neighborhood. It's not that he came from a hard upbringing. He's a rich guy, he's always been," said Gurrier, who came to the United States from Haiti on a student visa to study engineering around 2001."I don't think he can ever connect with anybody down low. He probably would kick us out. I don't think he would be part of this neighborhood now."
Trump has spoken warmly about his childhood neighborhood, calling it an "oasis" in a 2015 interview with The New York Times. In the same interview, Trump, who often longed for the "old days" on the campaign trail, described the changes in his background as a good thing.
A Queens bully from a young age, Trump has always shown a lust for Manhattan. He brought his father's real-estate empire into the city in the 1970s. During the presidential campaign, he would fly back to New York almost nightly and is expected to still spend considerable time in the city as president. His 757 plane is parked at LaGuardia Airport, not far from where he grew up.
Trump Tower, an hour's drive from Jamaica Estates, has been surrounded by police and protected like a fortress for months. But less than an hour before Trump took the oath of office on Friday, the street where the 45th president lived until he was 4 years old was deserted.
There's nothing to denote the special significance of the five-bedroom tudor house in Jamaica Estates where the Trumps lived before moving into the 23-room mansion. A white Mercedes-Benz was parked in the driveway, a weathered American flag flew out front, and dead plants sat below the window in front of the house. A sign noting it was up for auction sat out front (it was recently purchased by a mystery buyer). Lights in the house were on, but no one answered a knock on the door.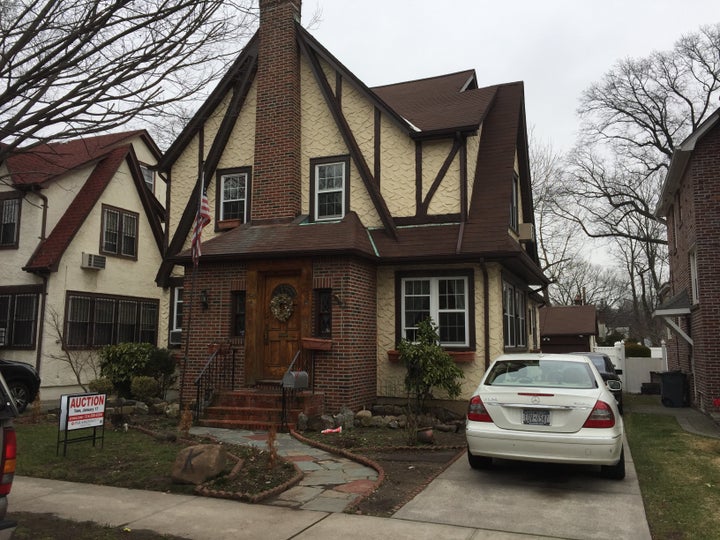 After a while, a woman named Leonie Brown, who has lived in the neighborhood for 20 years, walked by with her dog.
"I am disappointed that he is going to be our next president," she said. "When his father built his apartments in Staten Island, Brooklyn and Queens, I would not have been able to rent one because I am black. Those things, people do not forget."
Other longtime residents of Jamaica Estates were more optimistic about Trump. Ellen Reyes, who has lived in the neighborhood for 35 years, said she thought Trump was motivated by a need for fame, but would remember his old neighborhood.
"He knows the hardship that the people are having over here. Hopefully he will think about it," she said.
Stephanie Bond grew up in Jamaica Estates and said her family and the Trumps belonged to the same church. She didn't know the Trump family well, but every once in a while would get a glimpse of a Trump license plate going by (Donald Trump's father, Fred, kept two Cadillacs with the plates FCT1 and FCT2 in the driveway).
"I am proud that someone from our neighborhood is up there. I'm cautiously proud. I hope his edges are smoothed. He seems very sharp and very determined. And I'm glad he's determined, but he's not a whisperer, so let's see what happens," she said.
Even though Trump always stood out, Bond said that he still displays many of the values of Jamaica Estates.
"We had a lot that other people don't have, but he had much more than the neighborhood had. He always had excess. Where we were driving used cars, he was riding in a limo," she said. "But still, we all had our homes and our homes were important, and our families were important. He seems to still know how important his family is, his surroundings."
"He's just in bigger surroundings now."
Calling all HuffPost superfans!
Sign up for membership to become a founding member and help shape HuffPost's next chapter
BEFORE YOU GO
PHOTO GALLERY
Donald Trump Over The Years