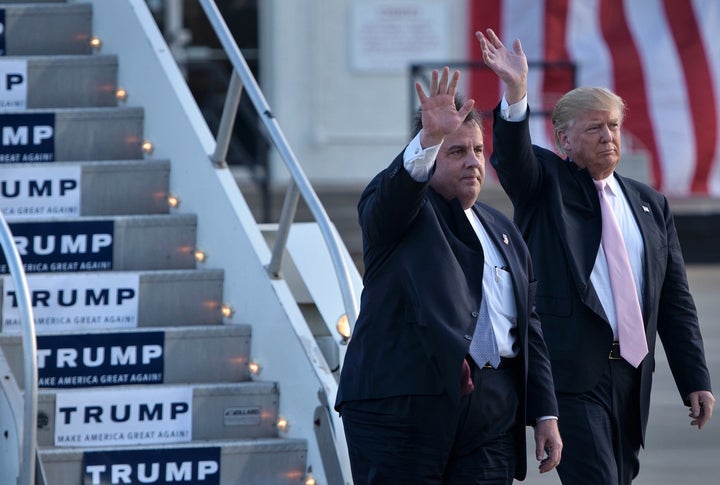 Presumptive Republican presidential nominee Donald Trump has tapped New Jersey Gov. Chris Christie to lead his White House transition team.
"Governor Christie is an extremely knowledgeable and loyal person with the tools and resources to put together an unparalleled transition team, one that will be prepared to take over the White House when we win in November," Trump said in a statement on Monday.
Christie, himself a former GOP candidate for the presidency, was an early endorser of the brash Manhattan businessman. The governor has been a visible Trump surrogate on the campaign trail, going on the attack against Trump's remaining rivals (before they too bowed out) and against presumptive Democratic nominee Hillary Clinton. There has been speculation that Christie might be tapped for vice president or attorney general in a Trump administration. 
This week, Trump is holding an event in New Jersey to help pay off Christie's campaign debt, charging attendees $200 per ticket.
But things weren't always so rosy between the two tough-talking men. In the campaign's early stages, Christie went after Trump for being a "carnival barker" and "entertainer-in-chief." Mere hours after Trump called for a ban on Muslims entering the United States, Christie, who has spoken passionately about combating anti-Muslim bigotry, labeled it a "ridiculous" proposal.
Trump reciprocated by attacking Christie over one of the most controversial episodes in his tenure as governor -- the George Washington Bridge scandal.
"He knew about it," Trump said of Christie at a rally in December. "He totally knew about it." 
Trump didn't confine himself, as some of his rivals did, to merely criticizing Christie's staffing decisions. He alleged that the governor knew of the decision to shutter lanes on the bridge as a form of political retribution against a local mayor -- which would be a federal crime. Christie has repeatedly denied that he knew of other officials' shenanigans. 
But that's all apparently water under the bridge now. Christie is leading Trump's transition team -- a serious position responsible for helping select White House aides, Cabinet members and other top officials in the event of a Trump victory in November.
Never mind that Christie's previous staffing decisions led to the bridge scandal. The people he proposes for government posts will likely be tasked with carrying out the Muslim ban he once railed against.
REAL LIFE. REAL NEWS. REAL VOICES.
Help us tell more of the stories that matter from voices that too often remain unheard.