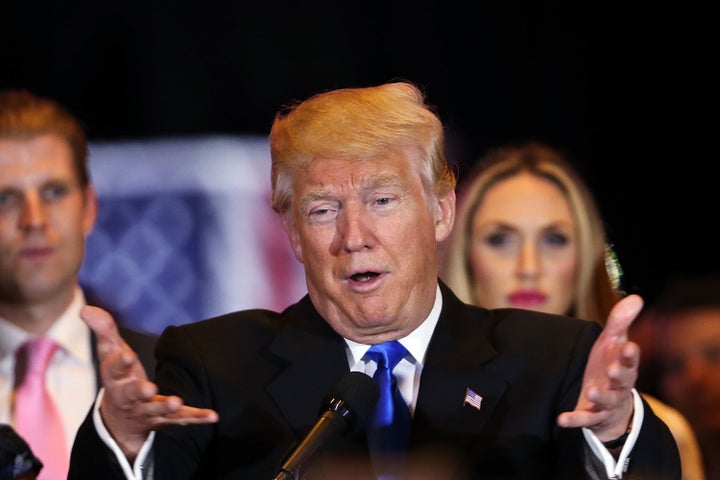 WASHINGTON -- Rep. Adam Schiff (D-Calif.), the top Democrat on the House Intelligence Committee, doesn't sound particularly comfortable with sharing classified information with GOP presumptive nominee Donald Trump.
"The practice of providing intelligence briefings to the presidential nominees of both parties is a sound one," Schiff said in a Thursday statement. "Whether it is premature in the case of Donald Trump is one question; whether it would do any good is another."
Traditionally, Republican and Democratic presidential nominees start getting briefed on intelligence and homeland security matters after they are officially nominated at their party's conventions. That means Trump, and likely Democratic presidential nominee Hillary Clinton, will have access to sensitive information after July.
The idea of Trump, who is notorious for his unfiltered, bombastic and extemporaneous manner of speech, getting briefed on classified material is already rattling some in the intelligence community. Sen. Chris Murphy (D-Conn.), a member of the Senate Foreign Relations Committee, said earlier Thursday that he flat-out opposed briefing Trump on sensitive information because he worries the billionaire TV reality star would leak it for political gain.
A spokesman for Rep. Devin Nunes (R-Calif.), who chairs the House Intelligence Committee, said he is fine with briefing Trump on delicate matters.
"The Chairman has said that, if requested, he would brief whomever the nominee is after the nomination is made official at the convention," said Nunes spokesman Jack Langer. "That still applies."
Requests for comment from Sens. Richard Burr (R-N.C.) and Dianne Feinstein (D-Calif.), the chairman and ranking Democrat on the Senate Intelligence Committee, were not returned.
During his daily briefing, White House Press Secretary Josh Earnest ducked questions about President Barack Obama's confidence in Trump's ability to protect classified materials. 
"Those are assessments that will have to be made by the intelligence community," Earnest said. "The president has full confidence in the ability of our professionals in the intelligence community to make those assessments."
As for whether the president has confidence in Clinton, who is currently under investigation for potentially mishandling classified information during her time as Secretary of State, the White House spokesman said yes. 
"Secretary Clinton has obviously served this administration with distinction and she's got a lot of experience in understanding the need to protect classified information," Earnest said. 
Calling all HuffPost superfans!
Sign up for membership to become a founding member and help shape HuffPost's next chapter
BEFORE YOU GO
PHOTO GALLERY
Scenes Of Hate At Donald Trump Rallies