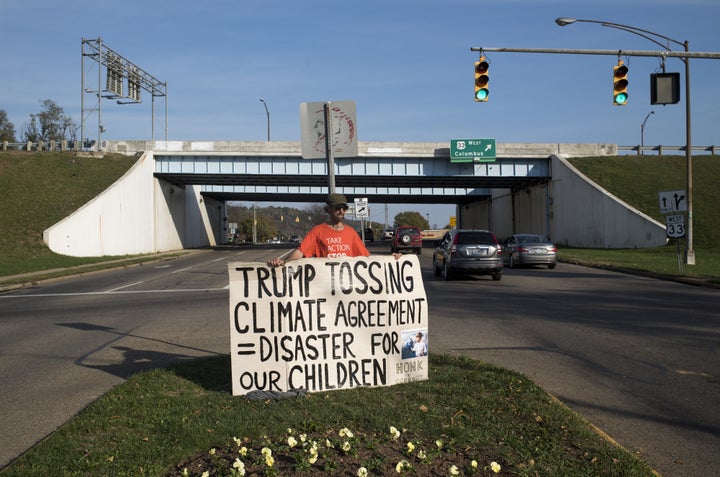 But last week Trump finally did say something real about climate change ― that he would cut all federal spending on the issue in order to save $100 billion over two terms in office. Bloomberg BNA caught this particular nugget buried in the "New Deal for Black America" plan Trump released last week, which pledges to "cancel all wasteful climate change spending."
He made a similar pledge at a Michigan rally a few days ago: "We're going to put America first. That includes canceling billions in climate change spending for the United Nations, a number Hillary wants to increase, and instead use that money to provide for American infrastructure including clean water, clean air and safety."
The BNA article suggests that number is bonkers, but doesn't say it directly. But it is ― to get anywhere near $100 billion, one would have to cut all the money the Department of Energy spends on technology development and deployment. That's on top of cutting funding for climate science research, international development funding and funding to help U.S. communities deal with climate-related changes, and all that still probably wouldn't get you to $100 billion in savings. Climate Progress's Joe Romm spells out why this is bad math, as well as bad policy.
But Trump's proposal doesn't even jibe with things the candidate has previously said. In September he said that there's "still much that needs to be investigated in the field of 'climate change.'" He also said that "perhaps we should be focused on developing energy sources and power production that alleviates the need for dependence on fossil fuels." Perhaps!
But what we do know about Trump's policies is that they would be a real disaster.
John Morton, the director for energy and climate change for the White House's National Security Council, mostly skirted the Trump question in a call with reporters last week heading into the Marrakech meeting. "Obviously, I think there is a great deal of interest not just domestically but internationally," said Morton. "The candidates have very different views on climate."
Popular in the Community