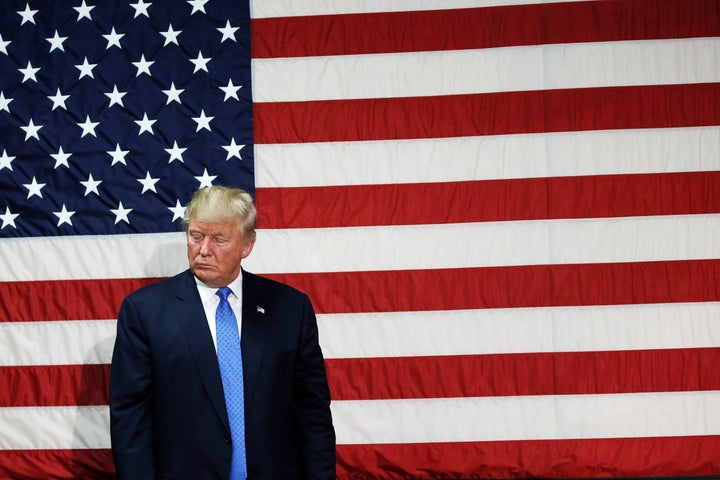 Donald Trump had a hot mess of a weekend, after the Friday release of a video that caught him talking about how he likes to grope women. While the hot mic moment is threatening to sink the GOP nominee's campaign, here's yet another reason we should all be concerned about him: his terrible record on climate change.
Trump wasn't directly asked about climate change during the last debate; his only comments were in response to Clinton. However, he offered a slightly less deranged ― but no less dangerous ― answer to written questions last month. Trump said there is "still much that needs to be investigated in the field of 'climate change,'" and then listed a bunch of things we should "perhaps" worry more about ― clean water, malaria, food production. Those are perfectly acceptable things to worry about, but they are also all issues that climate change would make worse.
Trump did at least say that "perhaps we should be focused on developing energy sources and power production that alleviates the need for dependence on fossil fuels," although he did not specify why we might want to do that.
Yet what Trump actually thinks about climate change is likely a little more complicated. In 2009, he and other business leaders signed a letter supporting climate action that was published in The New York Times. And he has sought to build a sea wall to protect his property in Ireland from "global warming and its effects." (Which is perhaps more indicative of his love of walls than his fear of climate change.)
His running mate, Indiana Gov. Mike Pence, has tried to soften Trump's denial of climate change. Pence's latest strategy is to accept that humans can influence the climate, while still suggesting that there's nothing the United States government can do about it.
While Trump and Pence may be taking different approaches to the subject of climate change, both would be disastrous in office. Trump has tapped a well-known climate denier, Myron Ebell of the Competitive Enterprise Institute, to lead his transition team for the Environmental Protection Agency ― an agency he plans to abolish, anyway.
And he has picked energy lobbyist Mike McKenna to take the lead on the Department of Energy transition. It's pretty safe to say that whatever work has been done on climate change at those offices over the last eight years would grind to a halt under Trump.
Meanwhile, the landmark climate agreement reached in Paris last year was just formally ratified ― and while some hope that enacting the deal early will make it "Trump-proof," there's still a lot he could do to muck it up if he slows down domestic action. The GOP nominee has said he would look at "renegotiating" the deal, "or something else."
Perhaps Trump will be asked during Sunday's debate to elaborate on his views regarding climate change. Most likely, though, if climate change gets billing in the debate, it will be in the form of a one-off question simply asking the candidates whether it's "real," rather than an opportunity to propose a detailed policy discussion. It's unlikely that they would get into the very real consequences we'd see on this issue by electing Trump.
Sign up for the HuffPost Must Reads newsletter. Each Sunday, we will bring you the best original reporting, longform writing and breaking news from the Huffington Post and around the web, plus behind-the-scenes looks at how it's all made. Click here to sign up!
Support HuffPost
The Stakes Have Never Been Higher
Popular in the Community