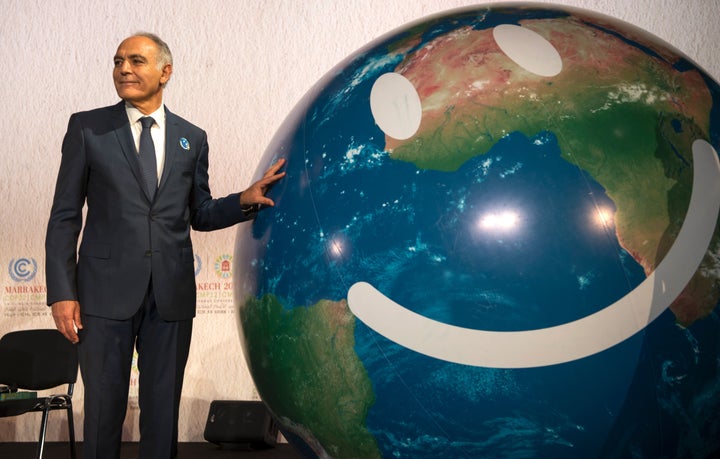 MARRAKECH, Morocco ― Attendees at the climate conference here are grappling with a reality few expected: America's next president will almost certainly be openly hostile to efforts to address the biggest environmental threat of our day.
Representatives of more than 200 countries are currently gathered in Morocco for the 22nd Conference of the Parties, where they are hashing out the details of the landmark Paris Agreement to curb greenhouse gas emissions and avoid the worst effects linked to global warming.
Officials from environmental and scientific groups gathered at the United Nations climate change conference tried not to dwell on the prospect of a doomsday scenario, but were clear that a climate change-denying Donald Trump would not be in the best interest of America, or the world. But they tried to remain positive.
"It's clear that Donald Trump is about to be one of the most powerful people in the world, but even he does not have the power to amend and change the laws of physics, to stop the impacts of climate change," said Alden Meyer, director of strategy and policy at the Union for Concerned Scientists, a science advocacy group based in the U.S., at a press conference held shortly after the election was called early Wednesday. "He has to acknowledge the reality of climate change, he has a responsibility as president-elect now."
The U.S. presidential election results came as a surprise to many who on Tuesday thought Hillary Clinton would be elected and plans to continue the Obama administration's work on climate change would make press conferences a relative non-event. But Trump's name is on everyone's lips as many wonder where America will stand in future negotiations.
Some groups have not been as diplomatic.
"The election of Trump is a disaster for our continent," Geoffrey Kamese, a senior program officer for the group Friends of the Earth Africa, said in a statement. "The United States, if it follows through on its new president's rash words about withdrawing from the international climate regime, will become a pariah state in global efforts for climate action."
The previous climate pact, the Kyoto Protocol, failed to meaningfully address climate change because the United States backed out, a move that set back climate change progress two decades.
But climate advocates tried to spin the fallout from Trump's election positively, arguing that other nations aren't likely to wait for the U.S. ― the world's second largest polluter ― to take action.
"Other major countries in this process will continue to go ahead with the climate commitments that they have made under Paris, not because they're trying to please the United States, but because it's in their own self interest to protect their people from the impacts of climate change," Meyer said. However, he continued to note inaction on behalf of America could certainly impact other international negotiations.
Katherine Egland, chairman of environmental and climate justice for the NAACP, stressed that for the Paris Agreement to succeed, "no one country can be perceived as not doing its fair share."
"We remain a nation of honor ― our word is our bond," she said. "We have signed a binding agreement along with scores of other countries and we will demand that agreement be honored."
Mariana Panuncio-Feldman, senior director of international climate cooperation for the World Wildlife Fund, said despite the outcome, "the momentum for climate action has never been greater."
"At this point, given the progress that we have seen, we are confident that the nations of the world will keep focusing on the work that needs to go ahead," she said at a press conference. "With the momentum that we have behind us we need to remain confident that the arc of climate justice will bend towards solutions."
Popular in the Community