Trump's son, Eric Trump, originally shared the video, which was published by the website Breaking911. The president's decision to retweet the video to his more than 53 million followers marks his latest act of hostility toward the cable news network.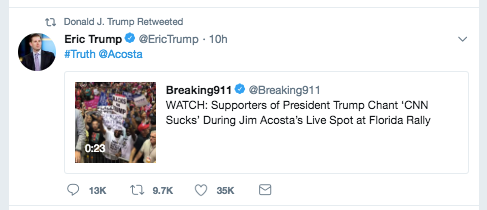 The video captured dozens of Trump rally goers berating CNN while the outlet's senior White House correspondent, Jim Acosta, reports live on TV. Trump has singled out Acosta on Twitter several times, despite noting last month that the reporter is "actually a nice guy."
Acosta tweeted additional footage of angry rally attendees on Tuesday shouting at him and giving him the middle finger and warned that anti-media hostility is going to get someone hurt.
"I'm very worried that the hostility whipped up by Trump and some in conservative media will result in somebody getting hurt," Acosta tweeted. "We should not treat our fellow Americans this way. The press is not the enemy."
When asked during a press briefing Wednesday if the White House would like to denounce the "menacing" chanters, White House press secretary Sarah Huckabee Sanders demurred.
Trump "does not support violence against anyone or anything," Sanders told reporters. "When it comes to the media, the president does think that the media holds a responsibility. ... We certainly condemn violence against anybody, but we also ask people act responsibly and report accurately and fairly."
Trump's aggressive rhetoric against the press has raised concerns in newsrooms nationwide. The New York Times publisher A.G. Sulzberger told Trump in a meeting last month that the newspaper had started posting armed guards outside their offices because of a rise in threats against journalists, according to the Times.
Despite the deadly attack on the Capital Gazette newsroom in June, in which a gunman shot and killed five staff members, Trump has continued to describe many news outlets (excluding Fox News, which often features Trump-friendly coverage) as "the enemy of the people."
The White House said Collins, who was representing five TV networks as the day's pool reporter, had acted inappropriately at an earlier press event. Several reporters who were present at the time have disputed the White House's account, stating Collins had simply been "doing her job."
"Maintaining the decorum that is due at the White House ... is an issue that we'll continue to work forward," Pence told Fox News last week. "We'll make sure that every network, every major news organization, continues to have access because we stand for the freedom of the press in this White House."
The White House did not immediately respond to HuffPost's request for comment for this story.
This article has been updated with comments from Sarah Huckabee Sanders.
Popular in the Community