Donald Trump suggested on Monday that San Francisco 49ers quarterback Colin Kaepernick "find a country that works better for him" because the NFL player refused to stand during a performance of the national anthem.
In an interview, conservative radio host Dori Monson asked the GOP presidential nominee if he had followed the controversy, BuzzFeed reports.
"I have followed it and I think it's personally not a good thing," Trump replied. "I think it's a terrible thing, and you know, maybe he should find a country that works better for him. Let him try, it won't happen."
It's an odd line of criticism coming from Trump, whose "Make America Great Again" campaign slogan indicates that he thinks the U.S. is a deeply flawed and troubled place ― the same belief at the heart of Kaepernick's protest.
The quarterback chose not to stand when "The Star-Spangled Banner" played before the 49ers' preseason game against the Green Bay Packers on Friday night because he wanted to bring attention to the problems black Americans face, he later told NFL.com.
"I am not going to stand up to show pride in a flag for a country that oppresses black people and people of color," Kaepernick said. "To me, this is bigger than football, and it would be selfish on my part to look the other way. There are bodies in the street and people getting paid leave and getting away with murder."
Kaepernick told reporters Sunday that his demonstration wasn't intentionally timed to the 2016 presidential race, but he also said he doesn't support Trump or his Democratic rival, Hillary Clinton.
"You have Hillary, who has called black teens or black kids superpredators, you have Donald Trump who's openly racist," Kaepernick said. "We have a presidential candidate who has deleted emails and done things illegally and is a presidential candidate. That doesn't make sense to me because if that was any other person you'd be in prison. So, what is this country really standing for?"
Before You Go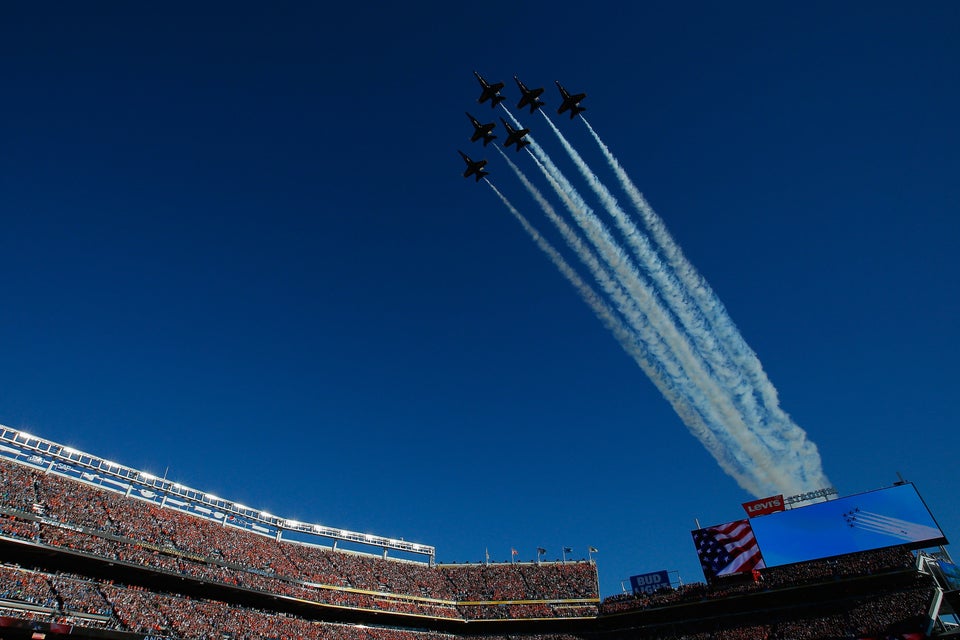 Patriotism At NFL Games
Popular in the Community