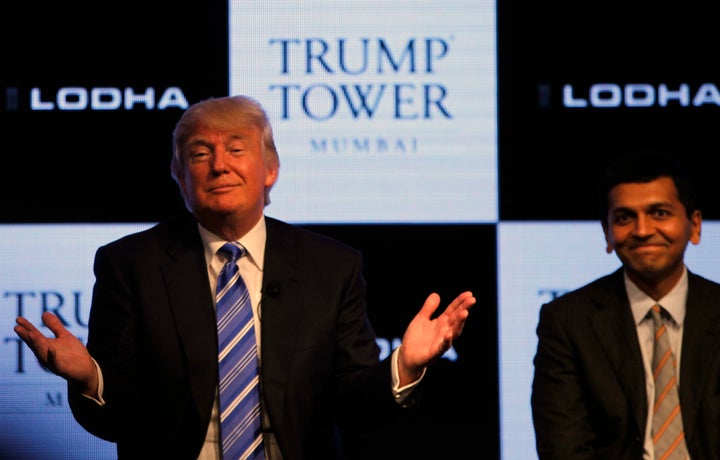 WASHINGTON ― Exactly a week after winning the presidential election, Donald Trump took time out to meet with Indian business partners and his three eldest children at Trump Tower in Manhattan. The meeting came despite the president-elect's assurances that he was handing off his business to his children in a "blind trust" to avoid potential conflicts of interest while serving in the nation's highest office.
Trump held the talks with business partners Sagar Chordia, Atul Chordia and Kalpesh Mehta on Tuesday, the Indian newspaper The Economic Times first reported. Ivanka, Donald Jr. and Eric Trump, who attended the meeting, are supposed to be heading the trust, managing their father's assets and business portfolio. They also sit on the executive committee of the presidential transition team.
"It looks to us that he's clearly not able to maintain a blind trust and still keep the company under his ownership and, frankly, control," said Jordan Libowitz, communications director for the ethics watchdog Citizens for Responsibility and Ethics in Washington. "We really think that the best thing he can do is sell the company outside of the family and place the money from the sale into an actual blind trust."
The Trump Organization is currently involved in five different projects in India, at least two of which are with the Chordias' Panchshil Realty. Mehta is Trump's personal representative to India through the company Tribeca Developers and works with other companies. Luxury condos built by Panchshil already bear Trump's name in the Indian cities of Mumbai and Pune. Meanwhile, the Lodha Group is building a different Trump-branded condo in Mumbai. In the New Delhi suburb of Gurgaon, Trump is partnering with Ireo, another Indian developer, to build an office complex and M3M Group to build another residential condo tower.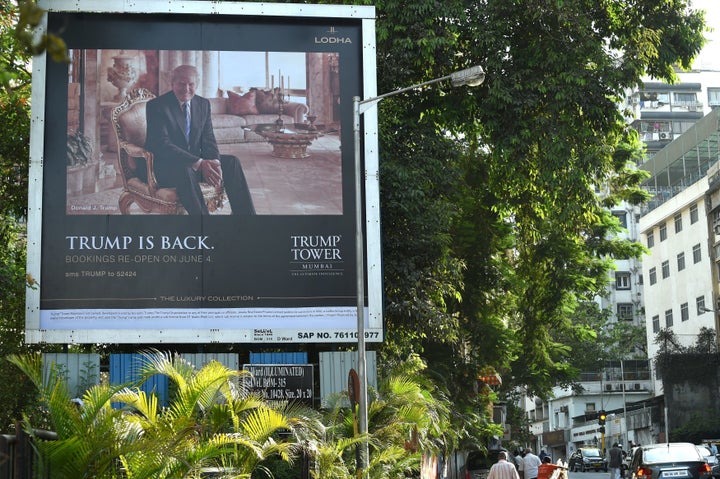 Trump does not directly own any of the luxury condo or office buildings planned or open in India. Instead, he licenses his name to the projects and receives payment for their use of the Trump brand. The total value to developers of all five projects is $1.5 billion. That could rise as Panchshil is looking into building a second Trump building in Pune.
The meeting between Trump, his children and business partners included the discussion of Indian government policy and their business interests, according to the Economic Times report. Mehta, The Trump Organization's representative in India, told the business newspaper that Donald Trump Jr. was pleased with the pace of growth in India and was hopeful about expansion in the future.
The Trump transition team did not immediately respond to a request for comment.
Further evidence that it could be impossible for the president-elect to disconnect himself from his foreign businesses comes from a key diplomatic appointment that Philippine President Rodrigo Duterte made days before Trump's election victory. Duterte announced that Jose E.B. Antonio would be the country's envoy to Washington, D.C., for trade and investment. Antonio, chairman of Century Properties Group, is Trump's business partner in the Philippines. His business is currently building the 57-story Trump Tower at Century City in the capital Manila.
For countries and foreign leaders more used to a corrupt government environment, there will be numerous opportunities to curry favor with the incoming president through his businesses. Trump's business empire is already courting them for profit.
The Trump International Hotel in Washington, D.C., hosted an informative session for foreign diplomats this past week explaining how these dignitaries could rent rooms during a Trump presidency, according to The Washington Post. This would, in effect, involve foreign governments putting money directly into the president's pocket while diplomats visited Washington, D.C., to conduct official business.
One anonymous diplomat from an Asian country explained to the Post, "Why wouldn't I stay at his hotel blocks from the White House, so I can tell the new president, 'I love your new hotel!' Isn't it rude to come to his city and say, 'I am staying at your competitor?'"
Popular in the Community