WASHINGTON ― Thirteen days after winning the presidential election, Donald Trump announced on Twitter that no one should worry about the potential conflicts of interest he could face over his range of global properties because everyone knew about them when they elected him. He blamed any questions of impropriety on the media for reporting on them.
The evening tweet from the president-elect reads: "Prior to the election it was well known that I have interests in properties all over the world.Only the crooked media makes this a big deal!"
The declaration that he currently has global properties comes after promising that he would separate himself from his Trump Organization and hand the company off to his adult children Ivanka, Donald Jr. and Eric Trump in a so-called blind trust. He has so far done no such thing. In fact, his tweet is a statement in the present tense ― "I have interests in properties all over the world" ― that affirms his current ownership and management of his business empire.
The children continue to take part in their father's presidential transition despite their supposed work leading the Trump Organization. Ivanka Trump even appeared at a meeting with Japanese Prime Minister Shinzo Abe and reportedly was handed the phone to speak to Argentinian President Mauricio Macri when he called to congratulate her father. Trump is working to build an office tower in Buenos Aires, Argentina.
During the campaign, Trump stated, "[I]f I become president, I couldn't care less about my company. It's peanuts." He added, "I wouldn't ever be involved because I wouldn't care about anything but our country, anything."
"President-elect Trump seems to think that he will be able to enrich himself as president and blame the press when he is caught," said John Wonderlich, executive director of the pro-transparency group The Sunlight Foundation. "He's going to learn soon that campaigning is very different from leading a country built on integrity and the rule of law."
The New York Times further reported on Monday that Trump told British European Parliament member Nigel Farage, the former head of the right wing anti-immigration UK Independence Party, and other UKIP leaders that they drum up opposition to the kind of offshore wind farms that are proposed for construction near his golf course in Scotland. They did exactly that.
Andy Wigmore, a media consultant present when Trump spoke to Farage, told The New York Times, "He did not say he hated wind farms as a concept; he just did not like them spoiling the views."
Trump owes hundreds of millions of dollars to the Bank of China, which is owned by the government of China. The Constitution's emoluments clause states that no government official shall receive favorable payment from a foreign government, foreign government-owned company or foreign official without the consent of Congress. Trump also rents space in his Trump Tower, where he is managing his transition, to the Industrial and Commercial Bank of China, another government-owned bank.
He also owes hundreds of millions of dollars to Deutsche Bank, a privately held German bank. While the emoluments clause does not apply to payments to Deutsche Bank, there is a major potential conflict because the bank is facing a multibillion-dollar settlement with the Department of Justice over its illegal mortgage practices. Trump will soon be selecting the top leadership of the Department of Justice. There are also questions over whether Deutsche Bank will be able to survive the hefty settlement without government support. Will Trump save his lender?
Similar potential conflicts exist at the National Labor Relations Board, which Trump will also soon be able to staff. The independent labor regulatory agency ruled on Nov. 3 that Trump's Las Vegas hotel had violated its workers rights to organize a union when it refused to recognize their affirmative vote. Trump's hires at the NLRB will likely be colored by his ownership of properties with unionizing workers.
Technically, federal conflict-of-interest laws do not apply to the president. This does not mean that his business holdings do not manifest as conflicts of interest, just that he is not mandated to place his assets into an actual blind trust managed by an independent trustee. He has done no such thing. He has also failed to disclose his tax returns, the first elected president in nearly 60 years to not reveal them, which would provide insight into his investors and lenders.
Rep. Katherine Clark (D-Mass.) introduced legislation that would extend the federal conflict-of-interest laws to cover the president and vice president. Sen. Ron Wyden (D-Ore.) introduced legislation to require all presidential candidates and the president to file their three most recent years of tax returns.
The Wall Street Journal has called on Trump to liquidate his business and put the proceeds into a true blind trust. His tweet clearly suggests he is not willing to give up control.
CORRECTION: An earlier version of this story described Farage as a British parliament member.
Before You Go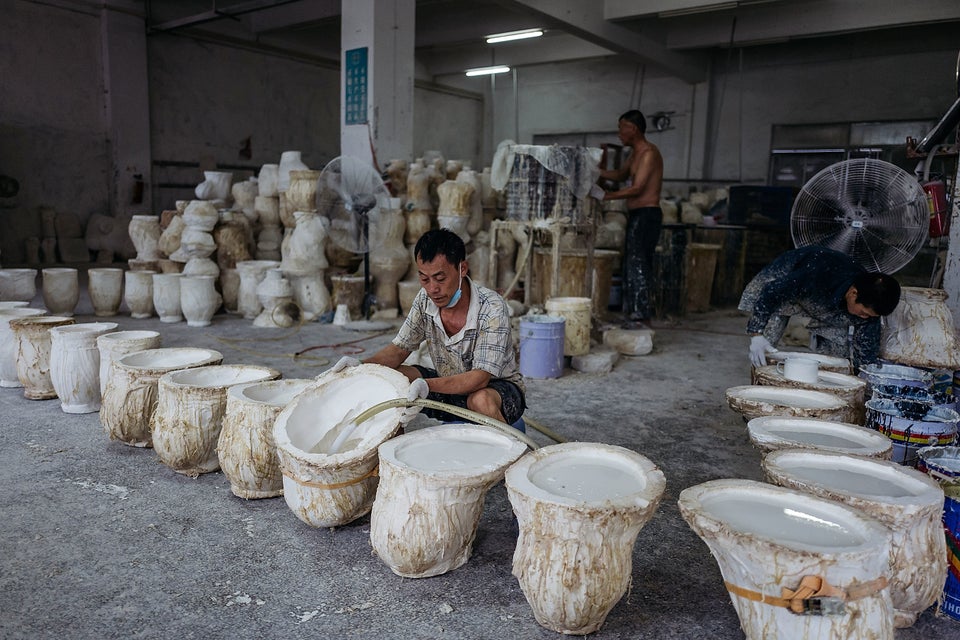 Creepy Donald Trump Masks In China
Popular in the Community