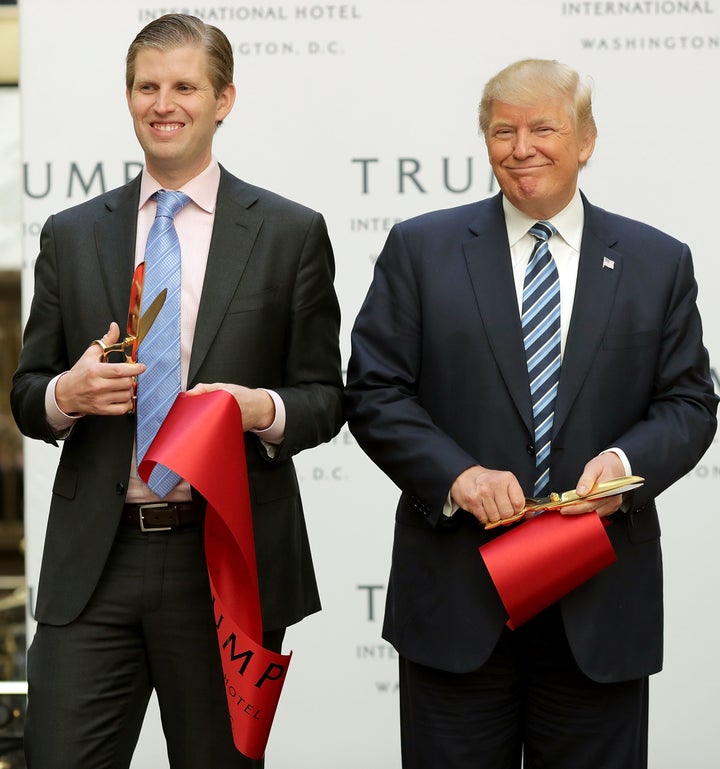 WASHINGTON ― President-elect Donald Trump told The New York Times Tuesday that laws around conflicts of interest don't apply to him, and he can simply keep running his businesses from the White House.
"In theory I could run my business perfectly and then run the country perfectly," Trump said, according to tweets from New York Times reporters interviewing the president-elect Tuesday. "There's never been a case like this."
He is technically correct on both counts.
Federal conflict of interest laws do not apply to the president of the United States, and the obvious conflicts of interest created from his ownership of a global real estate empire are unprecedented in the nation's history. Just because the federal laws mandating other federal officials to place their assets into a true blind trust run by an independent trustee do not apply to the president, does not mean that Trump's conflicts of interest are not real.
To take Trump seriously, and not literally, as his defenders like to do, he is saying: If the president does it, it's not illegal.
Trump's global real estate empire presents the potential for massive conflicts of interest or their appearance as every U.S. government policy action could be directed or seen to be directed to benefit the president's pocketbook. The United States government is supposed to act in the public interest of the people and not in support of one individual's private benefit.
The list of the president-elect's conflict of interest problems has grown over the two weeks since he won election.
His Argentinian business partners celebrated with him at his victory party and helped President Mauricio Macri get in touch with the president-elect after the election. Trump hopes to build an office tower in Buenos Aires.
Laws against bribery most certainly apply to the president. Another thing that does is the emoluments clause of the Constitution. It states that no government official shall receive favorable payment from a foreign government, foreign government-owned company or foreign official without the consent of Congress. Trump owes millions in debt to the Bank of China, which is owned by the government of China.
He also owes hundreds of millions in debt to Deutsche Bank, a private German bank that is currently in settlement talks with the Department of Justice over its illegal mortgage abuses. He operates a hotel in Las Vegas currently in a labor dispute.
In the New York Times interview, Trump stated that the D.C. hotel is "probably a more valuable asset than it was before." He bragged that his brand is "hotter" now that he is president.
On Monday, the Times reported that Trump spoke to British political figure Nigel Farage, the former head of the right-wing UK Independence Party, about opposing the construction of offshore wind farms in the UK. Trump has long protested the construction of offshore wind farms near his golf course in Scotland. He claims they would sully the view and lower his property value. Farage appears to have gone ahead and denounced those offshore wind farms.
He added, though, "My company's so unimportant to me relative to what I'm doing."
"I don't want to influence anything."
Popular in the Community