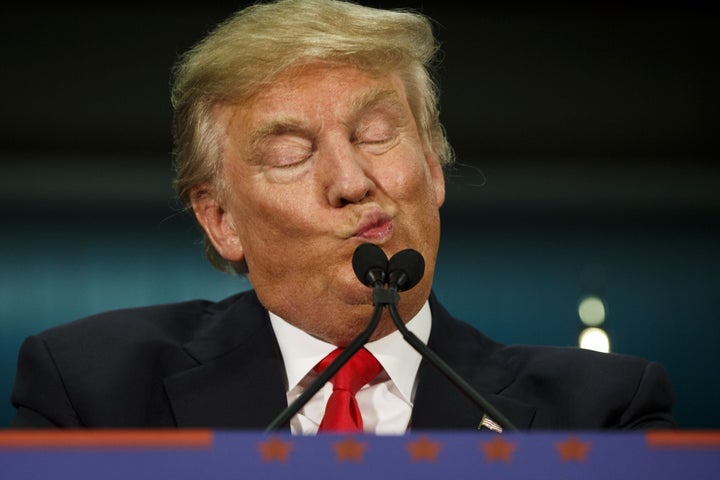 Donald Trump may be about to do something that has never been done in the modern presidential nominating era: Win a state primary without a single endorsement from a member of Congress.
In a testament to the oddity that is 2016, just days before primary voting begins, Trump -- the GOP frontrunner that the GOP refuses to believe is the frontrunner -- has yet to win the official support of any elected official on Capitol Hill.
It's not that Republican members of Congress haven't flirted with Trumpism. Alabama Sen. Jeff Sessions famously donned a "Make America Great Again" cap at a Trump rally in August, has consistently praised Trump's xenophobic immigration policies, and saw his longtime-communications director jump ship this week to the Trump campaign. The only other member to come as close to a Trump endorsement was Sen. Chuck Grassley, the honorary Mr. Rogers of the Senate, who recently gave Trump a warm introduction in his home state of Iowa.
But even if a member or two does sign off on Trump's campaign, it's astonishing that the real estate developer and reality TV star could be so far ahead in the polls this close to voting, yet still so far behind presidential rivals like former Florida Gov. Jeb Bush and Florida Sen. Marco Rubio in the congressional endorsement competition.
"The gap between Trump's standing and at least his elite support is unprecedented," University of Maryland Professor David Karol told HuffPost on Tuesday.
Karol is a co-author of The Party Decides, which in part studies the power of endorsements before and after the party electing reforms of the 1970s. Karol and his colleagues show that endorsements are typically a predictor of candidate delegate totals. More than that, the authors claim endorsements have real impact on candidates winning the nomination.
In this particularized field of political science, there are a few different theories on the effect of endorsements. Some think that endorsements are just an expression of a pre-existing dominance, that key figures are just jumping on the bandwagon of a candidate and aren't actually swaying any votes. In contrast, Karol said his book was able to show that endorsements actually do help.
This makes Trump's position all the more peculiar. Trump has dominated the polls for months, and even if most Republicans are in the first stage of grief over Trump's candidacy, even if many still expect him to blow up -- his latest signal that he will skip the next GOP debate has some questioning if this will finally be one stunt too much -- Trump's position atop the GOP field should have garnered some members to jump on his team.
One of Karol's co-authors, James Madison Professor Marty Cohen, said he thinks the reluctance of members to get on board with Trump actually helps confirm part of their theory: that endorsers aren't just an expression of the bandwagon effect.
"If they're not a good candidate for the elite, not someone who they think is electable, someone who they think can provide them with policy, they're not going to support him," Cohen told HuffPost.
Still, Cohen admits the GOP establishment not coalescing behind one candidate -- like Rubio, Bush, New Jersey Gov. Chris Christie or Ohio Gov. John Kasich -- is "problematic from the perspective of our theory."
Cohen said that traditionally, the party elite would realize the threat posed by Trump and Sen. Ted Cruz (R-Texas) to the establishment, and begin to endorse someone like Rubio or Bush. "But the problem is, generally, the establishment lane is pretty clear; this year it's pretty crowded," he said.
Bush currently has 26 House Republicans and five senators endorsing him, while Rubio has 23 House members and four senators behind him. And while Cruz has 17 House members endorsing him, not a single senator not named Ted Cruz has officially supported his candidacy.
Trump has also secured the oh-so-coveted endorsement of the American Freedom Party, a white supremacist organization, which said, "It takes someone with the intestinal fortitude of Donald Trump to lead the way."
As Karol noted, The Party Decides was not simply about endorsements from elected officials. He even made a point to say that in order to understand what a political party is, you have to go beyond the elected officials like Senate Majority Leader Mitch McConnell (R-Ky.) or Republican National Committee Chairman Reince Priebus, and look at people like radio host Rush Limbaugh and Wayne LaPierre of the NRA.
"The Republican party is a much broader phenomenon," Karol said.
Cohen goes even further, noting that in this bizarre race with such anti-establishment fervor, endorsements from members of Congress could actually be a "curse in disguise."
Again, though, Cohen and Karol both seem to think this race is far from over. Both noted that most members of Congress have yet to endorse, and that could be because there isn't a dominant establishment candidate yet.
But if Trump were to somehow secure the GOP nomination without anyone's support in Congress, it might be yet another signal of how different this election really is.
"In a historical context," Karol said of winning the nomination without a congressional endorsement, "it would be remarkable for sure."
Popular in the Community