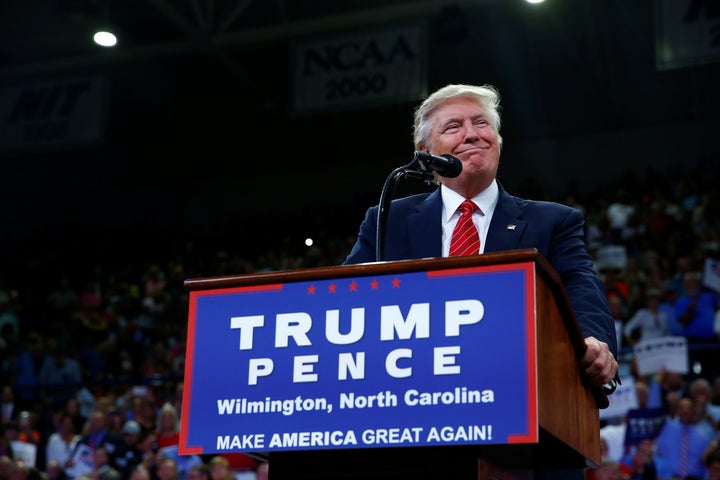 WASHINGTON ― Republican presidential nominee Donald Trump is scheduled to attend a rally on Saturday in Fairfield, Connecticut. His campaign is also reportedly in contact with city officials in Hartford and Bridgeport ― two Democratic enclaves ― about holding rallies there.
"Trump is operating from his usual position of wishcasting, personal fantasies, and political ignorance in a wasted effort pursing a victory in a state where he has no money to compete, no chance of a political breakthrough and no message relevant to the majority of its voters," said Rick Wilson, a GOP presidential consultant and active member of the Never Trump movement. 
The Nutmeg State hasn't voted for a Republican presidential nominee since 1988, when it selected George H.W. Bush, a former resident. In the 2012 election, Barack Obama carried the state by 18 points. In the 2008 election, the margin was an even wider 22 points.
So at a time the GOP nominee is down in the polls in just about every swing state ― and losing ground in traditional GOP strongholds like Arizona, Georgia, Utah, and South Carolina ― he has decided to commit precious time and resources campaigning in a state he's as likely to carry as deep-blue California.
Of course, that's not to say Trump has no reason at all for being in Connecticut. The Manhattan real estate mogul often holds fundraisers near his rallies, and is likely to do so in and around affluent Fairfield. Hillary Clinton, his Democratic opponent, will do the same at a glitzy fundraiser in Greenwich next week.
The play for Connecticut follows a peculiar move by Trump last week to campaign in Maine, which also hasn't gone to the GOP presidential nominee since 1988. Due to a quirk in the state's electoral system, Trump has a chance to wrest one electoral vote from Clinton there. The problem, as pointed out by MSNBC host Rachel Maddow, however, is that Trump's campaign held their rally in the wrong area of Maine. 
A Cincinnati Enquirer report published Thursday added to the list of organizational failures. The paper revealed the Trump campaign had no infrastructure in Ohio's Hamilton County, a key county in a crucial swing state.
"Everyone needs to stop being surprised that the Trump campaign lacks any semblance of a strategy, competent staff or a game plan to succeed," said GOP consultant and Never Trump member Rory Cooper. "Republicans are going to miss so many opportunities to build as a party in battlegrounds this year because our nominee couldn't care less about it and he has the same strategic acumen as a piece of burnt toast."
Calling all HuffPost superfans!
Sign up for membership to become a founding member and help shape HuffPost's next chapter
BEFORE YOU GO
PHOTO GALLERY
10 Excellent Countries To Move To If Trump Becomes President