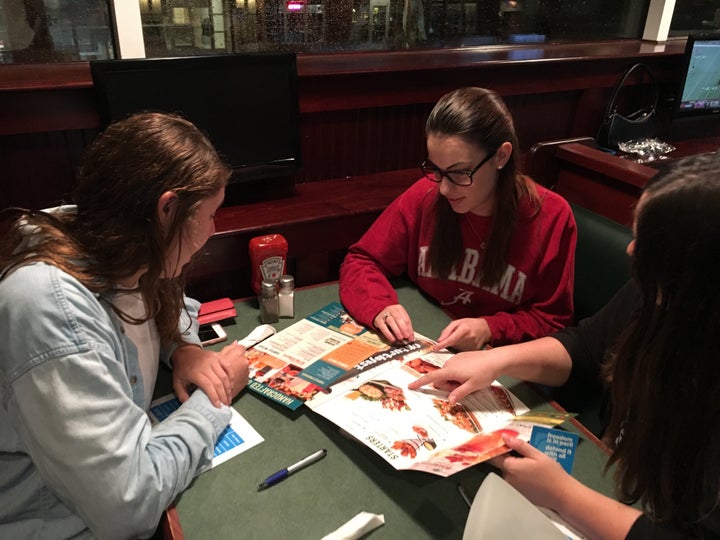 FAIRFAX, Va. ― As conservative millennial voters entered a debate-viewing party in the Virginia suburbs of Washington, D.C., on Monday night, they mostly felt skeptical of Republican presidential nominee Donald Trump.
And what he said in the two hours that followed didn't do much to change their minds.
John Paul Cassil, a data analyst and self-described free-market conservative, said he would not vote for Hillary Clinton. But Trump's debate performance wasn't enough to assuage Cassil's doubts about the GOP nominee. He's not sure how he will vote.
Cassil appreciated Trump's remarks on the need to remove regulations, but didn't like that he agreed with Clinton on the need to prevent people on the no-fly list from acquiring guns.
"That's concerning because these are freedoms that we have as citizens," he said.
Cassil also had some broader worries about Trump.
"There is a concern that he is being disingenuous, that he doesn't actually believe what he is saying, that he is being very populist so he is trying to appeal to everybody," he added.
Alana Welch, who does marketing and communications work for a nonprofit, voted for Republicans in the past two elections. But she has deep reservations about Trump. She identifies as a libertarian and is considering casting her vote for Gary Johnson, the Libertarian Party's nominee.
"A lot of politicians love to talk, but you literally get no substance from Trump," Welch said. "You literally get, 'It's going to be great, it's going to be awesome. We're going to make America great again. This is going to be huge.'"
"That's a huge difference from other elections, no matter what the candidate is," Welch noted.
Cassil and Welch attended a debate watch party hosted by Generation Opportunity, a Koch brothers-funded conservative nonprofit aimed at organizing millennials. 
A lot of politicians love to talk, but you literally get no substance from Trump.

Alana Welch
Generation Opportunity was one of three different conservative groups that booked a sports bar called The Greene Turtle for the debate, along with the Northern Virginia Tea Party and Team Trump Virginia.
I RSVPed for Team Trump Virginia's party, but that group got bumped thanks to the triple booking. The Northern Virginia Tea Party, which had its own room, refused to let me in, so I spent the evening with Generation Opportunity's friendly millennial activists.
Generation Opportunity is a libertarian-leaning group that focuses on fiscal priorities like scaling back the welfare state. It does not address social issues at all, and supports reforming the criminal justice system to imprison fewer people for nonviolent crimes.
Several of the debate watchers were visibly pleased when Clinton spoke about reducing the number of people jailed for minor offenses. They also grimaced whenever Trump aggressively interrupted her or indulged in long-winded responses to her jabs.
There are many centrist or business-friendly "establishment" Republicans who have forsworn voting for Trump. But the Trump skeptics at Generation Opportunity's event were of a different variety: dyed-in-the-wool, small-government conservatives who don't trust Trump's adherence to conservative orthodoxy.
"I think the majority of true conservatives don't think Trump is a true conservative," said Hannah Lott, a 25-year-old activist.
Like the rest of the watch party's attendees, Lott plans to vote in Virginia, a state where Clinton still enjoys a formidable lead in the polls.
Lott said on Monday night that she doesn't know who she will pick in November. She won't vote for Clinton, she said, but added that she finds Trump's demeanor off-putting.
"As a woman, I would never support somebody who treats women that way," Lott said. "I don't think anything he could say in this debate could change my mind."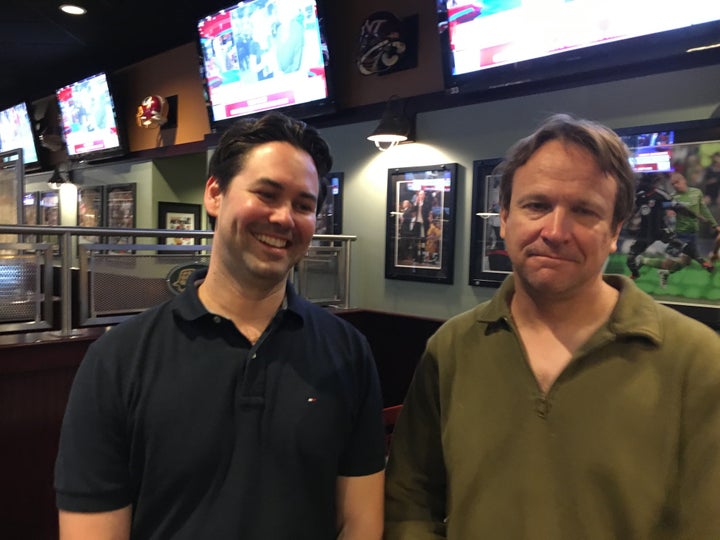 Austin McGuinn, a retail worker, and Apollos Hill, a cyber security professional, are committed to voting for Trump. But they both thought the debate was a "tie."
"She was good at fighting back on her record," Hill said.
If there was a silver lining for Trump, it is that some Clinton supporters still didn't seem very enthused about her. 
John Blair, a director of business development for a software company, showed up at The Greene Turtle with his girlfriend and a friend because they were looking for a debate party. They all identify as liberal and didn't know Generation Opportunity is a conservative group.
Blair, who is frightened of Trump and concerned about income inequality, thought Clinton got the better of the real estate mogul on Monday night.
He said he'll vote for Clinton, but wishes she would do a better job outlining her broader plan for the country.
"It's like, 'Well, he's not good, I have all these policy prescriptions,'" Blair said of Clinton's pitch to voters. "But at the end of the day people are really interested in what your vision is and how you can connect with them."
REAL LIFE. REAL NEWS. REAL VOICES.
Help us tell more of the stories that matter from voices that too often remain unheard.
BEFORE YOU GO