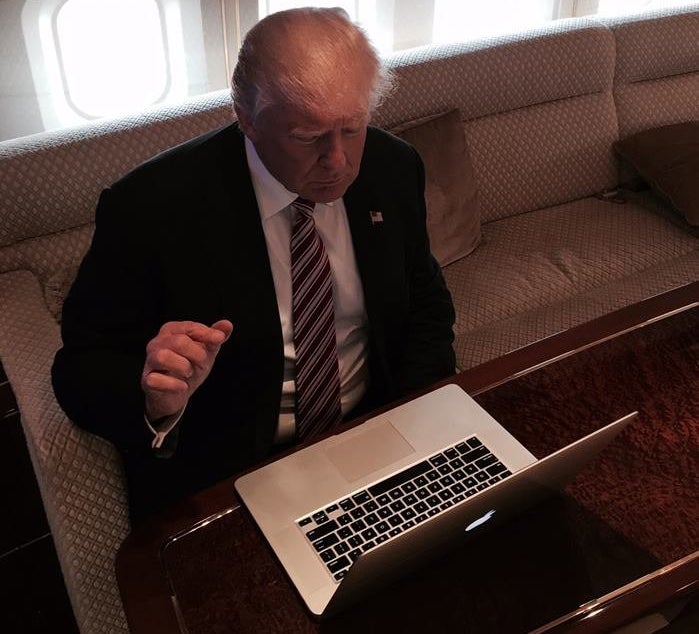 WASHINGTON ― President-elect Donald Trump said Saturday that "no computer is safe" from cyberattacks, and that there's a much better way to send urgent messages: couriers.
"If you have something really important, write it out and have it delivered by courier, the old-fashioned way," Trump told reporters on New Year's Eve in Florida.
But those in the courier industry, which has struggled to stay relevant as the internet makes communication easier and cheaper for everyone, will happily take the plug from Trump.
"I did hear about this, by the way, and I loved it personally," said a woman who answered the phone at Washington Express, a D.C.-based courier company. She directed HuffPost to the company's president, who didn't call back.
"What can I say? It's a great idea! Anything that improves the courier business is good," said Sam of All State Courier Inc. in Washington. He only agreed to give his first name. "We do a good job and we keep all of your information confidential."
Sam, who has worked in the courier industry since 1987, described the "old days" of messengers loading up pouches and delivering documents to embassies around the city. That doesn't happen anymore. But between Russian hackers interfering in U.S. elections and corporations announcing data breaches affecting millions of people's personal information, he said there might yet be new life for couriers.
"With a courier, you are guaranteed your package will be delivered and the documents inside will be confidential, and nobody is going to see that," Sam said proudly.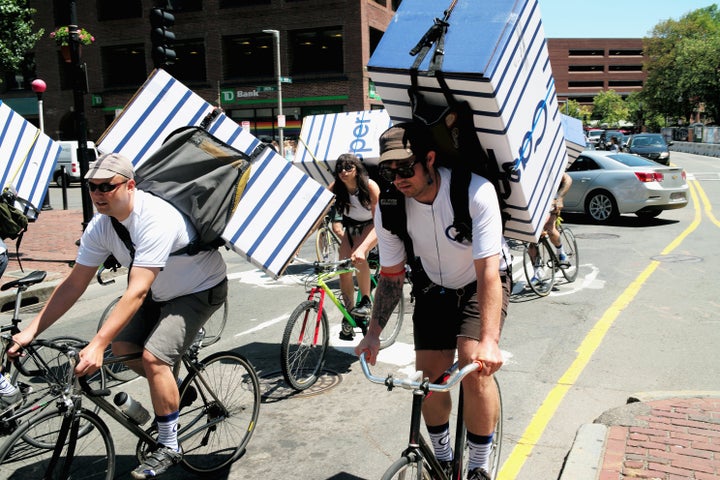 Courier industry people were mixed on whether they thought they'd get some new customers as a result of Trump's comments.
"It may give us a little bump," said Patrick of Realcourier, based in D.C., who also only gave his first name. "It makes sense with all of the hacks going on and stuff. It's all you hear about in the news."
"We don't really believe we're going to get extra business from it. Especially in D.C., not a lot of people listen to Trump anyway," said Martin Smith, who owns D.C.-based Best Messenger. "It was just fun. He's hilarious. We've been to his hotel, for the bar. Never in my life have I seen such nice barstools."
Smith has been running his company for 26 years. He said his business had suffered ever since 9/11, until last year. "Things are changing now," he said. "Different people are using couriers."
He even has ideas for putting Trump's pro-courier comments to good use. "I want to go after some of Trump's [hotel] guests. I might put his quote on a pre-printed advertisement."
Unfortunately for Trump, couriers can't deliver packages to the White House. Since the 2001 anthrax attacks, Smith said, there is "literally no way to deliver" an urgent document to 1600 Pennsylvania Ave. Unless you're willing to get crafty.
"We deliver to the White House. We call someone inside, and they come out and meet you at a coffee shop across the street," he laughed. "They're not allowed to do it. We're lawbreakers."
Calling all HuffPost superfans!
Sign up for membership to become a founding member and help shape HuffPost's next chapter
BEFORE YOU GO
PHOTO GALLERY
Donald Trump Win Sparks Protests Nationwide