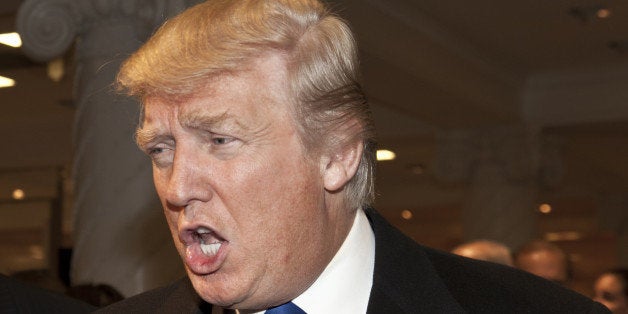 Donald Trump has been called "the most pro-gay Republican nominee ever," but he hardly deserves that reputation.
Not only would Trump radically reshape the judiciary, where many key LGBT issues are decided, but he has also vowed to sign anti-LGBT activists' top legislative priority, the misnamed First Amendment Defense Act, which would give legal approval to discrimination against LGBT people, and gave his blessing to Kentucky clerk Kim Davis' attempt to deny marriage licenses to same-sex couples.
And that's not to mention the fact that his attacks on women, Latinos and immigrants are also attacks on many LGBT people.
Despite his "LGBT-friendly" reputation, Trump has cozied up to some of the country's most extreme Religious Right leaders.
Tomorrow, the business mogul is scheduled to speak at the Road to the Majority summit in Washington, D.C., an event sponsored by two anti-LGBT groups, the Faith and Freedom Coalition and Concerned Women for America.
Reed started the FFC in 2009, a few years after he lost his own campaign to become the lieutenant governor of his native Georgia, in part thanks to reports that emerged during the election implicating him in the Jack Abramoff lobbying scandal. It turned out that Reed had taken money from casino and lottery interests, including those with ties to Abramoff, to help his consulting firm's conservative Christian clients wage anti-gambling campaigns that just so happened to block the funders' potential competitors from entering the market.
Despite the scandal, Reed eventually found a way to return to his old passion of opposing LGBT equality, demanding that the government withdraw an arts grant for repairing the Washington National Cathedral because the Episcopal Church performs weddings for same-sex couples and attacking the Employment Non-Discrimination Act as "a dagger aimed at the heart of religious freedom."
Along with Trump, the upcoming conference will feature Religious Right activists like Jim Garlow, Tony Perkins, Matt Barber and Jason and David Benham, who have all derided gay rights as Satanic.
While Trump may focus his stump speeches on building a border wall and torturing prisoners of war, his promise to appoint far-right judges to the bench and his attempts to win the support of radical anti-LGBT activists should give no comfort to those who hope a President Trump might advance LGBT rights.
Support HuffPost
Every Voice Matters
Popular in the Community