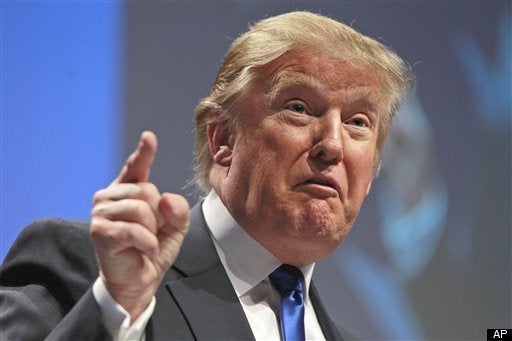 Let us take a moment to consider the case of Donald Trump, who MSNBC this morning tells me "stole the show" at CPAC Thursday, with the "maybe I'll run for President" noises he was making. These are noises that he has been making since 2000, when he first flirted with the idea of running on the Reform Party ticket. He has made similar noises in every subsequent election season since then.
Of course, Trump is best known for starring on the NBC "reality game show" The Apprentice, which allows Americans to experience the vicarious pleasure of watching a boss they'd never want to work for order around people they'd never want to work with at jobs they'd never want to do. (Actually, that's a pretty lofty way of describing the show. The forthcoming 11th season of The Apprentice seems to be largely about watching Gary Busey debase himself.)
Because Trump is a celebrity, the media basically forgive his never-to-evolve political dilettantism. And Trump uses that relationship to further maximize his own celebrity. Here's Salon's Justin Elliott on the scene at Trump's speech to CPAC:
Trump's speech consisted mostly of Apprentice-style platitudes like: "I'm also well acquainted with winning, and that's what this country needs right now: winning." He described himself as pro-life, anti-gun control, and anti-ObamaCare.
Also: "[Ron Paul] has zero chance of getting elected," said Trump, to a roomful of people who have actually authentically supported Ron Paul for at least as long as Trump has been pretending to care about politics.
While Justin already covered the weird Donald Trump appearance, there was one line of Trump's speech that bears repeating: "If I run, and if I win, this country will be respected again." Right. Once we elect the bankrupt TV make-believe tycoon huckster, people around the world will say to themselves, "They finally got it right."
Popular in the Community