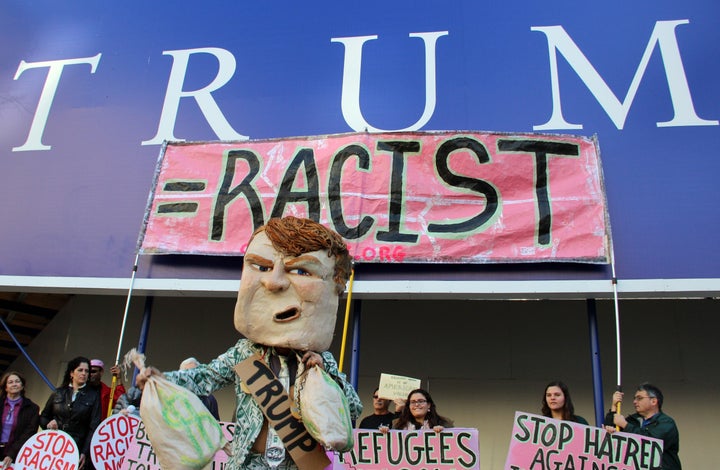 NATIONAL HARBOR, Md. -- There may not have been much mention of Donald Trump on Thursday at the Conservative Political Action Conference, but one thing was clear: The idea that the Republican front-runner is a racist hadn't really taken hold here.
"What did he do for [people] to think he's racist?" said Michael Nabjer, a Trump supporter from South Texas who was dressed head to toe in "Make America Great Again" gear.
"I don't think he's racist," he said. "How did the man become a billionaire if he would treat people disrespectfully?"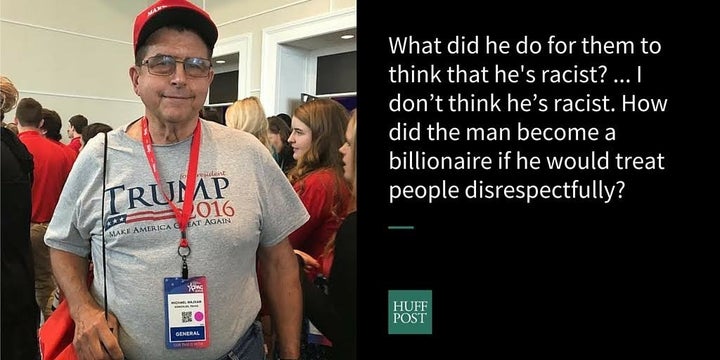 Nabjer was one of several CPAC attendees who expressed confusion to The Huffington Post on Thursday as to why so many Americans believe Trump is a bigot.
On a national level, the association between racism and Trump is less disputed.
House Speaker Paul Ryan (R-Wis.) told reporters earlier this week that whoever becomes the Republican nominee has to reject any group or cause built on bigotry -- a reference to Trump's seeming reluctance days before to disavow the prominent white supremacist David Duke, who has endorsed Trump. (Trump has since called Duke "a bad person who I disavowed on numerous occasions.")
Lots of white supremacists are happy with Trump, in fact -- another reason his name has become synonymous with racism among his critics. Ugly and violent racial incidents have happened at Trump rallies around the country or reportedly been linked to his supporters, and the candidate has sometimes seemed sympathetic toward the people committing the violence. Last week at an Indiana high school, students held up a large photo of Trump's face and chanted "build a wall" to intimidate an opposing team from a majority-Latino school.
Still, plenty of people at CPAC seemed unconvinced.
"I know he's not racist. I met the man," David A. Clarke, sheriff of Milwaukee County, told HuffPost while adjusting his large cowboy hat. Clarke, who is black, defended Trump's promise to build a wall to keep undocumented Mexican immigrants out of the United States.
"If you're going to be a country, if you're going to be a sovereign country, you have to protect those borders. That is not racist," Clarke said. "Nobody in the world has as loose an immigration system as the United States of America. For anybody to imply or assume that's racist -- that's dead wrong."
Alexis Foster, a black Princeton student, also declined to call Trump a racist.
"I wouldn't say he's a good person," she said. "I wouldn't say he'd invite me to his dinner table. I'm not really sure if the term 'racist' is fitting."
Robin Speiss, a fellow Princeton student, was anxious about where Trump is taking the GOP.
"It's a shit show," Speiss, who is white, told HuffPost. "I think Trump takes the cake on all things. Super Tuesday was terrifying. Honestly, I never thought he would get this far and I don't know what to say about it."
But she also said that Trump is not a racist -- although she believes he's awakening a small minority of bigoted people nationwide.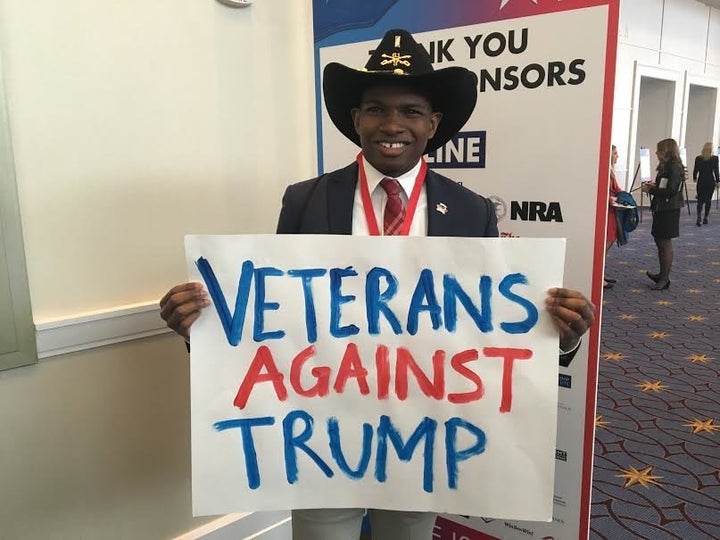 Brian Hawkins, another of perhaps two or three dozen black people spotted at CPAC on Thursday, stood near the entrance to the main ballroom at the Gaylord National Harbor Hotel and held a large sign reading "Veterans Against Trump." Hawkins, who is from Los Angeles and now lives in Arlington, Virginia, said Trump doesn't mesh with the conservative ideology.
"It's particularly disturbing for me, as a veteran, how he seeks to divide us and seeks to bring hatred for the 'other,'" Hawkins told HuffPost.
Hawkins said that as a man with a Mexican stepfather and a Korean girlfriend, and who comes from a diverse background and has worked with Afghan linguists overseas, he finds Trump's rhetoric dishonest and unfair.
But he cringed when asked if Trump is a racist.
"That's for him to decide. I'm not going to make that judgment on him. But I do think he flirts with racist elements," Hawkins said. "It's disturbing how he's tapped into an anger that's made racism part of our national dialogue. That's an extremely dangerous place for our country to go... We are better than this."
Many people told HuffPost on Thursday that they'd be willing to support Trump in an election, but didn't want to elaborate on their reasons. Mike Sullivan, from Rhode Island, said he supports Sen. Ted Cruz (R-Texas) but could vote for Trump if he ends up being the nominee.
Antonia Okafor, from Dallas, said there needs to be a conservative in the White House next year. She pegged Cruz as her candidate. Trump's rhetoric is a danger to the country, she said, but Cruz is completely different because "he's a Cuban, for goodness' sake."
Some CPAC attendees, when asked whether they believe Trump is racist, weren't even on the fence about it.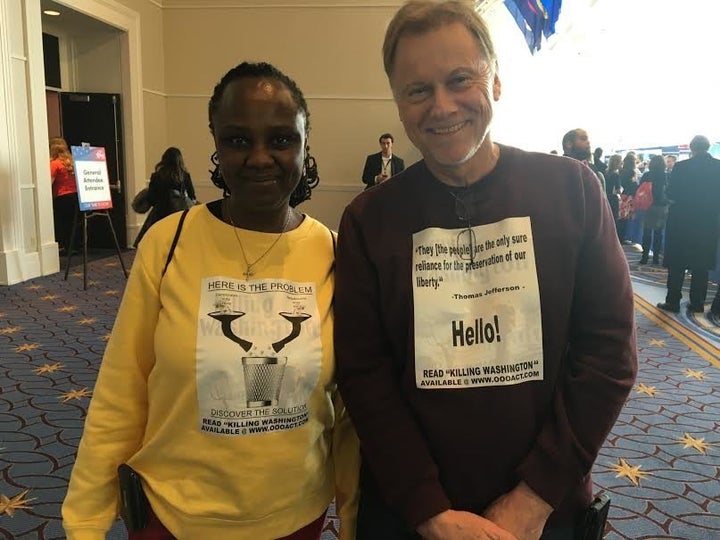 Michael Marrocchi, who is white, said Trump is a funny guy who can win, and that he's sincere about fixing the nation. His wife, Mary Agnes, who is black, said it's common knowledge that Trump isn't prejudiced.
"We don't think he's a racist, and everyone knows he's not," she said. "It's dirty politics. That's the way politics is played... It's a dirty game and it gets rough."
"A lot of them are lies," Mary Agnes said. "Once you become president, you have better things to do than to worry about people's housing."
"I don't think he sees color," she went on. "I think he sees green. Everyone's going to throw dirt at him to take him out. That's what I see."
A few students from Longwood University in Virginia had to grapple with the idea that the man well on his way to the Republican nomination could be racist.
Steven Alexander, a black Longwood student, told HuffPost that he thought it was "possible" Trump could be racist. However, he said Trump would still have his vote if he makes it to the general election, because he'd feel like a complainer if "the left won."
Melina Foldesi, a white classmate of Alexander's, had a less complicated view. Is Trump racist?
"Oh yeah, definitely," she said. "No question there."
Before You Go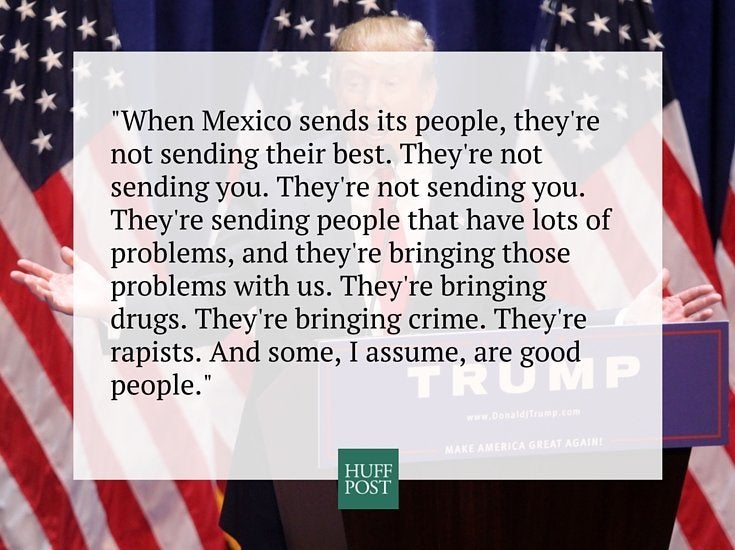 9 Outrageous Things Donald Trump Has Said About Latinos
Popular in the Community