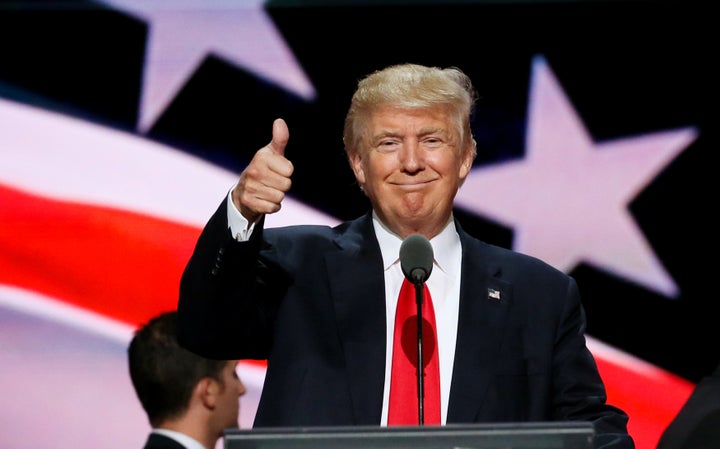 CLEVELAND ― Donald Trump painted a portrait of a nation in "crisis" where crime is spinning out of control thanks to President Barack Obama, when the business mogul accepted the Republican presidential nomination Thursday. As Trump spoke, he deemed himself the "law and order" president ― and promised that "crime and violence" would "come to an end" once he becomes president ― all the while probably hoping Americans won't look at the facts. Bucking his party, he also sketched out a broad (but unspecific) role for the federal government in local law enforcement.
Here's a breakdown of some of what Trump said about crime at the Quicken Loans Arena on Thursday evening, compared with the facts.
"Decades of progress made in bringing down crime are now being reversed by this Administration's rollback of criminal enforcement," Trump said.
Trump is right that it took decades to bring down crime rates to their current level. But during the Obama administration, the violent crime rate has continued to decline, according to the latest final available FBI data. While preliminary data from the first half of 2015 showed a slight bump in violent crimes in the first six months of 2015 compared with the first half of 2014, it's important to remember that violent crime was at record lows in 2014, and final data from all of 2015 is not yet available. But so far, every full year Obama has been in office has been safer than any year under President George W. Bush, just as crime was down in the Bush years compared to the Bill Clinton presidential years.
Trump pointed to statistics that show homicides increased by 17 percent in America's 50 largest cities in 2015 compared to the historic lows in 2014, but it is too early to really determine any one reason for that spike.
Trump said Americans have "seen the recent images of violence in our streets and the chaos in our communities," which can also be attributed to the rise in smart phones and social media rather than any actual massive spike in violent crime. He also claimed that "safety will be restored" after he becomes president, but didn't explain how that would happen, given that violent crime is often a concern for state and local law enforcement, who work with federal law enforcement officials.
Killings in Washington, D.C., were up 50 percent, Trump claimed. That was true from 2014 to 2015. However, data shows that the year-to-date murders are currently down ― there were 77 murders at this point in 2015 compared with 70 murders at this point in 2016.
Trump also claimed that the number of officers killed in the line of duty is up by almost 50 percent over this point last year. While the number of law enforcement officers killed this year is certainly troubling, 2015 was one of the safest years for police officers in recorded history. The low number of officers killed feloniously each year ― 41 in 2015, for example ― makes the percentages somewhat misleading.
Rob Smith, director of Harvard Law's Fair Punishment Project, pointed out that the real threat to Americans isn't homicide.
"Americans are 50 times more likely to die from heart disease or cancer, and three times more likely to die in a car accident, than from a firearm assault," Smith told HuffPost. "Being a police officer in America ups the risk a bit, but that doesn't mean you should enlist in Trump's War on Cops. You'd be better off scrambling the bombers to stop the War on Roofers, a profession far more deadly ― but, of course, still not particularly deadly at all ― than policing."
This article was updated to reflect Trump's remarks instead of his draft speech and to include comments from Rob Smith.
Before You Go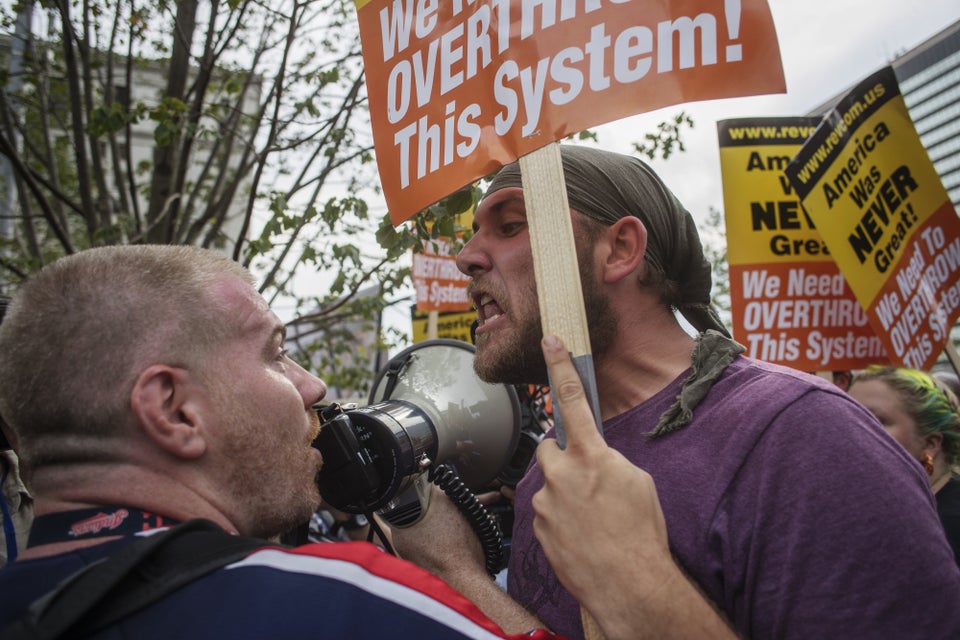 Republican National Convention Protests
Popular in the Community