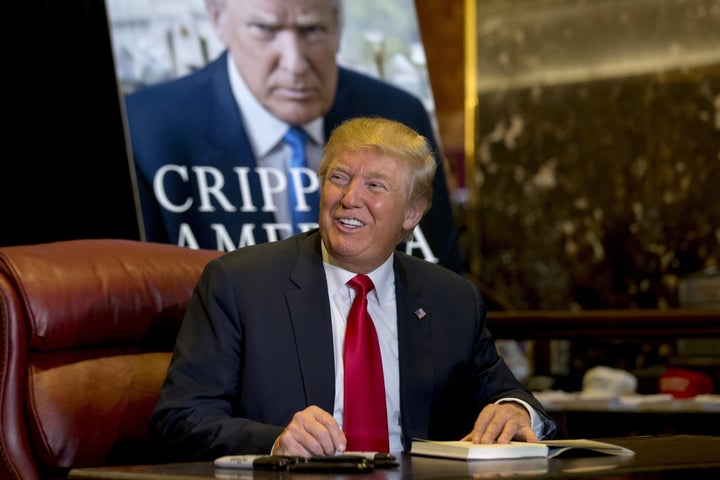 When Donald Trump released his book Crippled America: How to Make America Great Again in November, a big part of his sales pitch was that the proceeds from the book would go to charity.
"I'm giving them away, the profits of my book," Trump told reporters during a press conference at Trump Towers.
By March, Crippled America, with a hardcover list price of $25, had sold more than 200,000 copies. Quite a lot of that money has gone to Trump.
Last month, the presumptive Republican presidential nominee reported that he had earned between $1 million and $5 million in royalties from Crippled America, according to a disclosure form Trump filed with federal election officials. At the time, his campaign bragged that Trump had made $557 million in the past 18 months.
Customers who bought Crippled America believed that Trump was giving their money to charity. Several reviews on Amazon laud the billionaire for his supposed generosity. One review emphatically thanks Trump for "Donating Proceeds To Vet Charities!!!" Another declares, "The proceeds from the sales of this book go to Veterans!"
But it's not clear how much money from sales of Crippled America, if any, has been donated to veterans, or to any charitable groups.
The Huffington Post reached out to members of Trump's presidential campaign, and to two senior executives at his company and the book's publisher, Simon & Schuster, to ask how proceeds of Crippled America were being distributed to charities. No one responded to our inquiries.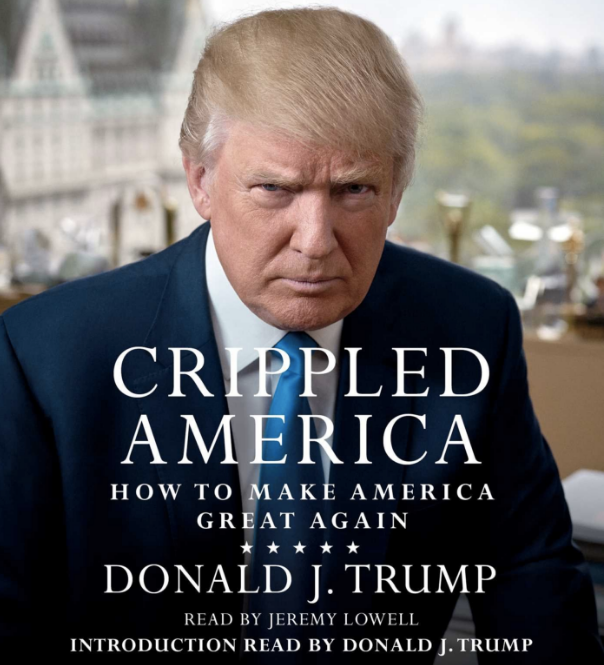 It's possible, of course, that Trump still plans to donate the profits from Crippled America to charity at some point in the future. But there are a number of reasons to be skeptical.
In late May, The Washington Post revealed that Trump had yet to follow through on a promise he'd made in January to donate $1 million to veterans' groups. According to The Associated Press, Trump only cut a check after the Post ran a story on May 24 about how Trump was basking in public admiration for a donation he'd never actually made.
When Trump makes promises of this sort, the result is more than just easy publicity. The perception that Trump is giving something away is part of his sales pitch, and he uses it to encourage regular non-millionaires to give him their hard-earned money.
During a January fundraising event in Iowa, Trump asked the public to join him in donating money to vets through a website that funneled money to Trump's private charitable organization, the Donald J. Trump Foundation.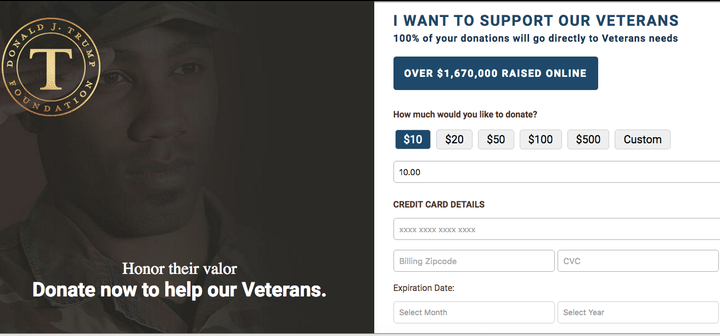 In the weeks that followed, people donated over $1.6 million through the website. As HuffPost reported earlier this year, Trump has not personally donated to the Donald J. Trump Foundation since 2009. Instead, the charity has been funded by people with whom Trump does business.
Still, it's hard to imagine the public would have been so quick to send in money if they knew Trump wasn't being honest when he declared, in January, that "Donald Trump gave $1 million."
For Trump, the line between charity and profit-making is often blurred. As recently as last year, Trump was still claiming that the for-profit Trump University was a charitable endeavor, even though Trump himself pocketed $5 million before the company closed down amid allegations of widespread fraud. According to Time magazine's Steven Brill:
Trump, too, told me that "all money that I made was going to go to charity." His marketing mailings similarly promised that he was launching the program as a way of "leaving a legacy." However, documents and testimony in the court file indicate that Trump collected approximately $5 million in profit in a series of wire transfers and checks written to him personally by the university -- and signed on behalf of the university by Trump.

Trump explained that to me by saying that he had planned to make the charitable donations from his personal accounts, but that because the university had had to shut down and was still paying legal expenses, those donations "never happened." According to Trump lawyer Alan Garten, Trump returned the money to the university from his personal funds once the legal troubles started.
Recently released internal documents from Trump University make it clear that the purpose of the program was to get vulnerable people to spend up to $35,000, ostensibly so they could learn Donald Trump's secrets to financial success. In short, Trump U. was about as charitable as a Las Vegas casino.
Similar to Trump University, and to the veterans fundraiser, the charity aspect of Crippled America makes it sound to customers as if they're contributing a little bit to a good cause, and Trump is contributing a lot.
So far, however, the giving has apparently been one-sided, with customers buying the book and Trump and his publisher both making a lot of money. A 2015 tweet from Trump executive Dan Scavino highlighted the supposed charity aspect of Crippled America.
The Huffington Post will continue to monitor the status of Trump's proceeds from Crippled America . We'll update this story if there are any developments.
Popular in the Community