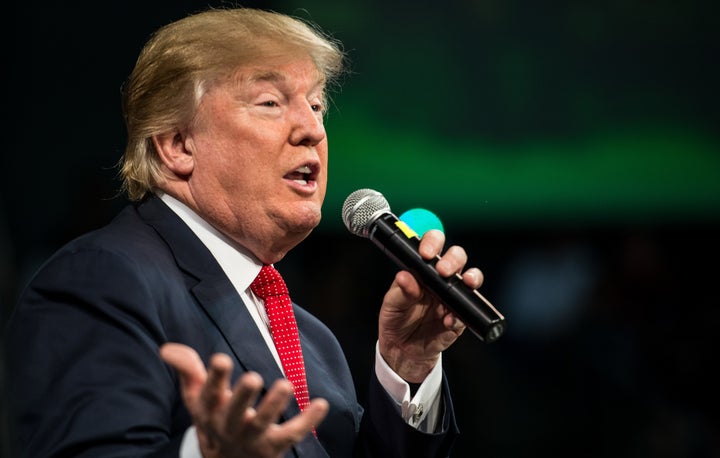 Donald Trump's months-long dominance of the Republican presidential field has surprised pundits and GOP establishment members alike -- but no matter, because his run ends Tuesday.
At least, that's what fellow White House hopeful Jeb Bush predicted. The former Florida governor told donors in a closed-door meeting in November that Trump's candidacy would wane by the time the two met at the Dec. 15 presidential debate in Las Vegas.
"I'm just curious, when are you going to make a more aggressive attack on Donald Trump?" asked an unidentified man. "It seems like in the last couple of debates -- I mean, I'm your biggest fan, but at the same time it seems like there's not a lot of fight in you. I'm just curious, come December 15, is that a possibility?"

"Come December 15, Trump will be in decline," Bush said to applause.
Now, it's entirely possible that Trump will suffer a complete collapse on Tuesday. He has given subdued performances at some prior debates, hardly getting a word in edgewise. 
Nor is it likely that many of his major rivals in the race, wary of alienating potential supporters, will mount a substantial challenge to Trump in front of the television cameras. Sen. Ted Cruz, who is surging in the early caucus state of Iowa, admitted to donors recently that his strategy was to "bear hug" Trump for as long as possible. Over the weekend, the Texas conservative attempted to alleviate tensions between the two men.
Florida Sen. Marco Rubio, one of the establishment favorites in the race, appears to be more consumed with Cruz. He has in recent weeks attacked his Senate colleague for voting to end the National Security Agency's bulk metadata collection program, a theme he'll likely hit again on Tuesday.
That leaves Bush. The former governor has wilted under the lights in prior debate clashes with his protégé Rubio and with Trump. If he intends to make good on his words from November, he'll need to execute a high-energy assault and land punches that stick.
A request for more information from Bush's campaign about what he plans for Tuesday's debate was not immediately returned. 
PHOTO GALLERY
Donald Trump On The Campaign Trail
Calling all HuffPost superfans!
Sign up for membership to become a founding member and help shape HuffPost's next chapter