Republican presidential nominee Donald Trump on Thursday held a rare town hall event in New Hampshire that looked a lot like a trial run for Sunday's second presidential debate with Democrat Hillary Clinton.
But the softball questions selected from a Trump-friendly crowd offered little practice for a nominee who desperately needs to overcome his widely panned performance in last week's debate.
Trump rarely appears before small audiences, preferring raucous campaign rallies in large arenas, so Thursday's town hall provided him an opportunity to practice speaking in a more intimate setting and to prepare for Sunday's town hall-style event with Clinton.
The GOP nominee insisted that Thursday's gathering, moderated by conservative radio host Howie Carr, a Trump supporter, "has nothing to do with Sunday."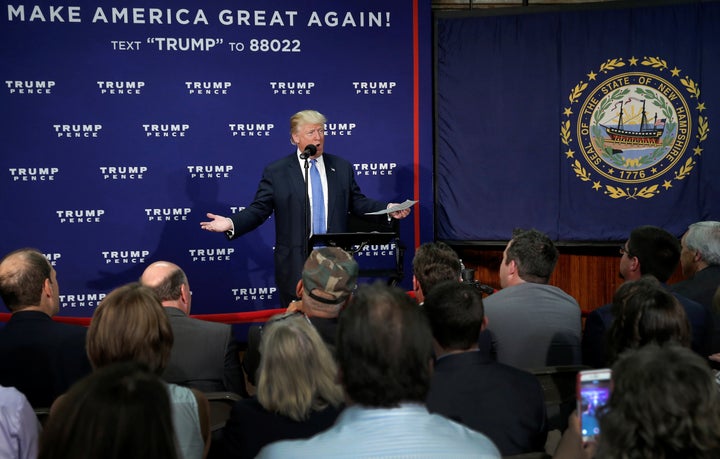 The event lasted just over 30 minutes, and the questions, selected from an invitation-only crowd, were complete softballs, bearing little resemblance to what he will encounter from moderators Anderson Cooper and Martha Raddatz, and audience members during Sunday's debate.
Sunday's matchup is crucial for Trump. He had been closing in on Clinton until his poor performance in last week's debate, which appears to have cost him dearly in polls. He now trails Clinton by more than 6 percentage points, according to HuffPost Pollster, which aggregates all available public polls.
Here is a sampling of questions put to Trump in New Hampshire:
"What would you say to convince Hispanics who are deceived by Obama, Clinton and the biased media to vote for you?"
"How will you win over the conservative holdouts not on the bandwagon?"
"What advice would you give to young Americans looking to achieve the American Dream?"
"What is your favorite childhood memory? Go Donald."
The final question to Trump asked which team would win the World Series. 
"Of course it's Boston," Trump said, pandering to the hometown crowd.
Based on his rambling answers, Trump did not appear to use a two-minute countdown clock that would have helped him prepare for Sunday's town hall format.
If he wanted to lower expectations for Sunday, he succeeded.
As usual, he took a dig at Clinton's preparation by drawing attention to her health.
"You really think Hillary Clinton is debate prepping? Hillary Clinton is resting," he said.
He also complained about the first debate, insisting he received more difficult questions than Clinton.
"She gets easy ones," he said. "By the way, have you noticed the difference? I'm getting boom, boom, boom. With her, 'What would you do to fix the economy?' Of course, that's actually a much tougher question than you would understand, and she doesn't have a clue, but you see the questions I was getting."
Calling all HuffPost superfans!
Sign up for membership to become a founding member and help shape HuffPost's next chapter