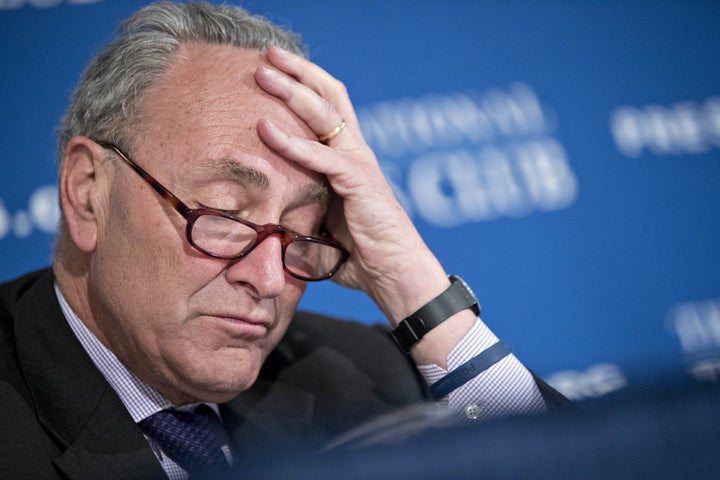 When former President Barack Obama sought to pass the Affordable Care Act in 2009, he spent months painstakingly trying to convince moderate Republican senators to support a bill. Now that President Donald Trump is trying his own overhaul of the American health care system, such attempts at bipartisanship are nowhere to be found.
Senate Minority Leader Chuck Schumer (D-N.Y.) and House Minority Leader Nancy Pelosi (D-Calif.) have not heard a peep from the Trump administration regarding health care reform, their offices said. Nor have the House and Senate minority whips, Rep. Steny Hoyer (D-Md.) and Sen. Dick Durbin (D-Ill.), according to their offices.
Sen. Joe Manchin (D-W.Va.), who would be one of the most likely Democratic targets of outreach from this White House, said that although he discussed his support for parts of Obamacare with Trump during a White House meeting in February, he has not received a call to discuss reform efforts more generally.
"Nothing. Never. Nobody," Manchin's spokesman Jonathan Kott told The Huffington Post.
Trump's refusal to explore the possibility of cross-party collaboration may stand in sharp contrast to Obama's approach, but it is also an illustration of the widely divergent philosophical approaches each has taken to health care reform. Whereas Obama largely attempted to recreate on a national scale the system implemented in Massachusetts by then-Gov. Mitt Romney ― and frustrated Democrats with his willingness to jettison liberal proposals like a public option ― Trump has stayed committed to a conservative framework of reform, backing a bill that would reduce the size of government subsidies and restrict the expansion of Medicaid despite campaign pledges to do neither.
A White House spokesperson noted that the president has met with various Democratic lawmakers to discuss health care policy matters, including a conversation with Rep. Elijah Cummings (D-Md.) just last week on the topic of prescription drug prices. But with respect to reforming the current insurance market, the spokesperson made clear that Trump's position was resolute.
"Obamacare is a disaster that has hurt the middle class," the aide said, "and we call on all Democrats to put the American people first."
House GOP leadership has adopted a similar take-it-or-leave it approach to repealing Obamacare. And because their baseline has been the removal of the prior president's signature domestic achievement, they've spent their energy exclusively on shoring up the vote in their own party.
"At the beginning of the process the Democrats made it very clear they were not going to support anything that guts Obamacare," Rep. Steve Scalise (R-La.), the majority whip, said when asked if he'd had any conversations with Democratic counterparts. "So immediately they said, 'Look, if it involves getting rid of Obamacare, we don't want to be a part of that discussion.'"
While Trump and his Republican allies on the Hill can pass health care legislation without the help of Democrats, there is only so much of Obamacare they can undo. Procedural rules in the Senate dictate that only those parts of the law that have a budgetary impact can be considered through the legislative vehicle known as reconciliation ― which requires a simple majority vote for passage. Other reforms to Obamacare, such as scaling back certain insurance industry regulations, will require 60 Senate votes to become law.
Because of this, some Republican voices have begun warning others to reconsider their current approach to repealing and replacing Obamacare. Sen. Tom Cotton (R-Ark.) in particular has warned House members not to vote on the current bill as is because it might not get the necessary 50 votes to pass the Senate and certainly won't have the 60 votes needed for any follow-up legislation.
On Tuesday, Trump ally and Newsmax founder Christopher Ruddy urged the president to ditch conservatives and "rekindle the bipartisanship in Congress that Obama destroyed." Ruddy's suggestion: "Empanel a bipartisan committee to report back by year's end with a feasible plan to fix Obamacare."
Trump may ultimately conclude that this is the one path forward. But if that time ever comes, he will be starting at square one, having not bothered to bring in any Democratic voices into health care discussions during the first critical weeks and months.
Popular in the Community