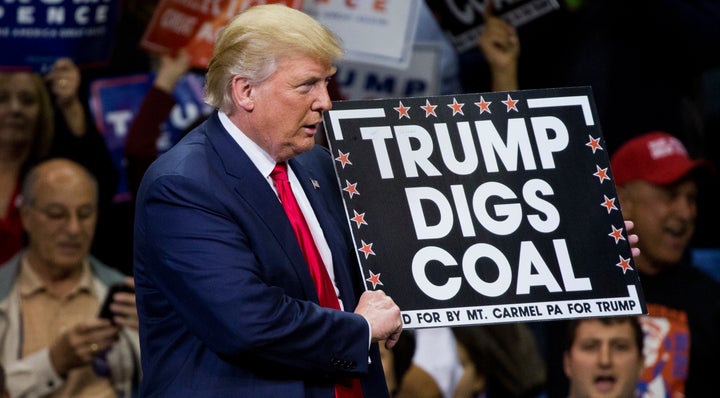 President-elect Donald Trump's transition team has asked the Department of Energy to compile a list of all the employees and contractors who worked on a number of different initiatives related to climate change, sparking fears of witch hunts and drawing parallels to McCarthyism.
The request, a copy of which was first obtained by Bloomberg, specifically seeks the names of those who attended climate change meetings at the United Nations in the past five years and the names of Obama administration staffers who helped set a metric for calculating the social cost of carbon.
"It's certainly alarming that they would be targeting specific employees in this way," Michael Halpern, deputy director of the Center for Science and Democracy at the Union of Concerned Scientists told Bloomberg. "Scientists are looking at this with some suspicion, because many of the people who have been chomping at the bit to dismantle federal climate change science programs are now deeply embedded in the transition."
Neither the Trump team nor the DOE has commented publicly on the questionnaire. Several politicians have voiced their alarm, however.
Sen. Ed Markey (D-Mass.), a member of the Environment and Public Works Committee and chair of the Senate Climate Clearinghouse, sent a letter to President-elect Trump on Friday cautioning that retaliatory action taken against staffers on the list would be illegal.
"Any politically motivated inquisition against federal civil servants who, under the direction of a previous administration, carried out policies that you now oppose, would call into question your commitment to the rule of law and the peaceful transition of power," Markey wrote. "Civil servants should never be punished for having executed policies with which a new administration disagrees. That would be tantamount to an illegal modern-day political witch hunt, and would have a profoundly chilling impact on our dedicated federal workforce."
Rep. Bill Foster (D-Ill.), meanwhile, compared it to the politics of the Cold War, when dissent was stifled with fear and prosecution, including the hearings led by Sen. Joseph McCarthy in the 1950s.
"These Cold War era tactics threaten to undo the decades of progress we have made on climate change and to dissuade a new generation of scientists from tackling our world's biggest problems," Foster said in a statement. "No one should have to work in fear of political retaliation." 
REAL LIFE. REAL NEWS. REAL VOICES.
Help us tell more of the stories that matter from voices that too often remain unheard.
BEFORE YOU GO
PHOTO GALLERY
What You Can Do Right Now To Stop Donald Trump's Dangerous Climate Agenda